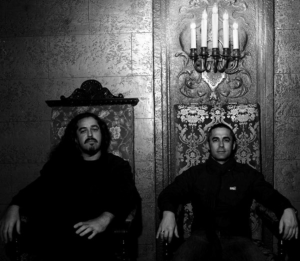 SQ incuBAIT is a new initiative which offers four individuals or teams who have exciting genre projects, the opportunity to fast-track their feature through this new SQ development workshop.
SQ incuBAIT will be convened by acclaimed Queensland genre writers pictured above Shayne Armstrong (R) and Shane Krause (L) the creative force behind The Darkness, Acolytes, BAIT 3D, who will work with up-and-coming talent to develop strong genre scripts that will appeal to genre fans of all ages and financiers.
The SQ incuBAIT workshop will be an intensive two-day experience in which writers and writer-producer teams will be given insights into what makes a genre film work and endure for dedicated, demanding and discerning audiences, that are always seeking fresh and entertaining new takes on the types of stories they love.
Applicants may be individual writers, writing teams and may or may not have producers attached. Key creatives generally should have no more than one feature film credit for the role in which they are attached to the project.
Projects should be at first or second draft stage, have the potential to connect with the market and audiences in Australia and internationally, and be achievable on production budgets of no more than AUD $5 million.
Who can apply?
SQ incuBAIT is open to Queensland creative writers and writer/producer teams*.
* Teams where the writer also fulfils the role of the producer are not eligible to apply, unless a second producer or credible executive producer is attached.
> Key creatives generally should have no more than one feature film credit for the role in which they are attached to the project. More experienced creatives are able to apply but should be paired with other members who have no more than one feature film credit in their field.
> All participants (producer and writer) must be available to attend the one workshop in Brisbane (dates below) and commit to the completion and delivery of one further draft based on the development plan by the deadline specified at the time of the workshop.
> All applicants must be a resident in Queensland.
> SQ may cover the cost of travel for participants who travel from outside of Brisbane to attend the workshop.
Key dates
Applications close EST 9am, Tuesday 26 April 2016
> Individuals and/or teams announced Tuesday 17 May 2016
> Workshop Thursday 26 May Friday 27 May 2016
> Additional draft supplied Monday 29 August 2016
How do I apply?
Applications are through SmartyGrants via: http://screenqueensland.smartygrants.com.au
Applications close AEST 9.00am Tuesday 26 April 2016
PLEASE NOTE LATE APPLICATIONS WILL NOT BE ASSESSED
About ARMSTRONG & KRAUSE
Fangoria Magazine described award-winning Australian screenwriting partnership, Shayne Armstrong & S.P.Krause, as Australia's most prolific genre screenwriters
Their supernatural thriller The Darkness (2016), produced by Blumhouse Productions and co-written with Greg McLean, opens on 1,500 screens in the U.S in May 2016. They also wrote the crime thriller Acolytes (2008) starring Joel Edgerton and Bella Heathcote, and the high-concept creature feature Bait 3D (2012) which was Australia's highest grossing film internationally in the year of its release and the highest ever grossing Australian film in China.
What to do if I've read this and want to talk it through.
Contact the SQ Production & Development Team
E: developmentandproduction@screenqld.com.au
P: 07 3248 0500