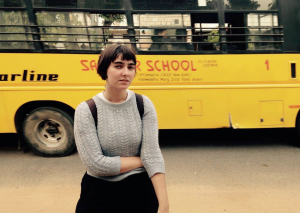 Grace, who waits alone is an amazing start for up-and-coming writer/director Georgia Temple. She is a filmmaker who embraces change, and has the potential to push change for the future of women in the industry.
At the age of 23, Georgia made her first feature Grace, who waits alone, which had its Australian premiere at the 2017 Queensland Film Festival. This film centres on a young romantic who is waiting for the return of her absent lover.
Georgia is now working on a very different project, a shift away from domestic scenes to a colourful ensemble feature film that looks at the consumption of media and theory; and how it can affect one's ability to interact with the real world. In some ways, it deals with similar themes to her previous work, where narratives become internalised and start to damage one's perception and experience in life.
Filming is taking place mostly around Brisbane; and, with over a dozen speaking roles, is a much larger production for Georgia who says it is exciting, but also really challenging.
"Creating inspiration and the right mood on set is always a major challenge," Georgia said. "The environment on set always has a profound effect on the end product, previously on Grace, who waits alone, it was a very private, insular set, but with a much larger production it will be difficult to emulate this."
"In order to gain inspiration, and to alleviate anxiety, we try and let go of expectation and be as present as possible during production," Georgia explains.
As a writer/director herself, Georgia would like to see more of a focus on more women in these roles and feels that a lack of female voices in film causes an early disconnect between young females and the medium of film
"I found the gender imbalance in the industry quite astounding," Georgia said.
"Almost all of the films I saw as a teenager were made by men. It's hard even now, I fight this internalised idea that distinctly female stories aren't some quite of niche, self-indulgent topic."
If young potential artists aren't seeing a place for themselves and connecting to the medium, she fears that the film world is losing them to other avenues. "It's strange to me that over the last hundred years of filmmaking we've seen waves of almost very kind, from ever tiny corner of the planet… but never a Feminine wave."
Georgia believes that it's important that woman learn how to critique and defend films. "I don't think it's any great revelation to say that mainstream cinema and the critical establishment feel like pretty masculine arenas, with female led films dismissed all too often as 'chick flicks' or niche films," she says, "until we have voices critiquing and championing films to wider audiences, and filmmakers being able to defend their works artistically and intellectually, I think it will be hard to achieve a more balanced, equal industry, or to create the inspiration so badly needed for the next generation."