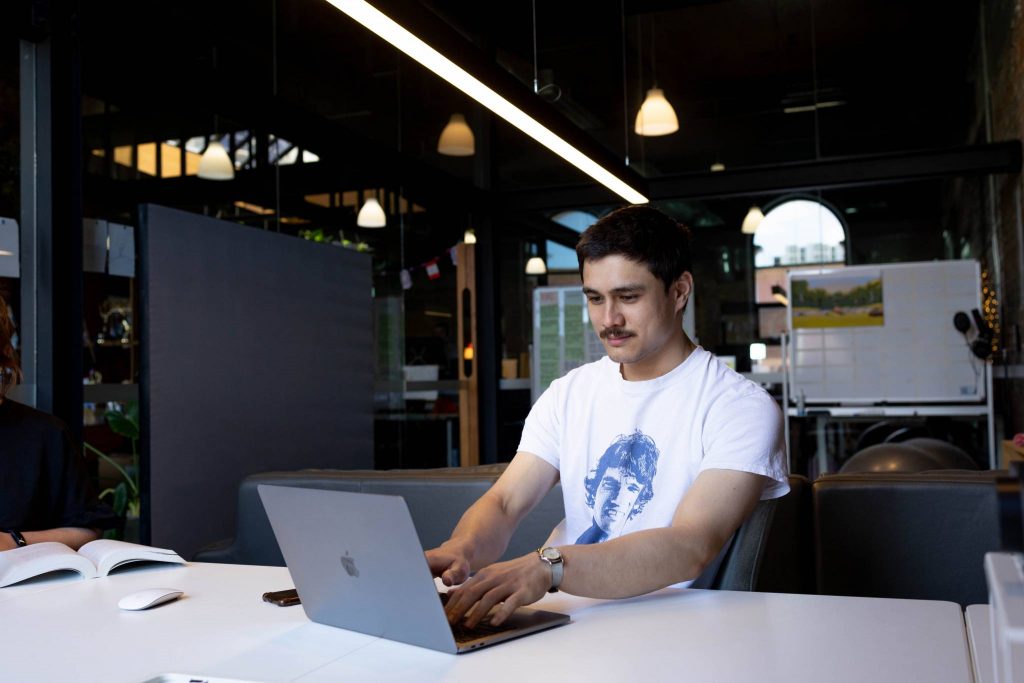 Applications closed
---
The SBS Emerging Writers' Incubator, now in its second year, is a nationwide initiative to develop historically under-represented scripted writing talent in the Australian screen sector, presented by SBS and in partnership with Screen Australia, Screen NSW, VicScreen, Screen Territory, Screen Queensland, Screenwest, the South Australian Film Corporation and with the assistance of the Australian Writers' Guild.
The Incubator aims to promote inclusion among Australian screenwriting talent and to provide significant work experience in drama production to writers with lived experiences that have been historically under-represented in the sector.
This year, Screen Queensland will support one placement at award-winning production company Hoodlum. The successful candidate will be employed for 12-months full-time as a Story Development Executive (SDE). Placements will commence from approximately September 2022.
For the purposes of this initiative, under-represented means those who:
identify as First Nations Australians;
are from culturally and linguistically diverse (CALD) backgrounds;
are Deaf or hard of hearing or People with disability;
are Female or Trans/Gender diverse;
identify as LGBTQIA+; and/or
are located in regional and/or remote areas.
ABOUT THE ROLE

OVERVIEW

The Story Development Executive (SDE) role helps shepherd the development process for scripted material across film and television content for Hoodlum Entertainment. The SDE works in concert with producers, writers and, on occasion, directors as they work to articulate and develop their idea's.

Duties include:

reading scripts, pitch material, treatments, books, and other IP;
offering feedback on story (aka notes);
attending and participating in writers' rooms and pitch presentations; and
conducting and coordinating research into worlds and characters, and working closely with writers throughout the process.

DESIRABLE SKILLS

Minimum two years of writing post studies – this does not need to be full time or paid as a writer, we want to know you are passionate about writing.
Excellent sense of screenplay structure, character, and analysis.
Knowledge of film/tv/theatre and the entertainment industry, and strong interest in story.
Ability to effectively communicate and work collaboratively with all levels of creative talent and management, and with diverse personalities and work styles.
Demonstrable flexibility, professionalism, and finesse when handling the multiple and diverse demands of a fast-paced and dynamic creative environment.
Strong time management and organisational skills.

ROLE RESPONSIBILITIES

Manage the creative strategy on projects in development, helping filmmakers shape stories from concept through script with an emphasis on character and film structure.
Facilitate and provide creative feedback in pitches, story sessions, screenings, notes sessions.
Build and maintain relationships with writers, agents and industry executives, and other relevant creative communities, to scout emerging and diverse writing talent.
Spearhead research initiatives, and helps integrate ongoing research into story development.
Collaborate on the story development of various ancillary projects.
Writing creative and pitch materials on projects in development including (without limitation) proposals, concept documents and funding applications.
Review creative and pitch materials on projects in development.
Reading development materials and preparing comments.
Administration of development slate.
Note taking in writers' rooms.

CAREER DEVELOPMENT

This is a 12-month appointment with opportunities to grow within the role upon demonstration of skills. Hoodlum will support skills development through inclusion across all activities, regular feedback, and access to incredible creatives and resources in one of Australia's most prolific independent production houses.

Phase 1. The role will develop from reading and providing notes, to participating in writers rooms and meetings. Inclusion in development and submission meeting rounds.

Phase 2. You will get to learn how to prepare pitch materials for market and start developing materials for specific projects including writing treatments, synopsis's and developing application materials.

Phase 3. You will take leadership in development on selected projects working closely with producers and creatives to helping to elevate content.
AM I ELIGIBLE TO APPLY?

APPLICANTS MUST

Be an early career writer from one or more of the following backgrounds:

identify as First Nations Australians;
are from culturally and linguistically diverse (CALD) backgrounds;
are Deaf or hard of hearing or People with disability;
are Female or Trans/Gender diverse;
identify as LGBTQIA+; and/or
are located in regional and/or remote areas.

MEET AT LEAST ONE OF THE EXPERIENCE CRITERIA

Have participated as a writer in a scheme run by a major screen agency/organisation/broadcaster in Australia; and/or
A writer or co-writer credit on a piece of completed narrative fiction (television episode, feature film, or webseries of at least 30 minutes cumulative duration); and/or
A writer who is currently in development on a project with support from a broadcaster, major online content provider or screen agency/organisation); and/or
A body of work in related areas (e.g. playwright); and
Not have been previously engaged by [Selected Host Company] (or any related entity) for three months or more in a script department or in-house development role or similar; and
Be available to undertake a fulltime paid placement for a period of 12 consecutive months; and
Meet the general eligibility requirements set out in Screen Queensland's Terms of Trade and Screen Australia's Terms of Trade.

Applicants must be permanent resident and/or citizen of Australia and based in Queensland. A Queensland resident refers to a person residing in Queensland for at least six months prior to making an application.

Please read the Writer Applicant Guidelines before applying.
HOW DO I APPLY?

Applicants must apply via the SmartyGrants form by Monday 30 May, 12pm AEST.

Before applying, please read the SBS Emerging Writers' Incubator Program Guidelines, Screen Queensland's Terms of Trade and Screen Australia's Terms of Trade for eligibility requirements.

All relevant information in your application will be shared with Screen Australia and the partners to this initiative during the assessment process, so please check all information carefully.

Please read the Writer Applicant Guidelines before applying.
HOW ARE APPLICATIONS ASSESSED?

1. APPLICATIONS AND ASSESSMENT

Stage One Assessment: Screen Queensland will receive and assess all writer applications for eligibility in the first instance. They will produce a long list of applicants based on the career statements, CVs and 10-page writing sample for SBS, Screen Australia and Screen Queensland to assess by Monday 27 June 2022.

Stage Two Assessment: SBS, Screen Australia and Screen Queensland will work with Hoodlum to select a shortlist of writers from that State, reviewing all application materials (including the full-length writing samples) from the shortlisted writers. They will select the three (3) shortlisted candidates that they wish to interview by Friday 29 July 2022.

2. INTERVIEWS

Hoodlum will select a narrative screen project from their slate and set a script assessment task for the three shortlisted writers. This can be an oral or written script assessment. Interviews and tasks will be coordinated by Screen Australia. The interview panel will include representatives from Hoodlum and Screen Queensland as well as SBS and/or Screen Australia. National interviews are estimated to take place between Monday 25 July and Friday 26 August. Interviews will be grouped by State.

3. SELECTION

Once all interviews have been completed, Hoodlum, SBS, Screen Australia and Screen Queensland will discuss the shortlisted candidates and mutually agree on the Selected Writer, having regard to the most suitable and appropriate match between Hoodlum and the Selected Writer. Decisions will be made within 3 days of the final interview and will be communicated to the Selected Writers following final consultation and confirmation with the host companies.

---

ASSESSMENT CRITERIA

Each eligible applicant will be assessed taking into consideration the below criteria:

The writer's objectives for undertaking the placement, including how it will assist their career development and what specific skills they expect to gain from the experience if successful;
The writer's perceived ability to successfully engage with Hoodlum's slate across the 12-month period;
The standard of the supplied writing sample, and its demonstration of the abilities and skills of the writer; and
The alignment of the writer with the diversity and inclusion aims of the initiative.

Previous funding to undertake a placement or equivalent program will be taken into account.