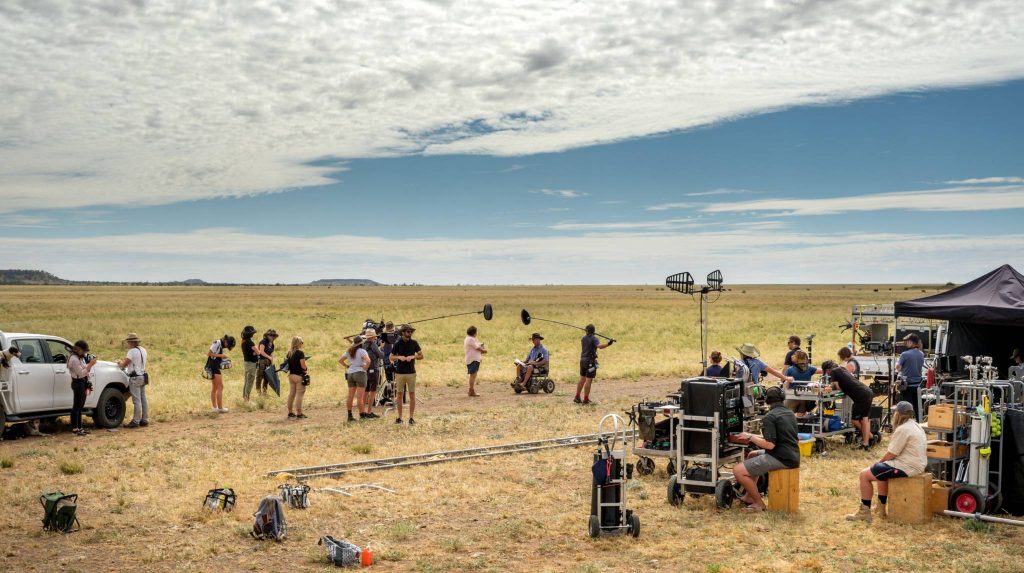 Screen Queensland (SQ) is a government-owned company that invests in and supports the Queensland screen industry.
We are striving to make Queensland a global leader for the screen industry-leading across all platforms and genres from film and TV to games and online as well as those platforms that are yet to be defined!
Working across industries, with a range of stakeholders we:
foster homegrown screen industry talent – from writers, directors and producers to game developers, online creators and more
invest in diverse, entertaining and ground-breaking Queensland screen content that appeals to both local and global audiences across all platforms
attract interstate and international productions to Queensland – creating jobs, stimulating the economy and upskilling our local industry
ignite Queensland's passion for the screen industry by supporting film festivals and events, delivering industry workshops, networking opportunities and more
What we offer
SQ supports the screen industry through various programs aimed at a range of practitioners and projects from early-career and early-stage ideas to established creators and feature productions. Explore our programs below.
Initiatives

SQ Initiatives range from talent development programs and production development opportunities to industry placements and workshops. Initiatives are designed to help screen practitioners create content and gain screen credits or experience that will help further their careers.
Investment

SQ has three on-going programs which invest in the development of compelling screen content. These are IDEAS (for projects in their early stages), MARKET (for those looking for support to pitch their projects at markets nationally and internationally) and FINANCE (for production-ready projects).
Attraction Incentives and Assistance

SQ has a range of programs which are designed to attract and support national and international production in Queensland.

These include our:
Revolving Film Finance Fund

The Revolving Film Finance Fund (RFFF) is a lending facility established to cashflow Queensland screen productions and infrastructure projects by way of lending funds secured against Producer Offset, bank guarantees, letters of credit, distribution guarantees, pre-sales or other secure financial instruments.
Screen Culture Program

SQ runs two rounds of Screen Culture funding annually for those looking to run film festivals, events and activities which help grow Queensland's love of screen content.
sqhub co-working spaces

SQ has two co-working spaces based in Brisbane and on the Gold Coast. These spaces allow industry specialists to grow sustainable businesses by working with likeminded people in a dynamic and creative space and providing them with industry-specific training and support.
Screen Queensland Studios

Located at 45 Gosport Street, Hemmant – 11 kilometres east of the Brisbane Central Business District and 15 minutes from the Brisbane International Airport, Screen Queensland Studios is well suited to low to mid-range film, TV and online production.
Screen Queensland Public Fund

The Screen Queensland public fund aims to:

increase the level of screen production in Queensland;
develop and maintain a creative infrastructure in Queensland for the screen production industry;
develop and maintain an active and vibrant screen culture in Queensland; and
make funding available to members of the screen industry in furtherance of these objectives.

Please contact us to find out more and to make a donation T +61 7 3248 0500 E. screenqld@screenqld.com.au
Our commitment to diversity and gender parity
SQ is committed to building a diverse and respectful Queensland screen industry.
We seek to support the creation and growth of Aboriginal and Torres Strait Islander screen content, practitioners and representation across our industry and state. Additionally, we are committed to ensuring diverse representation across all aspects of the production and development process – namely those who are culturally and linguistically diverse, located regionally, have a disability and/or identify as female, non-binary and/or are members of the LGBTIQ+ community.
We also strongly encourage individuals from these diverse backgrounds to engage with us formally through our programs or informally through our events and networking opportunities.
We are a proud member of the Screen Diversity and inclusion Network (SDIN) . As such, we use The Everyone Project to benchmark and track the diversity of the Australian screen industry. Additionally, we have taken the The Panel Pledge to give rise to the visibility of female success through increased representation of women at panels, Q&As, conferences, events and more. 
Read more about our SQmob initiatives for Aboriginal and Torres Strait Islander practitioners and stories.
---
IMAGE: filming Total Control on location in Winton, outback Queensland