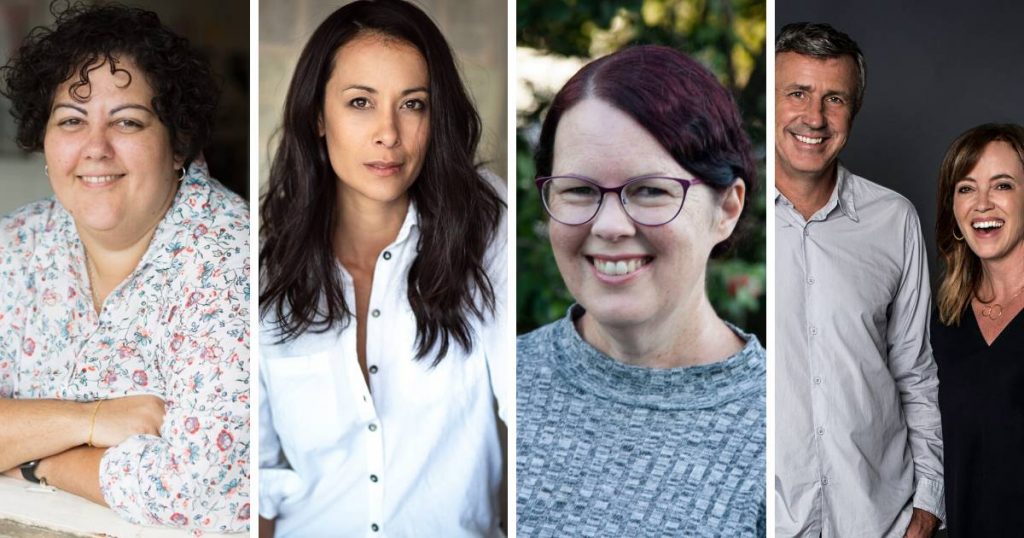 Multiple rounds will open throughout the 2019-2020 financial year.
ROUND THREE Opens Monday 1 June 2020
---
Contact
07 3248 0500 content@screenqld.com.au
---
RECIPIENTS
We are offering fully subsidised online consultations with local experts for Queensland writers/creators with scripted and factual film, television and online projects in development.
Now, as ever, it is critical for Queensland creatives to continue developing strong, global stories for feature film, broadcast and online audiences.
SQ Creative Consultations brings together leading storytelling experts to help you develop your project to a point where it can attach market partners and move forward to production.
---
Guidelines
What level of consultation is available?

If you have completed a draft feature film screenplay or series pilot, or completed a factual bible and sizzle, you will receive notes from an expert as well as a one hour telephone consultation to debrief.

If you have completed a scripted/factual series bible or scripted/feature film treatment, you will receive a one-hour telephone consultation to discuss your project.

While each expert will have their own method of analysis and tailored advice, you can expect to receive feedback on the strengths of your projects and ways that it can improve, including examining your concept, story, structure, characters, dialogue, tone and audience. You will walk away with a clear path forward for your project.
How will projects be chosen?

Your submissions will be shared with your chosen expert who will determine the projects they will provide feedback on. Be sure that your logline and one-paragraph synopsis are in the best shape possible as this will be the first thing the experts read.

We expect around 8-10 projects to receive consultation per month.
Who are the experts?

Experts will be announced as each new round opens (multiple rounds will open throughout the 2019-2020 financial year.) You can read about their experience and expertise in their bios below.
What if there aren't any experts with experience in the format/genre I'm working on?

SQ Creative Consultations will continue running on a monthly basis this year, so if you don't currently see someone with the exact expertise you are looking for, you might like to hold off for a later round. You can also email us at content@screenqld.com.au to let us know what kind of expertise you are looking for so we can work this into upcoming rounds if there is strong demand.
Who can apply?

Queensland-based writers/creators (teams may apply) that are actively developing a scripted or factual feature film, television or online series.

For full eligibility criteria, please refer to our Terms of Trade.

The more work you've done in developing your creative materials, the more you will get out of the consultation. Ideally, we'd like to see completed draft screenplays or pilot scripts submitted but at a minimum you must have a draft series bible or feature film treatment. SQ Creative Consultations will continue to open for submissions throughout the year so if you don't have something ready to submit now, you will have time to prepare for a submission later in the year

In the spirit of supporting as many writers and creative teams as possible, applicants will only be eligible to receive a consultation once in a calendar year.

We encourage applications from Queenslanders who identify as Aboriginal and/or Torres Strait Islander.

Applications from people who are culturally and linguistically diverse, disabled, LGBTQI+, or who live in regional and remote Queensland, are also welcomed.
How do I apply?

Submit an application using the Screen Queensland SmartyGrants portal,

Include your project's:

Essential project information: title; format (e.g. feature film, broadcast series, webseries); runtime (e.g. 90min, 6 x 1hr, 10 x 10min); genre; target audience; current stage of development (e.g. draft screenplay, bible)
Logline
One-Paragraph Synopsis
For Scripted Series:

Pilot script (if written); and/or

For Scripted Feature film:

Screenplay (if written); and/or

Treatment & writing sample

For Factual, upload:

Bible; and/or
Treatment; and/or
Sizzle Reel; and/or
Trailer

Please let us know if you don't get a confirmation email sent to you after submitting your application by calling 07 3248 0500 or emailing content@screenqld.com.au

If your project is selected, you should hear back within a few weeks of the round closing.
What if I'm not successful?

While we anticipate high demand for this program, you should be assured that even if you are not selected by an expert, there are a large range of upcoming talent development opportunities from SQ that will be useful as you develop your project. You can keep abreast of new opportunities on our social media or by subscribing to our enewsletter.
---
Expert Consultants
If you are a leader in your area of screen storytelling, a Queenslander, and interested in becoming an expert for future rounds, we'd love to hear from you – please email content@screenqld.com.au
ROUND THREE EXPERTS

Dena Curtis

Based in Brisbane, Dena is experienced in development and production with writing, directing, editing and producing credits. Throughout her career, Dena also worked at National Indigenous Television, and the Australian Broadcasting Corporation. In 2015 Dena established her production company Inkey Media.

Passionate about telling Indigenous, LGBT+ and strong female stories, Dena's directing credits include award- winning short films Hush, Jacob and Nan and a Whole Lot of Trouble. Comedy TV series, 8MMM Aboriginal Radio, documentary series', Shadow Trackers, Colour Theory Underground and Children's Television Series, Thalu.

Her producing credits include the Logie nominated Children's Television Series, Grace Beside Me, Short Films Walters Ghost and Shed and documentary, Belonging. Dena is also facilitating Screen Australia's Indigenous Producer Program, a National program aimed at developing ten emerging Indigenous Producers.

Nicole Stark

Nicole has worked in the games industry since the late 1990s. She's held senior art positions on a variety of shipped game titles with project sizes ranging from triple A console to indie mobile. She's worked on a variety of beloved IPs from Xena the Warrior Princess and Ty the Tasmanian Tiger to more recent indie successes Yonder: The Cloud Catcher Chronicles and the Bonza puzzle suite.

In 2012 Nicole co-founded her own company, Disparity Games. She is the proud owner of the inaugural ANZ Women in Games Award for Creative Inspiration for her work as co-writer, co-designer and art director on their game Ninja Pizza Girl.

Rosie Lourde

Rosie Lourde is an award winning multi-hyphenate working across digital series, TV series, VR and features, who has a passion for championing screen creators from intersectional backgrounds. Rosie was an actor/producer on the mult-award-winning digital series Starting From Now (SFN) which has amassed over 135 million views online and was also sold to broadcast in Australia. Rosie is also a writer/director on horror anthology series Deadhouse Dark which is due to world premier in official competition at CanneSeries October 2020; is a writer/director/producer of virtual reality film Breach; producer on award winning indie feature Skin Deep; and recently directed her first feature Romance on the Menu. Rosie was formerly the Investment Manager of Online Production at Screen Australia overseeing government financing of short-form digital series and narrative XR, in 2015 was selected for the prestigious Screen NSW Emerging Producer Placement as well as the Screen Producers Association Ones To Watch program and has recently joined the Screen Australia Gender Matters Taskforce.

Jude Troy and Richard Finlayson – Wooden Horse

Wooden Horse is a dynamic partnership between leading Australian entertainment industry executives Jude Troy and Richard Finlayson.

Jude Troy

Jude created Wooden Horse in 2018 after a successful seventeen-year career at global entertainment group Entertainment One (eOne) and iconic Australian film company, Hopscotch Features, where she was a partner. Working in acquisitions across film and television, she built a catalogue of titles that included the Oscar winning documentary Amy, and TV series Peaky Blinders, Catastrophe, The Inbetweeners and The Slap. Jude was also an Executive Producer on AACTA Award-winning feature documentary All This Mayhem. In launching eOne's Australian TV production arm, she co-produced The Other Guy Season 1 in partnership with Aquarius Films for Australian streamer, Stan.

Richard Finlayson

Richard has worked in television production and executive roles for over 20 years. He was the Director of Television at the ABC between 2012 and 2017, where he was responsible for commissioning hundreds of hours of ground-breaking drama and comedy, pioneering a raft of successful international co-productions including Cleverman (AMC Sundance), Glitch (NBC, Netflix), The Code (Sony) and The Adventures of Monkey Magic (Netflix). Prior to the ABC he was Chief Operating Officer at public broadcaster, SBS.
ROUND TWO EXPERTS

Shayne Armstrong

Shayne Armstrong is an award-winning Brisbane-based screenwriter. With his screenwriting partner, SP Krause, Shayne has written feature films (Acolytes, Bait 3D and Universal/Blumhouse Pictures' The Darkness), animated telemovies (Johnny Bravo Goes to Bollywood, Monster Beach, Exchange Student Zero) and children's live action and animated series for Cartoon Network, Disney XD and Network Ten. Several of their feature film and television scripts are currently in development including Theo: A Hanunting with producer Kristian Moliere (The Babadook, Wake in Fright) and Automatik (Upgrade, Midnight Special), and The Galvanist for Truant Pictures. Under the penname TJ Park, they have also released the supernatural crime novel Unbidden (Harper-Collins). They have won the John Hinde Award for Excellence in Science-Fiction Screenwriting twice as well as the AWGIE for Best Short Film.

 Shayne teaches screenwriting at QUT, Griffith Film School and University of Queensland and is a Board Member of the Australian Writers Guild.

Veronica Fury

Veronica Fury is a Queensland based Producer and Executive Producer with over 60 screen credits to her name and is an active partner in WildBear Entertainment, an established factual production company producing around 130 to 150 hours of commissioned TV series and feature documentaries every year. Veronica runs the Brisbane office. Some of her recent projects include a feature documentary for Netflix and MIFF called Iron Fists and Kung Fu Kicks and six-part documentary series, Demolition Down Under, for Network Ten and Discovery. Upcoming projects include a soon to be announced feature documentary for Universal Pictures and ABC TV; the 12-part series for BBC Scottish Vets Down Under; a 10-part series for ZDF called Just Animals 2; and MIFF-funded feature documentary called Hating Peter Tatchell.

Leigh McGrath

Leigh McGrath is an AACTA nominated producer and writer. Along with writer Stephen M Irwin, Leigh co-created, co-wrote and produced the hit ABC drama series Harrow. In 2019, he co-created the network Ten drama series, Five Bedrooms. In 2018, Leigh co-created and Executive Produced Tidelands, the first Australian Netflix original series.

 From 2011-2018, Leigh was the Head of Television at Hoodlum Productions. He produced the Kriv Stenders feature film Australia Day, Secrets & Lies for Network Ten, the ABC comedy series The Strange Calls.

Before this, Leigh worked for the BBC and script edited a variety of drama productions.

His UK credits include The Lost Christmas starring Eddie Izzard, MI High for Kudos, Me & My Monsters for Jim Henson Productions, Roy' and Combat Kids for Lime Pictures.

Leigh has also worked extensively both locally and internationally as a Script Producer and Story Editor, including ITV's long-running police drama series The Bill and the Seven Network's Home & Away.

 Leigh is also a prolific screenwriter whose credits include Winners & Losers,  Out of the Blue, Pacific Drive and Breakers.

Alice Willison

Alice Willison is a producer and founder of newly established film/tv production company Rhapsody Films. Most recently, she produced Season 2 of The Other Guy a 6x30min comedy drama series for Stan created by and starring comedian Matt Okine, which was released in 2019.

 Previously Alice was an in-house producer at Aquarius Films and worked across their entire slate of film and TV projects, which included: Academy Award and Golden Globe nominated feature Lion; Cate Shortland's psychological thriller Berlin Syndrome; Tim Winton feature adaptation Dirt Music; Stan Original series The Other Guy Season 1 and 2; and Netflix and ABC series The Unlisted.

Alice also currently works part-time as an in-house producer at Revlover Films (Diary of an Uber Drive) working across their slate of film and television projects, which are currently in development with Transmission, eOne, Hanway, Stan, the ABC and All3 Media.

 
ROUND ONE EXPERTS

Joe Brumm

Joe Brumm is the creator of Bluey, the number one children's animation show that has taken Australia by storm. The show has broken ABC streaming records, clocking 200 million plays on iview, has won an International Emmy Kids Awards and various awards in Australia.

Bluey is distributed by BBC in the UK and was released in the U.S. on 22 January on Disney +.

Previously, Joe built his career as an animator for 10 years in London where he worked on numerous children's series. Some projects include the Bafta winning Charlie and Lola, working in Kenya and training local crews for the BBC/Disney show Tinga-Tinga Tales and being commissioned to create the short film The Meek which won at the 2015 Austin Film Festival.

Joe now resides in Brisbane, Australia where he has founded Studio Joho, who produce animation for the likes of College Humor, New Form Digital, GOMA and others.

Stephen M. Irwin

Stephen is a screenwriter and novelist.

His acclaimed supernatural novels The Dead Path and The Broken Ones were published internationally and are both optioned for adaptation to the screen.

Stephen was creator and writer of Australian crime drama series Secrets & Lies, made originally for Network Ten and remade in the USA for ABC.

He wrote feature Australia Day (Foxtel), miniseries Wake in Fright (Network Ten), was head writer on Tidelands (Netflix), and is co-creator and head writer of crime drama Harrow (ABC), starring Ioan Gruffudd.

Stephen lives in Brisbane with his two children and keyboard-loving cat.

Anthony Mullins


Anthony is a BAFTA and AWGIE award winning screenwriter and director. The projects Anthony has written and directed have won numerous international awards including a Primetime Emmy, an International Digital Emmy, two BAFTAs and five Australian Writers Guild awards.

Between 2006 and 2012 Anthony was the Creative Director of Hoodlum before joining Matchbox Pictures as a TV Development Executive from 2015 to 2017. 

Anthony has been a script producer and script editor on numerous award-winning TV projects across a range of genres including Safe Harbour (Winner of 2019 International Emmy for Best Mini-Series), Five Bedrooms (Season 1) and Nowhere Boys (Season 4). 
 
Anthony has also been commissioned by New South Publishing to write an innovative screenwriting book called Beyond The Hero's Journey – a guide for writers with a different story to tell

Meg O'Connell

Meg O'Connell is one of the AACTA Award-winning producers behind the critically acclaimed online series Robbie Hood from Since1788 Productions and Ludo Studio.

Meg also produced Ludo Studio's International Emmy Award-winning show Doodles for ABC ME and the vertical-video series Content for ABC iview. O'Connell worked as the development manager on the smash hit children's animation Bluey, which is the most watched show in ABC iview history. The series won a TV WEEK Logie Award, an International Emmy Award and is now screening worldwide on Disney+. Recently, Meg completed a creative mentorship at Fremantle Media in the UK, funded by Screen Queensland, and has since produced a music video for Columbia Records.

She is currently developing an original slate of projects in partnership with a number of Australian creatives. Meg is one of the 11 creatives selected as part of Screen Australia's Talent USA program and is one of 18 members of the Screen Australia Gender Matters Taskforce.