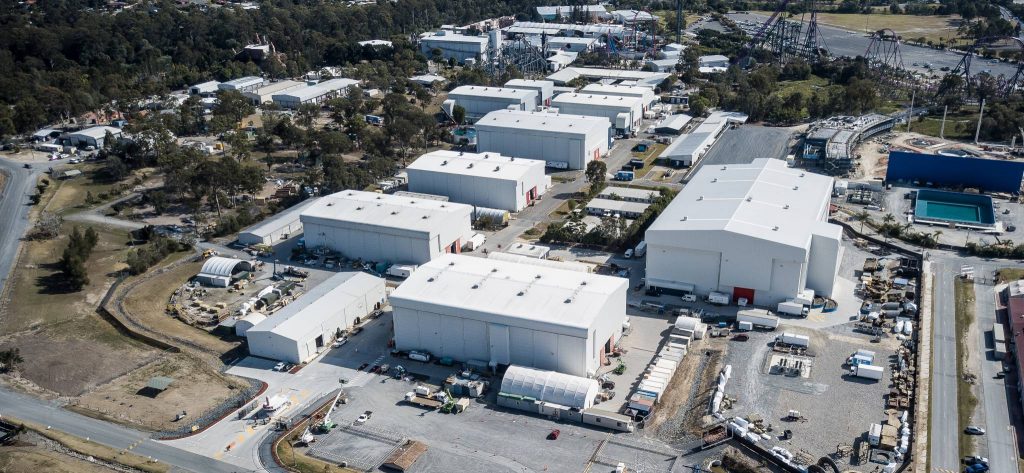 Home to Australia's largest sound stage and water tank. 
Village Roadshow Studios is situated on the Gold Coast, close to diverse locations as well as two international airports and a range of facilities. The Studios are a 45 minute drive south of the Brisbane International Airport and a 30 minute drive from the Gold Coast's international airport.
Village Roadshow Studios offers world-class film production facilities, nine sound stages and three water tanks, ten production offices, editing suites, wardrobe, makeup, construction workshops, paint and carpentry shops. 
All sound stages are equipped with current industry standard facilities including air conditioning, extraction fans, steel grids and catwalks. The stages vary in size in an overall floor area of 10,844 M2 (116, 727 sq ft). Stage 9 is the largest sound stage in Australia, measuring  80m (262 feet) in length,  47m (154 feet) in width and 18m (59 feet) in height. 
Village Roadshow Studios' Main Tank is the largest purpose built water tank in Australia, with a surface area of 1,200m2 (12,915sq ft).
Village Roadshow Studios provide a comprehensive support network of experienced film service companies conveniently located on the lot. These companies can provide production services, casting, camera, lighting, rigging, travel/freight, post production facilities, Drone Cameras, Lidar Scanning, EWP Equipment, Film facility vehicles , I.T Support and a Student training facility. A one stop shop for all your filming needs.
CONTACT
Lynn Benzie, President
Tel: +61 7 5585 9666
Email: benzie@villageroadshowstudios.com.au
Village Roadshow Studios
Entertainment Road
Oxenford QLD 4210
---
City of Gold Coast Film Assistance Program
The City of Gold Coast offers financial incentives to producers to film in the city and actively engages with the international market, as well as supporting the industry by reducing red tape when applying for such things as permits and ongoing support throughout production.

Gold Coast region is home to 80 per cent of Queensland's highly skilled and experience crew.

Film Assistance Program Eligibility
> The approximate value of the production (minimum AU$1.5 million spend on the Gold Coast).
> Duration of the production and approximate percentage conducted on the Gold Coast.
> Approximate number of jobs and economic impact created on the Gold Coast during these periods.
> Applications must be made prior to confirming a Gold Coast shoot.
Value of production undertaken on the Gold Coast (AU$) Assistance cap (AU$)
$1.5 – 3 million – $30,000
$3 – 5 million – $40,000
$5 – 10 million – $50,000
$10 – 15 million – $60,000
$15 – 25 million – $80,000
Over $25 million – $100,000