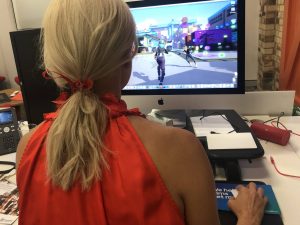 Screen Queensland (SQ) are inviting applications from Queensland game developers seeking finance for games with a global audience.
Applications are now closed! 
Up to $50,000 is available to support games from the development stage to release. This funding is available to both experienced and emerging game developers who have exciting game ideas which have the ability to engage international and national audiences.
This is the fourth round or video game funding through SQ and is the first round to utilise new eligibility and application guidelines, which encourage a broader range of projects and applicants.
Changes to the guidelines include:
Applicants can put forward a proof of concept instead of a gameplay demo to demonstrate their idea
The previously requested Game Design Document has now been pared down to a simplified Pitch Document that shares key details about your proposal
There is updated assessment criteria
Megan Summers from Screwtape Studios was one of the first developers to receive funding from SQ for their game Damsel. The game is set for release on 7 August 2019 after an exciting period of development.
With these new FINANCE (Games) guidelines SQ hopes to encourage more interesting games like Damsel and talented creators like Megan to apply for funding.
Damsel is a tongue-in-cheek game about the main female protagonist 'Damsel' who sets about destroying the 'vampirarchy' with her powers. Damsel is a faced-paced, arcade, platform game presented as a modernisation of classic arcade and platform games from the mid 80's to the mid 90's.
The game uses horror/vampire imagery and themes of corporate exploitation to create a narrative and mechanical allegory for the individuals struggle against the systemic and cultural oppression that many people believe themselves to be participants in.
Apply for this fantastic opportunity now or take a look at our new guidelines here.
Applications close 5pm, Friday 16 August 2019.
Apply now
Read more about past FINANCE (Games) investment recipients here.