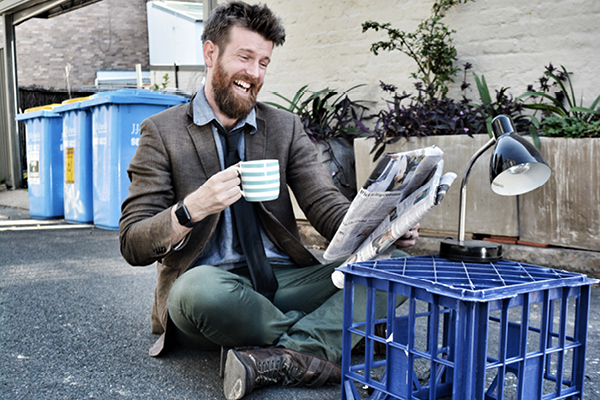 Nice Shorts, the latest sketch comedy series from Jazz Twemlow (The Roast, Tonightly) and Nick Boshier (Bondi Hipsters, Beached Az, Soul Mates) will commence filming in Brisbane with Queensland-based crew on Monday, 21 October 2019.
Screen Queensland has invested in four episodes of the 16-part online show to be shot across Brisbane next week, utilising Queensland talent including three early-career female writers and three early-to-mid career directors.
Screen Queensland CEO Kylie Munnich said it was wonderful to see diverse local talent working with an experienced production team to develop their portfolio.
"It is crucial we help early-to-mid career practitioners gain screen credits on projects with experienced teams to build the skills and capacity of our home-grown creatives and the local industry more broadly," said Ms Munnich.
"Edgy, bold projects, like Nice Shorts that are produced by established creative teams and looking to appeal to fresh audiences give us the opportunity to discover and develop new screen industry talent to work under the guidance of experts."
Brisbane-based emerging writer Elena Foreman was one of the writers selected from a pool of incredible writing talent to work on the Queensland episodes and is excited to add a writing credit for sketch comedy to her resume.
"Sketch comedy has always been a favourite genre of mine, to watch and act in, so it is awesome to tackle it from a writer's perspective," said Miss Foreman.
"The entire team was supportive, encouraging and created a safe environment where it was ok to make mistakes.
"It's pretty cool to have my first comedy writing experience be amongst people whose shows I've been laughing at since university."
Miss Foreman, along with fellow writers Rhianna Malezer and Bronwyn Kuss were tasked with writing three of the episodes to be filmed next week following a successful writers' room with show creators Mr Boshier and Mr Twemlow in Brisbane earlier this year.
Show co-creator Mr Boshier said the team was impressed by the talent available in Queensland.
"We were all so blown away by the breadth of acting, writing, directing and everything talent of the Queensland submissions," explained Mr Boshier.
"Nice Shorts is an ambitious undertaking, we were trying to do a lot with not much and it simply would not have been possible if Screen Queensland hadn't supported the project.
"Their support hasn't only been financial, Screen Queensland helped build the structure of the show and build the initiative that attracted such phenomenal talent. We blame Screen Queensland for this show."
Three local directors were selected to each take on one of the Queensland based episodes, these directors are Tony Walsh, Tim Marshal and May Grehan.
Fresh from directing her first feature film, Ms Grehan said she could not wait to work with the Nice Shorts team and will use the experience to hone her method for future projects.
"I'm hoping that working on the Nice Shorts set allows me to learn more about efficiency and how a sketch production works," explained Ms Grehan.
"My next project is a sketch show for kids, so working with the Nice Shorts team will be an incredible chance to listen and learn from everyone involved.
"I'm optimistic that working on Nice Shorts will allow myself and the other filmmakers to get further work and maybe even encourage more production companies to shoot in Queensland."
The first five episodes of the series have been released and viewed by thousands of people worldwide via the Nice Shorts Facebook Page, Instagram and the Robot Army Youtube Channel.
Nice Shorts is a Bunya Entertainment production. Principal production investment from Screen Australia, in association with Screen Queensland.
The episodes created and filmed in Queensland will air in November.
-ENDS-
Media Contact:
Katlin McCullough 07 3248 0525
Screen Queensland
ABOUT NICE SHORTS Nice Shorts is a 16-part online show which explores big topical issues in a fun way created by Jazz Twemlow (The Roast, Tonightly) and Nick Boshier (Bondi Hipsters, Beached Az, Soul Mates), and series produced by Gillian Moody with creative producer Jordana Johnson. Featuring an ensemble of Australian comedy writer-performers including Nazeem Hussain (Orange is the New Brown, Public Frenemy Netflix Special), Greta Lee Jackson (Skit Box, Wham Bam Thank You Ma'am), Bjorn Stewart (Black Comedy), and Penny Greenhalgh(Orange is the New Brown, The Checkout).
ABOUT SCREEN QUEENSLAND Screen Queensland is a Queensland Government owned company that invests in talent and production to grow a creative, innovative and successful screen industry with a focus on stories and audience, secures production and post, digital and vfx to Queensland, and delivers an active screen culture through festivals and events funding across the state. Screen Queensland invests in stories and talent through a range of mechanisms including development, production investment, initiatives, sqhub and mentorships. Screen Queensland is deeply committed to increasing diversity in the screen industry to reflect the Australian community. For more information visit screenqld.com.au
OFFICIAL PHOTOS http://www.dropbox.com/sh/k3pkper9m8bje1y/AABtvpLhkwQiXKKCk2D0y2ida?dl=0