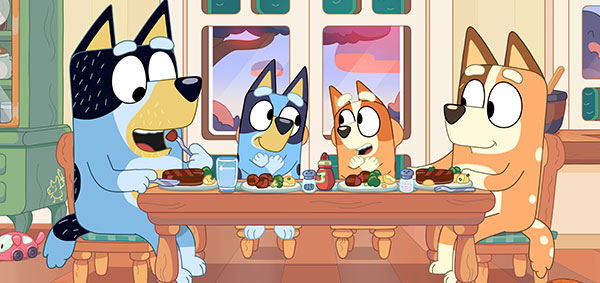 Cheese and crackers! Season three of Australia's number one animation series, Bluey, will start production on 2nd November, with 50 brand new episodes, jam-packed with more hilarious, play-filled adventures from the nation's most-adored family of blue heelers.
One hundred per cent made in Queensland by Brisbane's creative powerhouse Ludo Studio, the new series will be audio described for the first time.
Bluey fans across Australia will also be excited to learn that from 8am Monday 26th October (encore at 6.20pm) new episodes of series two will be available on ABC and iview.
"Season three of Bluey is estimated to create 40 jobs, two training opportunities and an injection of approximately $6 million into the state economy, " said Screen Queensland CEO Kylie Munnich

"Bluey is not only a favourite amongst families across Australia and the world, but also a fine example of the talent and expertise of the screen industry in Queensland.
"Ludo Studio in Brisbane's Fortitude Valley is a booming Queensland business, making it big in Australia and across the globe."
The announcement of series three will come as no surprise given the widespread critical acclaim and unstoppable popularity of Bluey, which has well and truly captured the hearts of kids and families around the world.
"Bluey has broken all the records for kids' animation as ABC iview's most popular television show ever, not to mention winning an ACCTA award, a TV WEEK Logie and a prestigious International Emmy™ Award," Ms Munnich said.
"Screen Queensland is incredibly proud of our partnership with the Bluey team and delighted to support series three via our Post, Digital and Visual Effects (PDV) funding."
Charlie Aspinwall, co-founder of Emmy™ award-winning Ludo Studio and executive producer of Bluey, credits the whole team for their hard work and absolute dedication to the show.
"It's a dream for us to keep making Bluey for the millions of fans out there and we're incredibly grateful and excited that we can continue to share more funny and heartfelt stories of the Heeler family at play with Australia and the rest of the world," Aspinwall said.
Bluey Season 3 is a Ludo Studio production for the ABC. Major production investment from BBC Studios in association with the ABC and Screen Australia. Post-Production, Digital and Visual Effects work undertaken in Queensland, Australia with funding from the Queensland Government through Screen Queensland and the Australian Government.