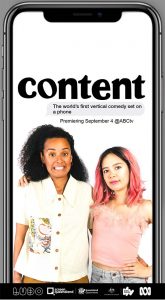 Ludo Studio's new comedy-drama series Content landed on ABC this week, making a splash across the social media world, with scenes from the first episode "Flipgirl" going viral as fake news, in a perfect twist of life imitating art.
The made-for-mobile show is the first scripted drama to utilise the vertical video format which has gained popularity exponentially with the rise of mobile video consumption.
From the studio behind the award-winning children's animation Bluey, the series follows wannabe-influencer and millennial Lucy whose world is literally turned upside down in a car crash which is broadcast live on Facebook.
The show takes place in real-time on Lucy's smartphone. When she's interfacing with her phone – we're interfacing with her.
But it's not just the social apps that we see – we see her google searches, private messages (including the ones she doesn't send), photo albums, phone calls and everything she does on her phone.
Catch the first episode now on all ABC channels, with new episodes dropping weekly: ABC Iview | ABC Youtube | ABC Facebook | ABC IGTV
Content is a Ludo Studio production for the ABC. Principal production investment from Screen Australia, in association with SQ.
SQ is excited to support this trail-blazing production which breaks new ground in the screen world! We are keen to work with creators with equally revolutionary ideas, so if you're a filmmaker with a ground-breaking project make sure you check out our investment guidelines or get in touch.
Watch the show