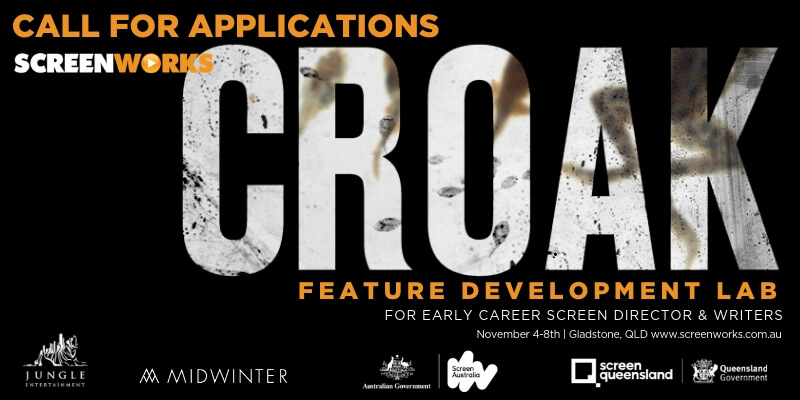 FEATURE FILM DEVELOPMENT LAB WITH NASH EDGERTON: CALLING FOR APPLICATIONS FROM REGIONAL PRACTITIONERS
Program details: 4th Nov – 8th Nov 2019, Gladstone, Queensland. Applications Close 9am AEST 26th August 2019 – app. fee $65 ($15 for Screenworks Members)
Applications are now closed
Applications are now open for early-career regionally-based screen director/writers to apply to be part of a workshop led by internationally acclaimed director Nash Edgerton along with Christiaan and Connor Van Vuuren to develop the comedy science fiction feature film Croak.
Screenworks in partnership with Jungle Entertainment, Midwinter Films and Screen Queensland, with the support of Screen Australia, is proud to be running the four and a half-day Croak Feature Development Lab in Gladstone from November 4th – 8th 2019 with the talented Nash Edgerton as development consultant.
Nash will join forces with Jungle Entertainment's Producer Chloe Rickard, Midwinter Films' Producer Bridget Callow-Wright and the Van Vuurens to deliver this unique workshop. Together, this team of internationally acclaimed industry professionals will guide early-career director/writers from regional Australia, through the late development stage of the feature film as part of a Development Lab which will be delivered in partnership with Screenworks.
A total of five early-career regionally-based director/writers from across Australia will be selected to travel to Gladstone to participate in the Croak Feature Development Lab.
Each participant will be paid a fee of $4,500 in addition to having their travel to Gladstone and their accommodation expenses covered.
Screen Queensland has invested in the development of Croak as well as the Development Lab and at least two of the selected director/writers will be from regional Queensland.
Croak is an original concept written by Shane Brady and co-written by Priscilla Cameron for Jungle Entertainment and Midwinter Films with Christiaan Van Vuuren and Connor Van Vuuren as directors and developed with investment from Screen Queensland and Screen Australia.
Current Screenworks Members – $15 administrative processing fee.
Non-members – $65 administrative processing fee which includes a one-year Screenworks Regional Emerging Professional Membership (valued at $45).
If you wish to apply for a fee waiver due to financial hardship, please email programs@screenworks.com.au.
If you're unsure of your membership status, please contact Screenworks on (02) 6681 1188.
CREATIVE CONSULTANT: NASH EDGERTON
Nash Edgerton is a writer, director, producer, stuntman, actor and editor.
He has directed nine multi-award winning short films, including Spider and Bear that have wowed audiences and entered cult status worldwide.
His feature films include The Square, an Australian film noir and the comedy thriller Gringo, starring David Oyelowo, Charlize Theron, Joel Edgerton and Amanda Seyfried.
Edgerton is currently directing the second season of the highly acclaimed FX series Mr Inbetween.
CREATIVE TEAM
Directors, Van Vuuren Bros
The Van Vuuren Bros are the creative team behind viral hits such as The Fully Sick Rapper, Bondi Hipsters and Kid in Cockpit, which have collectively received more than 11 million hits worldwide. Connor completed film school at UTS, and is also an experienced actor and stunt performer who has worked on productions such as Alien: Covenant, The Wolverine and The Hobbit. Christiaan, however, moved into filmmaking after being told he had tuberculosis and was confined to a hospital room for six months, where he created a series of viral videos based on his online alter ego, The Fully Sick Rapper.
Together, the Van Vuuren Bros have since created work for a range of Australian television networks. Their first attempt at a long-form narrative, entitled SICK!, aired on MTV and earned them a 2012 ADG Award nomination for Best Direction in a Television Comedy. The Van Vuuren brothers are currently in development on a series adaptation of SICK! for the US. Their work co-writing and directing 37 episodes of Bondi Hipsters, earned them a 2013 ADG Award for Best Direction in an Original Online Project, and the entire series was picked up for broadcast by ABC2 and JUICETV (New Zealand).
In 2014, their multi-platform comedy series Soul Mates, a spin-off of Bondi Hipstersproduced with Ludo Studio, aired on the ABC. Soul Mates follows two friends who are continually drawn together across the course of human history: as prehistoric cavemen, as 1980s Kiwi Assassins, and as the Bondi Hipsters. Soul Mates II, the second series, screened on ABC and ABC iView in 2016.
In addition to their own creative projects, they directed a number of sketches in The Elegant Gentlemen's Guide to Knife Fighting for the ABC and Jungle. In the brand funded space, the Van Vuuren Bros have created work for brands including Coke, Sony, Ikea, AMEX, Unilever, and a short format series for Cadbury/MTV that won an Astra Award for Most Outstanding Use of STV in a Consumer Advertising Campaign.
Christiaan and Connor are currently in development on a number of television and feature projects.
Producer, Chloe Rickard
Chloe Rickard is a filmmaker rapidly emerging as one of Australia's most dynamic and innovative comedy producers. A Partner and Head of Production at Jungle Entertainment, she has served as lead producer on Here Come the Habibs,  No Activity  (Stan's first original commission),  Soul Mates, The Moodys, A Moody Christmas, Elegant Gentlemen's Guide to Knife Fighting,and  over 200 TVCs.
She produced Soul Mates series 1 & 2 for the ABC and NBCU, and with backing from Screen Australia, is in development of the feature film The Murderous Urges of Ordinary Women.
Chloe is a recipient of Screen Australia's Enterprise Growth program with the Van Vuuren Bros and one of the founders of the ScreenThink, a group of young thought leaders whose research into piracy recently won the support of the Content Coalition formed by News Corp, Village Roadshow, Foxtel and other leaders of the screen business.
Producer, Bridget Callow – Wright
Bridget is an award-winning screen producer with a focus on scripted narrative film and television. Commercially savvy and creatively spirited, Bridget loves to nurture storytellers with an exceptional vision to push boundaries and take risks in their work.
Bridget is the head of Jungle Entertainment's new feature film division, expanding on their suite of premium comedy and drama productions for television. Jungle Entertainment is one of Australia's most successful television production companies, with currently three shows on air in the US.
Under her own production company Midwinter Films (which she retains for select producing projects), Bridget has produced three award-winning theatrical feature films sold around the world and premiering at top tier film festivals (Toronto, Tribeca, Rotterdam). Her latest film The Butterfly Tree was awarded Best Film and Best Actress at CAIFF, was nominated for 3 AACTAS and starred Melissa George (The Slap), Ewen Leslie (The Cry) and Ed Oxenbould (Wildlife). The Butterfly Tree premiered internationally at Toronto International Film Festival.
Bridget has a wide network of international and local financing and producing partners, in-depth knowledge of the international content marketplace, and an extensive creative producing skillset. Most recently she produced a Christmas special of the award-winning series No Activity for STAN, BBC Studios and Jungle Entertainment, directed by Trent O'Donnell (The Good Place, Brooklyn Nine-Nine, New Girl), the Canneseries award winner short form series Over And Out.
For more information contact Lisa O'Meara Screenworks Programs and Operations Manager 02 6681 1188 events@screenworks com.au