It's the moment we've all been waiting for since March 2018 when Premier Annastacia Palaszczuk announced Paramount was coming to Queensland to Film their live-action Dora movie.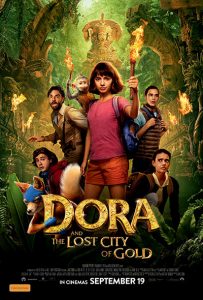 Dora and the Lost City of Gold, which has already won hearts in the US opens Australia wide on September 19, following the Australian launch on the Gold Coast last week.
The flick tells the story of Dora – now a teenage explorer – who accompanies her friends on an adventure to save her parents and solve the mystery behind a lost Incan civilization.
Dora and the Lost City of Gold was filmed at Village Roadshow Studios on the Gold Coast as well as in 16 other locations across South East Queensland including Tamborine Mountain, Tallebudgera Valley, the Old Museum in Brisbane and Palm Beach Currumbin State High School.
The production employed 400 cast and crew, including a number of SQ Attachments who were given the opportunity to upskill during film. It injected $43 million into the Queensland economy and is set to be a hit with families all around the world!
Make sure you get to the cinemas and see it soon!