The four-part broadcast series created as part of the Screen Queensland and NITV Queensland Originals program in 2018 will air from Monday (19 August) on NITV.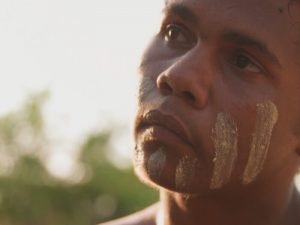 The series takes viewers on a unique journey into Aboriginal and Torres Strait Islander Culture and Country through the four elements of Earth, Water, Wind and Fire.
It is a visually stunning and immersive program that captures and showcases the spectacular landscapes of Far North Queensland and the Torres Strait Islands through the cultural experiences and stories of the Indigenous peoples of Mornington Island, Saibai, Seisia, Bamaga, Dauan Island and Wujal Wujal.
Read more about each of the episodes below:
Earth – Lardil Earth | Mon, 19 Aug 8.30pm
Travel into the traditional homelands of the Lardil people of Mornington Island, where they share a special relationship with Mother Earth that began when the land was created by their ancestors in the Dreamtime.
Wind – The Gubaw Gizul of Saibai| Mon, 26 Aug 8.30pm
The Gubaw Gizul of Saibai is an insight into the totemic kinship connection that each clan of Saibai has with a specific directional wind, and the integral role the winds play in the everyday life and culture of Torres Strait Islanders.
Fire – Yalanji Fire | Mon, 2 Sep 8.30pm
The Yalanji People have been living in harmony with the land for over 50,000 years – developing a deep, intimate knowledge of their ecosystem and the lifecycles it has. They have also developed a close connection with fire. From cooking and preparing food, maintaining forest and agriculture, to stories and spirituality, for the Yalanji People, fire is a way of life.
Water – Dauan Island Springs of Life | Mon, 9 Sep 8.30pm On the small Island of Dauan in the north-west of the Torres Strait, spirituality and culture is deeply connected to the environment. Like all Torres Strait Islanders, the people of Dauan maintain a strong cultural connection to island and sea country. Every aspect of life on Dauan is highly dependent on the rhythm of the water – from the sea, sky, and even from within the island itself. At the heart of the island is more than six natural freshwater springs, which have sustained the people of Dauan for thousands of years.
Screen Queensland and NITV present "Elements" a WildBear Entertainment production in association with Rogue Harmony Media, Kethuku Consulting, EJ Garrett Media Consulting, Kima Consultant, Aspectlab, One Blood Hidden Image Entertainment Group and Lone Star Company.