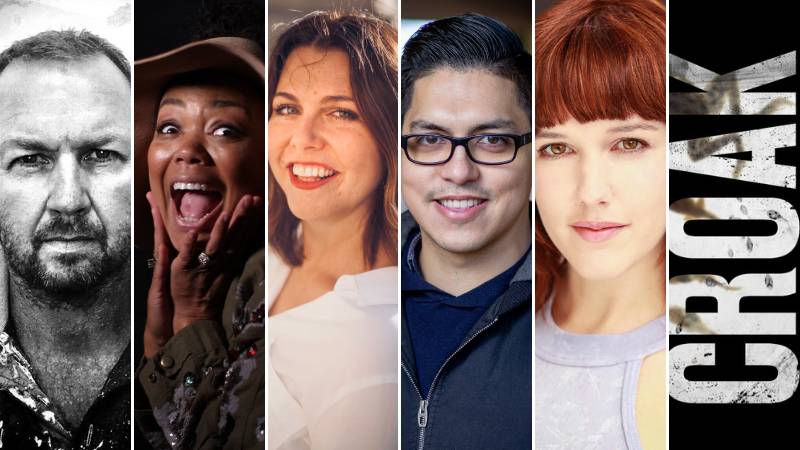 Five regional director/writers have been selected by Screenworks, Jungle Entertainment and Midwinter Films to develop the sci-fi comedy feature film Croak. Led by internationally acclaimed director Nash Edgerton (Mr Inbetween) along with Christiaan and Connor Van Vuuren (Soul Mates, Monkey), the Development Lab provides early career director/writers with an opportunity to develop their practice. Held in Gladstone, Queensland over four and a half days in early November, the Screenworks initiative received funding through Screen Australia's Enterprise Ideas Program with investment support from Screen Queensland and delivered in partnership with Jungle Entertainment and Midwinter Films.
The selected director/writers come from various locations around regional Australia and include: Sebastian Chan from Higgins, ACT; David Wade from Whyalla, South Australia; Barbara Taylor from Lennox Head, NSW; Madeleine Dyer from Townsville, Queensland; and Siobhan Mulready from Maroochydore, Queensland.
More information on the selected participants can be found at Screenworks website:
http://screenworks.com.au/enews-articles/croak-participants/
"These five breakthrough director/writers are perfectly poised to help shape the timely questions that Croak raises, as well as load it with laughs, rebellion and relatable moments" said Jungle Entertainment Producer Chloe Rickard. "It was a hugely competitive process, and their applications rose to the top because of their distinctiveness and impressive track record."
"Screenworks are delighted to be working with Jungle Entertainment and Midwinter Films to bring this opportunity to regional director/writers" explained Screenworks CEO, Ken Crouch. "There is so much talent in regional Australia and they often don't get the same opportunities as metropolitan-based practitioners – so we look forward to the seeing where this experience takes them."
Nash Edgerton will work with Jungle Entertainment's Producer Chloe Rickard, Midwinter Films' Producer Bridget Callow-Wright and the Van Vuurens to guide the participants through the late development stage of the feature film. Croak is an original concept written by Shane Brady and co-written by Priscilla Cameron for Jungle Entertainment and Midwinter Films with Christiaan Van Vuuren and Connor Van Vuuren as directors.
Croak is a science fiction comedy with a big heart and green tinge. When coal-seam gas fracking forces Josh and Stacy's family off their farm, their Mum takes a job in Galston, a booming coal and gas port. Josh, a sensitive nature boy, and Stacy, a knockabout country girl, are pitched into a new school in a new town amidst strange goings-on: pets vanishing and cars mysteriously crushed in the night.
A public information night on Croak: The Making of a Feature Film will be held at the Oaks in Gladstone on Thursday 7th November, for more information visit www.screenworks.com.au
Screenworks, Jungle Entertainment and Midwinter Films' Croak Feature Development Lab is supported by Screen Australia's Enterprise Ideas funding program with investment support from Screen Queensland
END
For more information contact Lisa O'Meara, Screenworks Programs and Operations Manager 02 6681 1188 events@screenworks .com.au