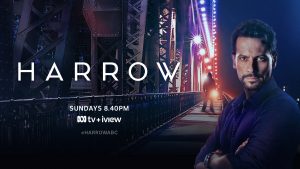 Screen Queensland (SQ) is thrilled to announce Harrow Season 2 will premiere on ABC TV and iview on Sunday 12 May 2019 at 8.40pm.
Harrow is a crime drama series, made by Hoodlum Entertainment for ABC Australia and ABC Studios International and proudly supported by Screen Queensland.
The brilliant, unorthodox pathologist Dr. Daniel Harrow is back. After surviving an attempted murder, Harrow gets back to work solving baffling cases, all the while on a very personal mission that cuts closer to home than ever before.
Screen Queensland CEO Tracey Vieira said Harrow Season 2 created approximately 300 jobs for Queensland cast and crew as well as 800 extras, and provided three training opportunities for new and emerging practitioners across editing, writing and the camera department.
"We are committed to investing in Queensland's screen industry and home-grown productions that provide economic, employment and training opportunities for our community and strengthen our local capability to create world-class screen content for global audiences," Ms Vieira said.
Harrow was co-created by writer Stephen M. Irwin (Tidelands, Australia Day, Wake in Fright, Secret & Lies) and Leigh McGrath (Tidelands, Australia Day, Secrets & Lies, Strange Calls), with additional writing from Michaeley O'Brien (Mystery Road, Wanted, Winter, The Killing Field) and was produced by Brisbane-based Hoodlum Entertainment's Tracey Robertson and Nathan Mayfield.
See the new trailer here for Harrow Season 2.