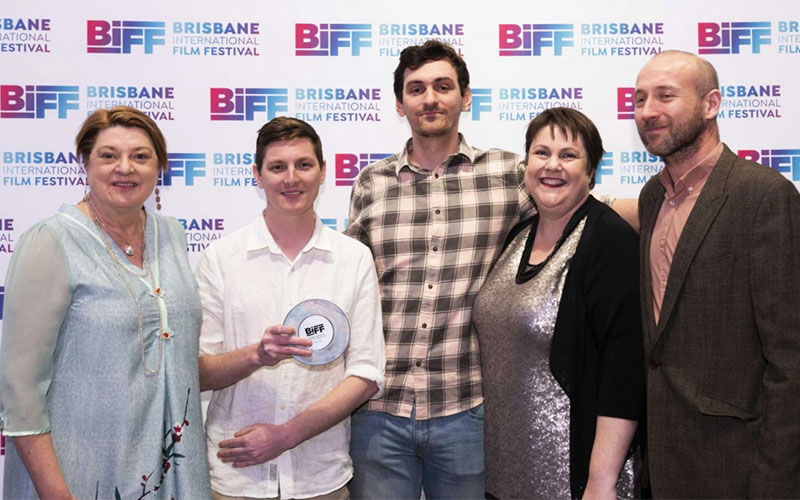 The winners of the 2019 Brisbane International Film Festival (BIFF 2019) Short Film Awards were announced yesterday at the Gallery of Modern Art (GOMA) during the Festival's closing night party.
Queensland Art Gallery | Gallery of Modern Art (QAGOMA) Director Chris Saines said the awards included the inaugural Screen Queensland Short Film Award valued at $7500 for eligible Queensland-made entries, as well as cash prizes for a range of categories recognising the best and most original films in the competition.
'BIFF's programming team selected 24 short films from hundreds of Australian and international entries to screen as part of the Festival and be eligible for the Awards,' Mr Saines said.
The Chair of Screen Queensland Linda Lavarch said the Screen Queensland Short Film Award was given to Roughnut by filmmakers Adam Webb and Kyle Thompson.
'Roughnut impressed the jury with its palpable sense of place, raw energy and powerful performances by its young actors,' Ms Lavarch said.
'We are delighted to provide $7500 funding to these filmmakers to support concept development or travel and marketing opportunities to industry events that will advance their screen industry careers.'
BIFF 2019 Artistic Director and Curatorial Manager of QAGOMA's Australian Cinémathèque, Amanda Slack-Smith said it was with great excitement that so many talented individuals had their work being seen and recognised through BIFF 2019 and its Short Film competition.
'I'd like to personally congratulate all of the winners on their outstanding productions. The calibre has been extraordinary,' said Ms Slack-Smith said.
The winners of BIFF 2019 are:
SCREEN QUEENSLAND SHORT FILM AWARD – $7500
Roughnut
Queensland, Australia. Written and directed by Adam Webb and Kyle Thompson. The friendship of two teenage boys growing up in Australian suburbia is strained after a brutal incident of bullying.
BEST FESTIVAL SHORT FILM – $2000
Raymonde or the vertical escape
France. Written and directed by Sarah Van Den Boom. Stitching 2D and stop-motion animation together, this is a beautiful tale of a fed-up owl. Tired of peas, aphids, dirty panties and digging in her kitchen garden, she longs for sex, love and the vastness of the sky. Having always looked to her faith for answers, Raymonde takes a new approach to liberate herself.
BEST AUSTRALIAN SHORT FILM 2019 – $1000
Here There Be Monsters
Queensland, Australia. Written and directed by Drew Macdonald. A young girl trying to escape incessant bullying falls asleep on the bus ride home. She wakes up trapped at an empty bus yard with something lurking outside – something big.
INNOVATION IN FORM 2019 – $1000
Wild Will
Victoria, Australia. Written and directed by Alan King. When the neighbourhood dog catcher William Page is found wandering the streets disorientated, he is brought back to the local police station for assistance. However, the situation soon disintegrates.
SPECIAL JURY PRIZE 2019 – $1000
Minor Key
Spain. Written and directed by Ivan Sainz-Pardo. A tender and colourful portrait of a man disconnected from the world, and his son's attempt to reach out to him.
SPECIAL MENTION: MOST ORIGINAL VOICE 2019
The Walking Fish
Netherlands/Japan. Written and directed by Thessa Meijer. With a dream to venture into the human world and evolve into the perfect individual, an amphibious sea creature hopes to overcome the boundaries of her body and transform into a human woman. But even among the humans she remains restless.
– ENDS –
Press release prepared by Brisbane International Film Festival
Amelia Gundelach | Media Manager, BIFF
T: +61 (0)7 3840 7162
E: media@qagoma.qld.gov.au