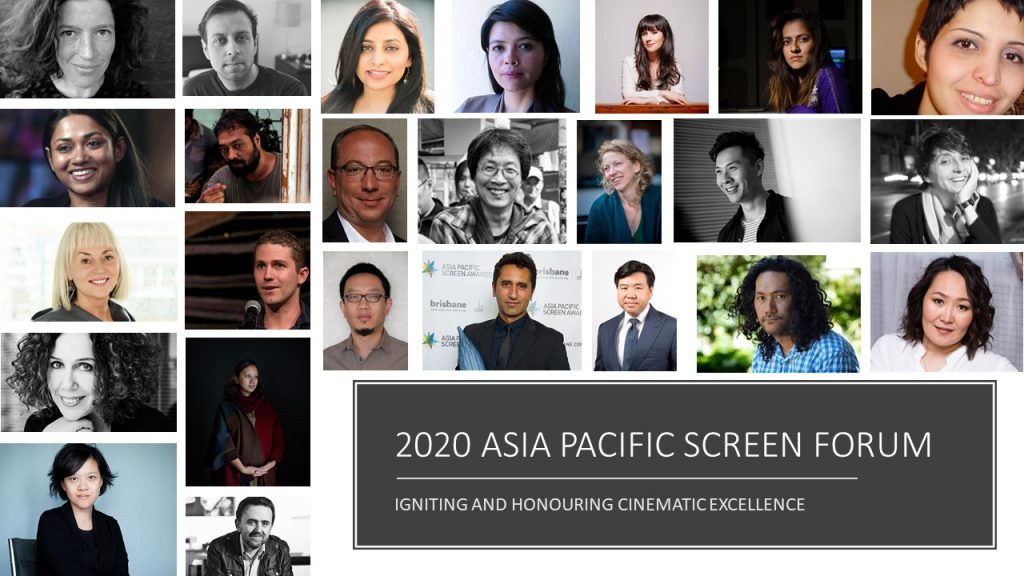 The 2nd Asia Pacific Screen Forum celebrates cultural diversity and cinematic excellence by linking screen creatives across the vast Asia Pacific as never before.
The 6-day conference will deliver a hit of optimism on what the future of the industry has in store as it regenerates after a tumultuous year globally. This will be the first screen industry conference in Australia and one of the first in the world since COVID-19 created global shutdowns.
The event is presented by the Asia Pacific Screen Awards' prestigious Academy of filmmakers, one of the largest film Academies in the world and the most diverse, with Jack Thompson AM PhD as President.
The global line-up of leading filmmaking and industry talent hail from eighteen countries and areas and the event is set to be more accessible and inclusive than ever before as it goes digital.
From a Cannes Palme d'Or Winner from Turkey, to an international critical sensation from Republic Korea and an Indian box office smash hit director, participants will have the opportunity to engage with a phenomenal line-up of award-winning filmmakers whose projects have wowed audiences across the world.
The week-long series of events will be accessible free online to participants right across the vast region as well as in person at Home of the Arts (HOTA) on the Gold Coast.
The programme includes a range of panel events and intimate roundtable discussions with an accompanying screening programme for local participants.
Open to screen industry and featuring APSA Academy Members, the week is designed to spark lively screen culture conversations with a strong focus on the themes of inclusion, excellence in craft, and women in the industry.
The events will take place 20 – 26 November in the lead up to the previously announced Award Presentation on the evening of Thursday 26 November.
The Forum is presented by the Asia Pacific Screen Academy, with the support of Screen Queensland, in partnership with Home of The Arts (HOTA), Motion Picture Association, the Australian International Movie Convention and Women in Film and Television Queensland (WIFT).
---
2ND ASIA PACIFIC SCREEN FORUM – PROGRAMME
THE RISE OF SCREEN STORIES FROM THE ASIA PACIFIC: MPA Film School Friday
With participants from countries in all corners of the region, this diverse group of filmmakers will examine the range and depth of storytelling offered by the Asia Pacific region. The discussion will focus on what exciting new experiences this can bring and is bringing to audiences on screen, and how the MPA APSA Academy Film Fund is contributing to discovering and developing these stories.

Participating Filmmakers: Robert Connolly (Australia), Dechen Roder (Bhutan), Maryam Ebrahimi (Sweden / Iran), Oh Jung Mi (People's Republic of Korea). Moderated by Patrick Frater, Asia Editor, Variety.
Friday 20 November 2020
---
WOMEN IN FILM: Leadership Discussion and Screening Programme
This feature discussion event will be accompanied by a screening programme of films by each of the four esteemed panellists from Turkey, Australia and Bangladesh. Screening at HOTA.

WOMEN IN FILM: Leadership discussion
Featuring director/writer Ili Baré and producer Greer Simpkin (The Leadership), Zeynep Atakan (Winter Sleep), and Rubaiyat Hossain (Made in Bangladesh) and moderated by Jane Sloane, Women's Empowerment Director, Asia Foundation.
2pm, Saturday 21 November
THE LEADERSHIP – from director/writer Ili Baré and producer Greer Simpkin (Australia), winner of APSA Best Feature Film for Sweet Country, and 2019 APSA Jury member.
11am Saturday 21 November
MADE IN BANGLADESH – by WIFT International Board member and feminist filmmaker Rubaiyat Hossain (Bangladesh).
11am Sunday 22 November
WINTERSLEEP – Produced by Vice President of the European Women's Audiovisual Network, Palme d'Or winner Zeynep Atakan (Turkey).
1.30pm Sunday 22 November
---
EXCELLENCE IN CRAFT: Championing Female Composers
Masterclass with leading female film composer Sneha Khanwalkar (India)
Presented by WIFT Australia (Queensland) in partnership with APSA and Australian Guild of Screen Composers (AGSC).
Sneha Khanwalkar is a vibrant and renowned music director and composer who works in Hindi films. She is best known for her score for the film, Oye Lucky! Lucky Oye!, and also for her hit soundtrack for the smash hit Gangs of Wasseypur Part 1, Part 2. A walk inside this musical mind is not to be missed!
The series Excellence in Craft is produced by WIFT QLD committee Events Manager Karolina Berkell-Kirk.
6.00pm – 7.30pm Tuesday 24 November
---
DIVERSE FUTURES: Pathways Forward
A Change Maker discussion, tabling case studies of organisations that apply community-based models to inclusion as we work towards celebrating a more diverse future in the screen industry and beyond.
Facilitator: Katrina Irawati Graham (Australia) Katrina is an Indonesian-Australian writer, director, playwright, activist. Katrina is co-founder, Chair and Queensland board member of Women in Film and Television (WIFT) Australia.
Talent: Genevieve Clay-Smith, Co-Founder of Bus Stop Films (Australia) Bus Stop Films is a pioneering, not-for-profit organisation that uses filmmaking and the film industry to raise the profile of people living with disabilities and other marginalised groups, on both sides of the camera.
Tim Soutphommasane (Australia) is a political theorist and professor at the University of Sydney. He was Australia's Race Discrimination Commissioner at the Australian Human Rights Commission from 2013 to 2018.
Craig Gainsborough (New Zealand) producer of Rūrangi. More than a series, Rūrangi is a movement to create social change for New Zealand's gender diverse community by empowering screen creatives to tell their own stories and represent themselves autonomously.
Ana Tiwary (Australia), founded the Diversity in Australia Media community over a decade ago. She is a producer/director and her company indiVisual films specialises in diverse stories. Recently Ana produced Rhapsody of Love, the first Asian Australian Rom-com.
5pm Wednesday 25 November 2020.
---
ROUNDTABLE DISCUSSIONS
Presented in partnership with Screen Queensland.
Building on the remarkably successful editions in previous years, the roundtable discussions in 2020 are comprised of four intimate sessions, providing a unique space for screen creatives to openly discuss their craft. While topics are familiar, the chance to openly discuss industries from different cultural, political, linguistic and budgetary frameworks provides an unparalleled opportunity for the participants to learn from each other.
These sessions are FREE, and open by expression of interest to a limited total number of participants to ensure an intimate conversation where everyone can contribute.
---
PRODUCING
Presented in partnership with the Screen Producers Australia.
Participating talent: Bianca Balbuena (Philippines), LEE Joon-Dong (Republic of Korea), Guillaume de Seille (France), Sean Chen (People's Republic of China), Josephine Mackerras (Australia).
Monday 23 November
---
DISTRIBUTION – a local and international perspective.
Presented in partnership with the Australian International Movie Convention.
Participating talent: Isabelle Glachant, Asian Shadows (Hong Kong, PRC & France), Paul Wiegard, Co-Founder & CEO, Madman, Mike Baard Managing Director – Universal Pictures International Australasia.
Tuesday 24 November
---
ASIA PACIFIC INDIGENOUS PERSPECTIVES
An international conversation about the challenges and the joys of making local films for a global audience.
Leah Purcell (Australia), Sardana Savvina (Yakutia, Russia), Tusi Tamasese (Samoa / New Zealand), Cliff Curtis (Maori / New Zealand) and Christopher Kahunahana (Hawaii, USA).
Tuesday 24 November
---
WRITER / DIRECTORS – THE FUTURE OF STORYTELLING
Our diverse panel delve into the future of screen stories, where inclusion and diverse representation will reinvigorate and enrich the storytelling of the future in its many forms.
Participating filmmakers: Ivan Ayr (India), Mouly Surya (Indonesia), Anurag Kashyap (India), Anthony Chen (Singapore).
Wednesday 25 November