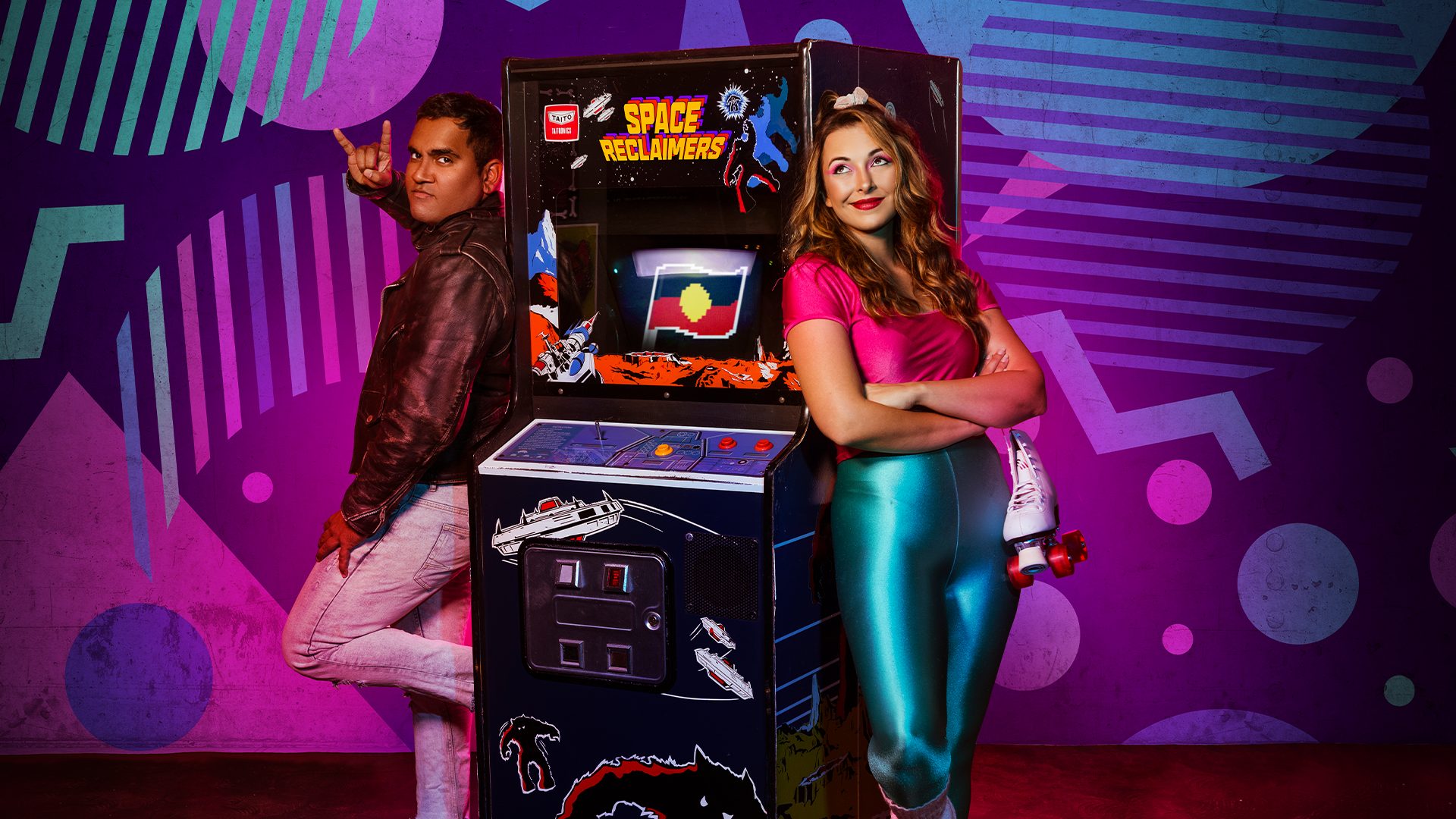 Written and directed by Alethea Beetson, Queen's City is set at nostalgic 80s karaoke bar and skating rink All Ways — run by local matriarch Truth and her trusty attendants Justice, Magick and Grace. When politicians threaten to tear it down to make way for new 'cultural' attractions, the crew have to find a way to rewrite the past to save their beloved place.
Supported through Screen Queensland's Screen Culture Funding program, the debut work from Blak Social will premiere at Brisbane Festival from 21 to 24 September at the Cremorne Theatre, QPAC.
Screen Queensland spoke with Alethea Beetson about the work's development, incorporating screen elements into the production, and advice for emerging Aboriginal and Torres Strait Islander practitioners.
HOW DID THE CONCEPT FOR QUEEN'S CITY COME ABOUT? WHAT INSPIRED THIS NEW WORK?
Queen's City came from a residency I had at Museum of Brisbane where I was interested to see what would happen if we reversed the museology of storytelling by making up white history whilst telling Blak narratives. I also was inspired by the way Alexis Wright crafted the world of Carpentaria — a novel I had the privilege of adapting in 2017 and 2019 for a performance at Brisbane Writers Festival. Mostly Queen's City has been inspired by my community — the muse of all my work. I am writing and directing this for them, so every detail is inspired by them.
WHAT CAN AUDIENCES EXPECT FROM QUEEN'S CITY?
One of the best soundtracks they have ever heard! Lots of laughs. And the truth about the past, present and future.
WHAT HAS BEEN YOUR EXPERIENCE WORKING WITH THE CREATIVE TEAM TO DEVELOP THE PROJECT SO FAR?
Throughout the development of Queen's City I started Blak Social — a multi-arts company/collective — to do some of my music and performance work-through. This means that Blak Social is co-presenter of the work and we get to retain the sovereign processes the creative team and I have established. The Mob who have worked on this project since 2019 are very much like family to me, Loki Liddle and Jhindu-Pedro Lawrie (from Blak Social). Our job is making people laugh and perhaps think enough that they change their world to consequently get out of our way so we can live ours how we want to.
HOW WILL YOU INCORPORATE SCREEN ELEMENTS INTO THE PRODUCTION?
The play is set in the 1980s and is part of a larger body of work called the Queenscitiverse. In the production itself there are some 80s style animations that are integral to the story and karaoke for the audience to keep up with.
Also, as part of the world building within Queen's City, there is a music film clip, a space reclaimers advertisement and live performance from an Indigenous 80s glam rock band that we will be sharing across social media. Screen content will form an integral part of all future works connected to the Queenscitiverse.
WHAT IS YOUR ADVICE FOR EMERGING ABORIGINAL AND TORRES STRAIT ISLANDER PRACTITIONERS IN THE CREATIVE INDUSTRIES?
If you are struggling to get your work made or seen or heard, then connect with Mob and find a way to do it together. I found navigating the colonial control of theatre companies in Brisbane really difficult and did not agree with how little space was given to Indigenous performance. So, I built up Blak Social's community, established our sovereign processes and now get to premiere the work on our terms. It was not easy and required partnerships that we developed on our terms, but I am proud of the way Queen's City gets to introduce herself to the world.
IF YOU COULD DESCRIBE THE SHOW IN THREE WORDS, WHAT WOULD THEY BE?
Blak love wins!
---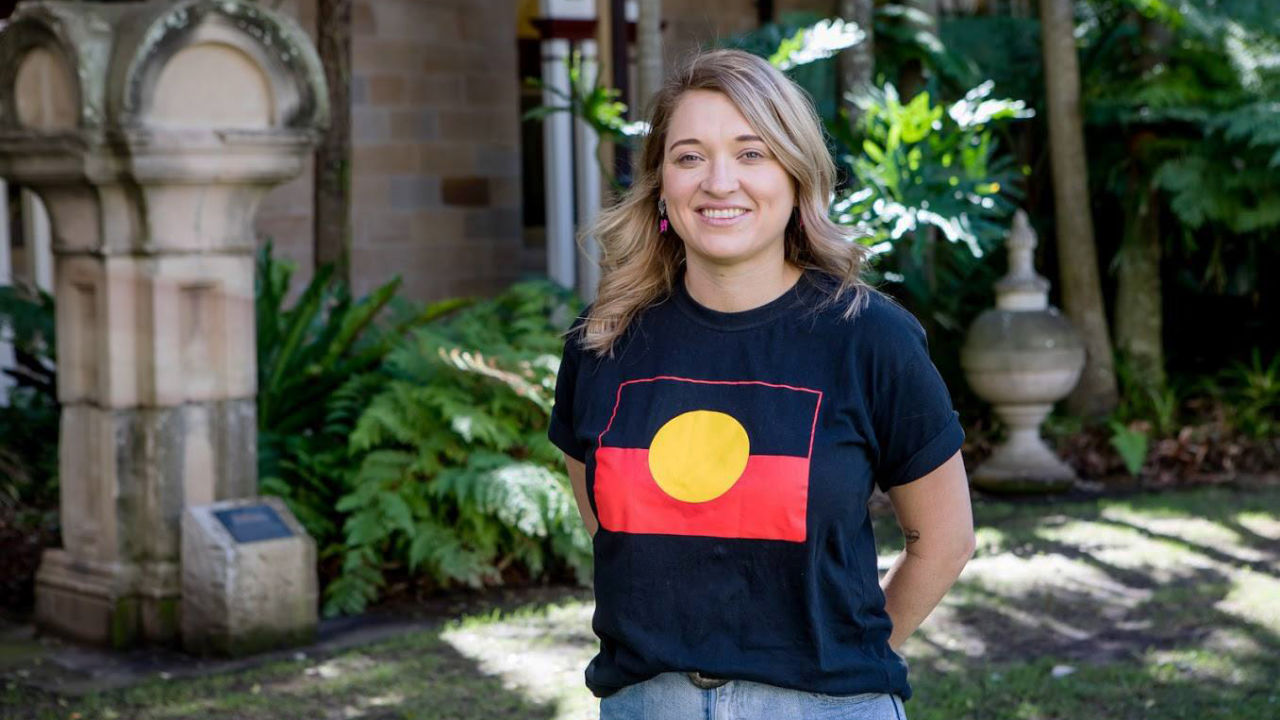 ABOUT ALETHEA BEETSON
A creative voice for indigenous youth, Alethea has paved the way for the next generation of connected Aboriginal and Torres Strait Islander cultural and arts leaders.

READ MORE

Alethea Beetson is a Kabi Kabi/Gubbi Gubbi + Wiradjuri writer, director and producer who has worked extensively with Indigenous communities across multiple art forms to inspire new works responding to societal issues, cultural heritage and colonisation. In 2013 Alethea founded Digi Youth Arts (DYA) is an Indigenous led youth arts organisation sharing the stories of our young people. Digi Youth Art is so-called Australia's premier Aboriginal and Torres Strait Islander youth arts organisations delivering innovative ancestrally connected programs across so-called Queensland and beyond.

Her tenure at Digi Youth Arts has seen Alethea write and direct the following productions from a community engaged practice: COOKED (2022, QPAC), ANTHRO-APOLOGY (2018, Queensland Museum), Waiting and Searching (2016, Metro Arts), Don't Read The Comments (2016, Metro Arts), in-dij-uh-nus (2015, Brisbane Powerhouse; 2016 Festival of Pacific Arts in Guam; 2018, La Boite Theatre Company), Losing It (2017, La Boite Theatre Company); and direct Restless Dream (2021, Brisbane Festival), The Truth Is (2014, Twelfth Night Theatre) & Glad Tomorrow (2013, Brisbane Powerhouse).

Alethea also adapted and directed Alexis Wright's Carpentaria as an immersive literary performance for Brisbane Writers Festival in 2017 and 2019. Her work Queen's City is currently in development with QPAC and MUseum of Brisbane, and was the focus for her Doctorate of Creative Industries.

In 2021 Alethea adapted one of her theatre works Losing It into a short-film and directed this work in line with her existing Indigenous storytelling practices.