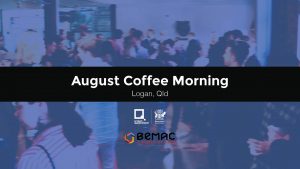 SQ have teamed up with BEMAC for our next coffee morning at ACCESS Logan.

In celebration of the R.I.D.E initiative, this month we're focusing on meeting new story tellers from diverse backgrounds. SQ would like to encourage diverse storytellers and those interested in telling diverse stories on screen, who are not currently engaged with the Screen Queensland team, to attend.
This casual morning will act as an opportunity to find out more about R.I.D.E, ask specific questions and meet those like-minded individuals who are eligible for the R.I.D.E Feature Film Fund.
When: Thursday, 8 August 10am-11am
Where: The Access Gateway, 91 Wembley Road Logan Central
Cost: Free
About R.I.D.E
R.I.D.E (Respect, Inclusion, Diversity, Equality) is Australia's largest feature film fund and is a partnership between SQ, SBS, Madman Entertainment and The Post Lounge along with investment from Media Super.
The opportunity is for Queensland talent from under-represented backgrounds to develop and produce a $1.5 million dollar feature film.
For the purposes of the fund 'under-represented groups' includes those with differences in gender; age; Aboriginal identity; cultural and linguistic diversity (CaLD); disability; sexuality and gender identities, including lesbian, gay, bisexual, transgender, queer and intersex (LGBTQI+), location (including regional and remote areas); and socio-economic status.
Film projects should appeal to an SBS and Madman audience and should aim to reflect some or all of the SBS Charter, which has diversity and inclusion at its core. The chosen projects will also be developed with a strong focus on audience and commerciality with market partners SBS and Madman involved from concept to completion.
Eligible applicants are encourage to join us at this month's coffee morning to learn more or download the guidelines or apply on our website.