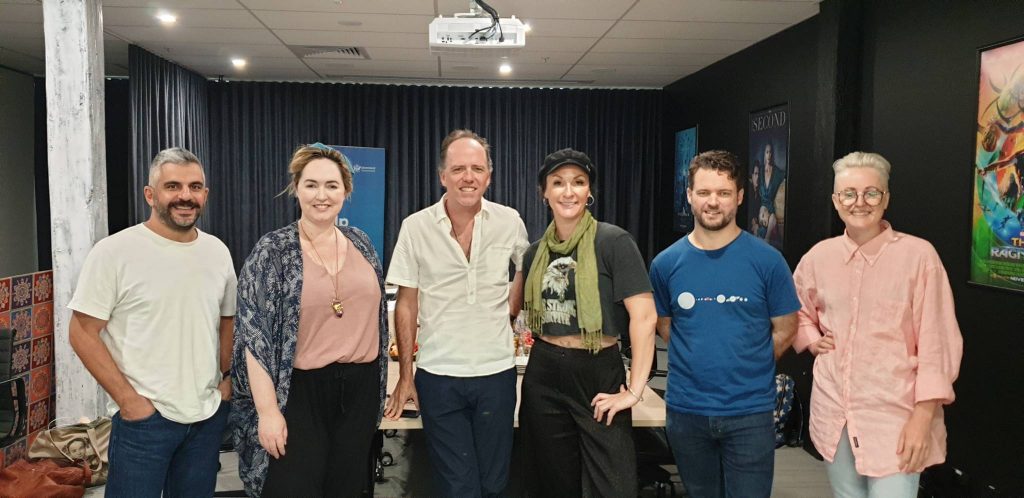 ---
Screen Queensland has partnered with US showrunner Bradford Winters (The Sinner, The Americans, Berlin Station) to offer an exclusive development experience for the five early-mid career Queensland writers and showrunners.
Commencing last week at Screen Queensland Teneriffe Headquarters and continuing through April 2021, the five recipients will be supported to develop returnable premium drama series concepts through an intensive writers' room where they will gain valuable insights into the US showrunning model; break their series concepts; develop their series' mini-bibles; and workshop their pitch.
At the end of the Lab, writers will pitch their projects to a panel of Australian broadcasters.
At least one of the participants will be selected to showrun a room of writers under Bradford Winters' guidance. In this five day writers' room, the chosen showrunner will take their project to the next level – including beating out a series arc, plotting their pilot script, and developing a detailed series bible.
This writer will also be supported to write the pilot episode of their series.
Their project will then be pitched back into market. If a broadcaster picks up the series, Screen Queensland will co-finance development of the project with the broadcaster.
Congratulations to all five recipients.
RECIPIENTS
David Peterson
Foothold
When Earth is hit by a devastating asteroid, three fledgling colonies on Mars must fight the elements and each other to ensure humanity's survival.
Meg O'Connell / Unless Pictures Pty Ltd
Debatable
Hannah's parents get divorced and she's forced to up sticks and move towns. She's an introvert and figures she can keep a low profile at the new school. But when she arrives, she's immediately conscripted onto the debating team.

Rachael S. Morgan
Disgraceful
When 49-year old Grace Miller's thirty-year, seemingly perfect marriage implodes, she decides to take a gap year from her life and do all the things (and people) she never got the chance to before she got married. It all goes swimmingly until life throws her some curveballs that don't exactly fit her plan.
Clare Sladden
Pathological
When the removal of a brain tumour transforms ruthless lawyer, Claudia (39), from a virtual sociopath into a guilt-ridden mess, she must navigate a dangerous corporate conspiracy to protect a teenage runaway from a hit she orchestrated.
Johnny Moubarak
Arabian Surfer
The coming-of-age journey of Yousef Al Malfouf, a 20 year-old Lebanese-Australian surfer struggling to balance his two great passions in life, his traditional family and the surfing way of life.
---
BIOGRAPHY: Bradford Winters
Bradford Winters is an American showrunner who started his career as writer on the iconic HBO prison drama Oz and has since written and produced many highly acclaimed and widely loved series including The Sinner, Berlin Station and The Americans. Bradford has recently been in Melbourne to collaborate with Tony Ayres Productions, Matchbox Pictures and Heyday Television as the Executive Producer on the much anticipated mystery series Clickbait for Netflix.
---
Applications opened 28 January and closed 26 Feburary 2021.