Applications are now closed
The Natalie Miller Fellowship (NMF) and Film Victoria are proud to announce the launch of the Brilliant Careers Leadership Forum 2019. A forum that will address the gender imbalance in decision-making roles in the industry and support the emergence of the next generation of female leaders.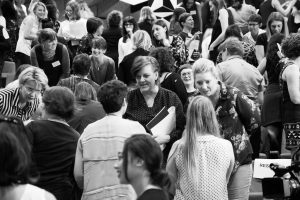 SQ would like to invite gender diverse practitioners to apply via our MARKET investment program to receive one of ten registrations to the Brilliant Careers Leadership Forum 2019 as well as a contribution towards their cost of attendance at the Brilliant Careers Leadership Forum 2019.
Applications will need to be submitted prior to 5pm, 30 Aug 19 to be eligible.
When: 24-25 Oct 19
Where: RMIT University, Melbourne
What can I apply for? Regionally-based practitioners can apply for up to $500, while metro-based practitioners can apply for up to $250 toward the cost of their attendance.
About
The Brilliant Careers Leadership Forum 2019 in a one-day conference which will bring together 200 women for sessions on navigating leadership, developing confidence, influence and presence. It will provide valuable opportunities for attendees to make new connections across the screen industry and foster the next generation of leads across the industry.
The event breakdown is:
Day 1: A special evening networking and screening function on Thursday 24th October
Day 2: Leadership Forum with workshops and facilitated discussion covering key topics (all-day event) on Friday 25th October
For more information please see the event website.
Why you should attend?
This is a fantastic opportunity for gender diverse practitioners to build their network and start working towards the next step in the career.
Am I regional or metro?
Regionally-based for the purposes of this application are defined as those leaving outside the major populations in South East Queensland – namely Brisbane and Gold Coast.