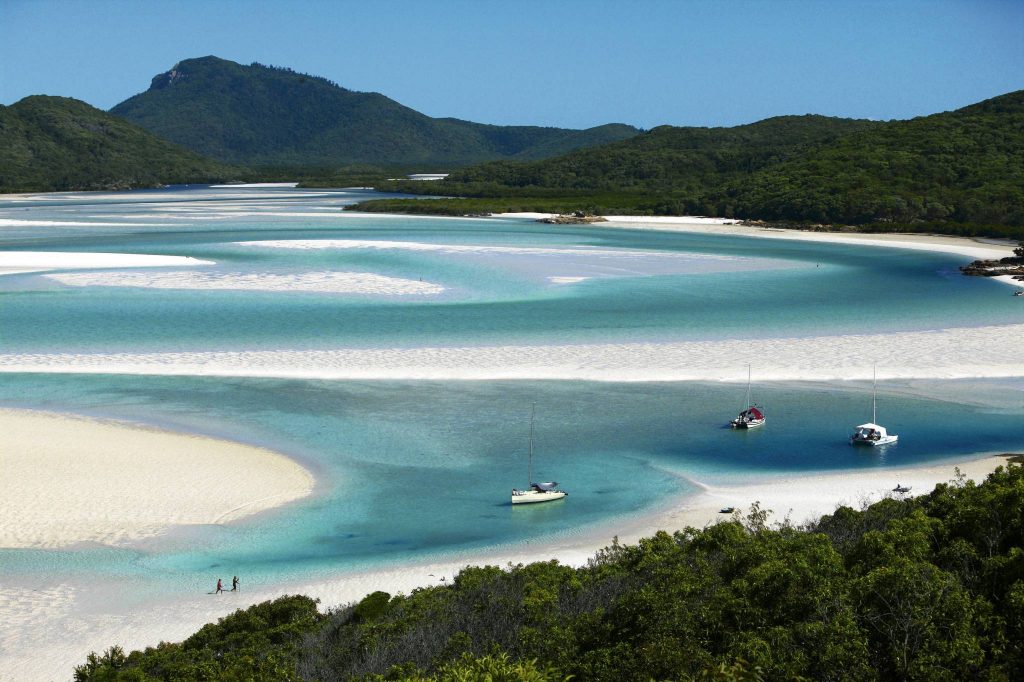 The Whitsundays
MEDIA RELEASE
Premier and Minister for TradeThe Honourable Annastacia Palaszczuk

For immediate release
Tuesday 9 March 2021
---
Queensland will be home to Academy Award winners George Clooney and Julia Roberts for the filming of Universal Pictures' Ticket to Paradise this year.
Queensland Premier Annastacia Palaszczuk today announced the romantic comedy that brings Clooney and Roberts together again will be filmed exclusively in Queensland at the Whitsundays, the Gold Coast and in Brisbane.
"This is huge news for Queensland and further evidence of our global reputation as the place to be for TV and film production," the Premier said.
"Ticket to Paradise will inject an estimated $32.7 million into the Queensland economy and create more than 1,000 jobs for local cast, crew and extras."
Secured by the Queensland Government via Screen Queensland's Production Attraction Strategy, the big-budget blockbuster features George and Julia as a divorced couple who travel to Bali (for which the Whitsundays will be standing in) to attend their daughter's wedding. It is directed by Ol Parker (Mamma Mia! Here We Go Again).
"Because of our strong health response and through the efforts of all Queenslanders in dealing with the global pandemic, we've emerged as one of the safest places in the world to film.
"We already had a strong reputation as a screen destination before the pandemic but we've definitely had more interest from international productions to film here than ever before which is great because it means more jobs for Queenslanders.
"Queensland is the place to be because of our health response, the range of locations, the weather, our competitive incentives, and world-class talent and crews.
"This latest announcement is further proof that Queensland's production boom isn't stopping anytime soon which is great because it means a pipeline of work for our local industry."
Screen Queensland CEO Kylie Munnich said that Queensland is punching above its weight as recently confirmed by an Ausfilm announcement that 6 out of 10 international productions entering Australia since July 2020 will film in Queensland.
"Initially it was about finding a COVID-safe place to film, but now the discussions with producers and directors are about the diversity of locations, first-rate sound stages, depth of crew, and just how fantastic it is to work here," Ms Munnich.
"Producers who hadn't filmed here before are saying to us, 'we can't wait to come back and produce more projects in Queensland—you've got everything here and it's just so easy.' The word is well and truly out!"
Producer Tim Bevan said that he is thrilled to be bringing Ticket to Paradise to Queensland.
"We are making a movie about paradise, and Queensland certainly offers up many stunning locations. We are looking forward to working with fantastic Queensland crews, and to enjoying some famous Queensland hospitality," Mr Bevan said.
Baz Luhrmann's Elvis project recently wrapped at Village Roadshow Studios, this month Academy Award™-winner Ron Howard starts production on Thirteen Lives about the Thai soccer team cave rescue, and Amazon Original The Wilds S2 also films on the Gold Coast from next month.
Meanwhile, reality TV juggernaut Australian Survivor is heading to Cloncurry in outback Queensland, Universal Studios Group's Joe Exotic moves on to the lot at Screen Queensland Studios in April, and Fremantle's new teen series Taylor's Island will also film on the Gold Coast.
ENDS
Background
Ticket to Paradise is an original screenplay by Ol Parker and Daniel Pipski. Tim Bevan and Eric Fellner of Working Title will produce, alongside Sarah Harvey and Deborah Balderstone. Clooney and Grant Heslov will produce for their Smokehouse Pictures, alongside Red Om Films' Roberts, Lisa Gillan and Marisa Yeres Gill. Senior Executive Vice President of Production Erik Baiers and Director of Development Lexi Barta will oversee the project on behalf of Universal.
Clooney is represented by CAA and Lichter Grossman Nichols Adler Feldman & Clark; Roberts is represented by CAA and Hirsch Wallerstein Hayum Matlof + Fishman; Parker is represented by UTA, Knight Hall Agency Ltd and Management 360 and attorney Eric Brooks at Goodman, Genow, Schenkman, Smelkinson & Christopher, LLP; and Pipski is represented by Jackoway Austen Tyerman Wertheimer Mandelbaum Morris Bernstein Trattner & Klein.
The Queensland Government's Production Attraction Incentive works in tandem with the Federal Government's Location Incentive to attract large budget international production to Australia.
MEDIA CONTACT
media@screenqld.com.au
(Please note, this email address is for media/journalist enquiries only.)