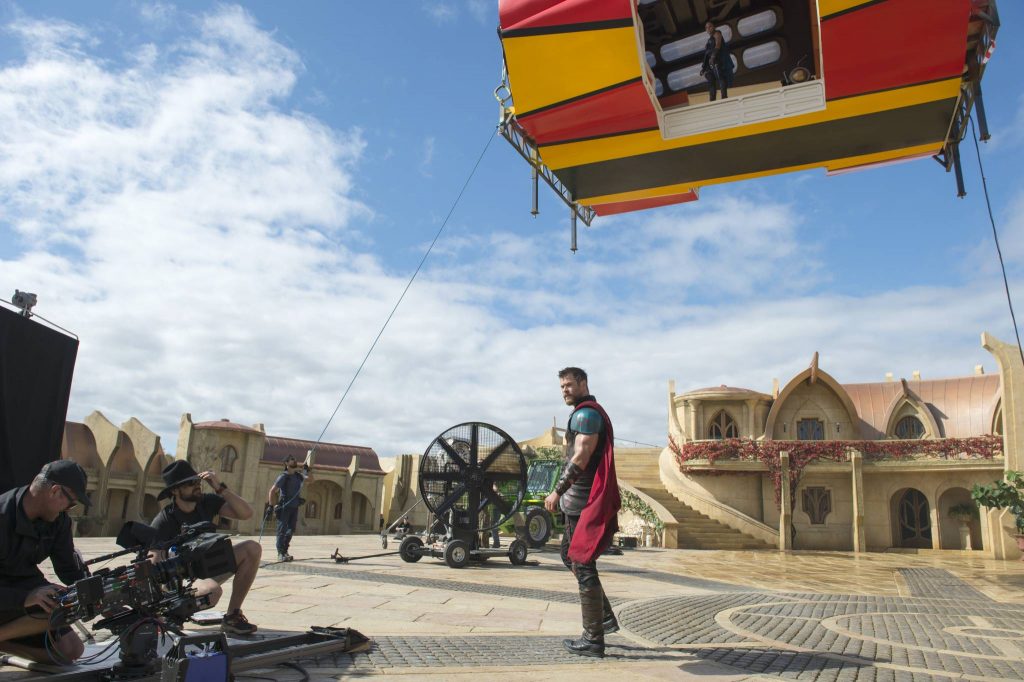 ---
JOB ENQUIRIES
Click here for information on job enquiries for crew and onscreen talent.
---
MEDIA RELEASE – FOR IMMEDIATE RELEASE
We are delighted to share the following media release from the Premier and Minister for Trade, The Honourable Annastacia Palaszczuk
---
A Netflix sci-fi feature film starring Chris Hemsworth will start production on the Gold Coast this month thanks to support from the Palaszczuk Government.

Escape from Spiderhead will be filmed entirely in Queensland and directed by Joseph Kosinski (Top Gun: Maverick, Only the Brave, Oblivion, Tron: Legacy).
Premier Annastacia Palaszczuk said Escape from Spiderhead was set to employ 360 local cast and crew and would pump around AUD$47 million into the local economy.
The international project also offers workforce development opportunities in film production, health and safety, production design, and hair and make-up to the local screen industry.
The Premier said that luring big-budget productions to Queensland through the government's Production Attraction Strategy would help to further the state's economic recovery efforts.    

"Escape from Spiderhead will give a great boost to the local economy. We're working hard to secure productions like this for the Gold Coast because we know they create local jobs and  pump cash into local businesses," the Premier said.

"As Europe and America continues to struggle with the pandemic, Queensland's reputation as a world-class film destination, alongside global recognition as a safe environment for filmmaking, has led to unprecedented demand to produce projects here.

"Because we've managed the health here in Queensland, we're now able to capitalise on that demand and focus on rebuilding our economy."

Member for Gaven Meaghan Scanlon said the government's strategy to secure world class productions for Queensland was having an impact on the Gold Coast.

"The Coast is fast becoming recognised as a global hub for filmmakers and producers," Ms Scanlon said.

"Growing this industry has huge potential to create more locals jobs on the Gold Coast – from caterers to cleaners through to cast, crew and administration officers.

"This production also has global appeal. Having beautiful images of the Gold Coast beamed into millions of homes around the world will help to ensure the Coast remains front-of-mind for prospective tourists once it's safe to accept visitors again."
Screen Queensland CEO Kylie Munnich said Queensland was fast becoming a production paradise with big-budget domestic and international projects queuing up to film in Queensland due to its depth of talent and expertise, stunningly diverse locations and COVID-safe status.
"Screen Queensland is thrilled to welcome this Netflix Original production, starring homegrown A-lister Chris Hemsworth, alongside co-stars Miles Teller and Jurnee Smollett, into our backyard," she said.
"In cooperation with the Queensland Government, Screen Queensland has worked hard to ensure producers and filmmakers around the globe appreciate the significant advantages of filming in Queensland, particularly in the current climate.

"What we offer is a winning combination of local talent and expertise, a wide spectrum of locations, competitive incentives and first-rate safety, and our project pipeline keeps on growing as a result," Ms Munnich said.
Debra Richards, APAC Director of Production Policy for Netflix, said: "Netflix greatly appreciates the support of the Queensland Government through Screen Queensland's Production Attraction Incentive Program, and the assistance of Screen Queensland and the City of Gold Coast with locations and stage space solutions for the first Netflix feature to be filmed in Australia."
This announcement follows other major screen projects for Queensland, including Universal Studio Group's three TV series—Young Rock, Joe Exotic and Irreverent—filming at Screen Queensland Studios for the next 18 months, and Baz Luhrmann's untitled Elvis project in production at Village Roadshow Studios.
Adapted from a George Saunders short story and set in a near future where convicts opt to reduce prison time by participating in experimental drug trials, Escape from Spiderhead centres on an inmate (Chris Hemsworth) who tries to out-smart his overseers to save himself and the female inmate (Jurnee Smollett) he's come to love.
ENDS