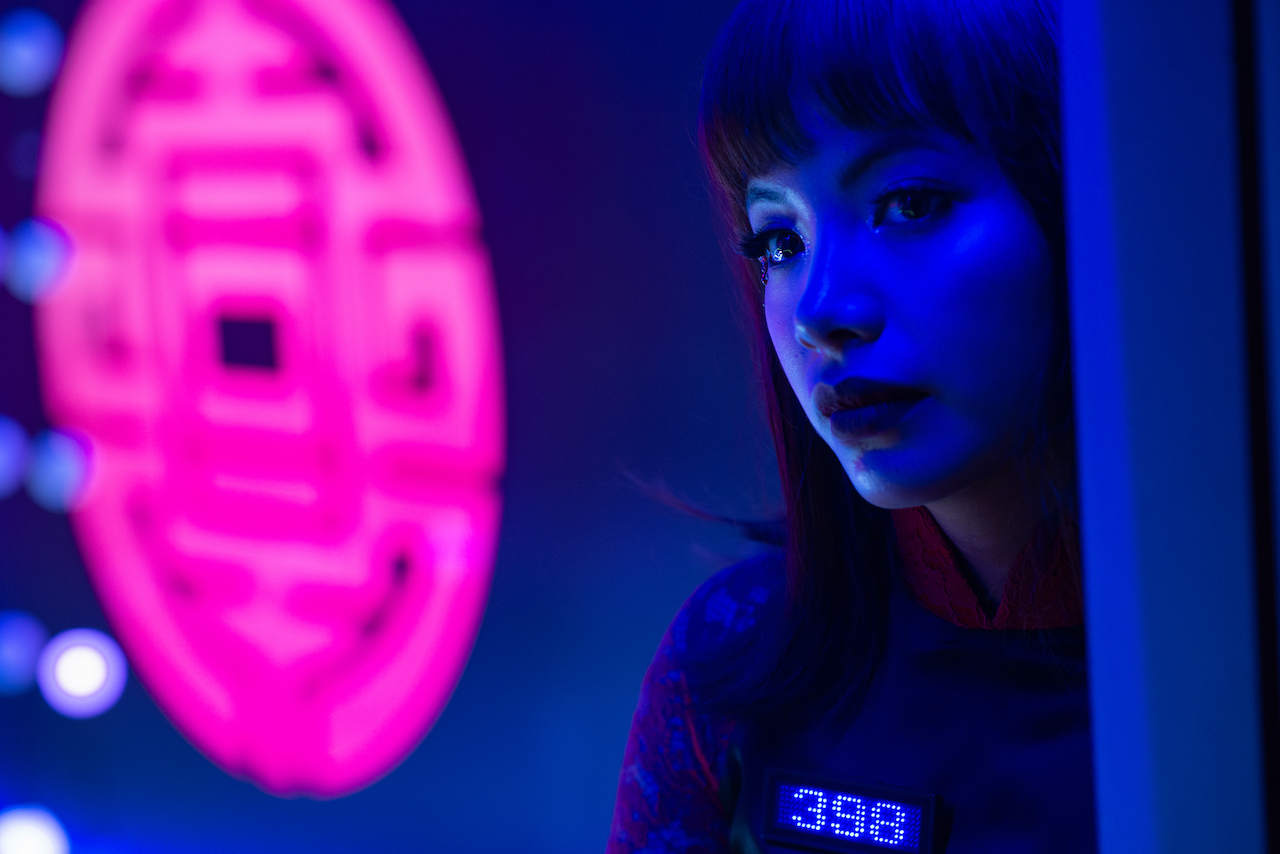 Loveland, the latest movie from celebrated Queensland-based filmmaker Ivan Sen (Beneath Clouds, Toomelah, Mystery Road, Goldstone), is out in cinemas nationwide from today.
Supported by the Queensland Government through Screen Queensland's Screen Finance Program, the sci-fi by Bunya Productions injected an estimated $1.9 million into the Queensland economy and was filmed on the streets of Hong Kong, Gold Coast's Southport and Brisbane's Chinatown Mall, plus on-set at Coomera TAFE.
Loveland is the gritty, futuristic love story of assassin Jack (Ryan Kwanten) and nightclub singer April (Jillian Nguyen), who face their past in a loveless world on the cusp of immortality and extinction.
As Jack's health deteriorates, he seeks out reclusive life extension scientist Doctor Bergman (Hugo Weaving), who unearths Jack's long-buried secret and is forced to confront his own murky past. 
Screen Queensland acting Chief Creative Officer Belinda Burns said the state screen agency invested in the film as part of its commitment to building the local film and television production industry.
"Mt Tamborine local Ivan Sen is one of Australia's foremost screen creatives, renowned in the industry for his numerous, remarkable abilities as co-producer, writer, director, cinematographer, editor, composer and sound designer of his films," said Burns.
"Screen Queensland is proud to have supported Loveland from the very beginning, through development funding in 2016, as well as production funding through our Screen Finance Program.
"Uplifting local talent, and particularly First Nations filmmakers like Ivan, is a strategic focus for Screen Queensland, as we continue to support a dynamic, diverse and sustainable local sector that has our own unique screen stories to tell the world."
Sen commented on his experience making his past three films in his home state, as well as on how his multiple roles on the production have shaped Loveland into a cohesive audio-visual experience.
"Screen Queensland has been the driving support behind Loveland, as well as my other films Mystery Road and Goldstone – without them, it would have been difficult to make these films," said Sen.
"My Queensland crew is very close, it really is like a family.
"Loveland was a chance to create a world. It is probably my most immersive film experience to date.
"For me, film is all about design. Design is what delivers cohesiveness, oneness. Design isn't just about what something looks like, it encompasses everything. This design can germinate from music, a location or characters. The challenge is to let it grow while maintaining its cohesive whole.
"It's a film that has to be seen in a cinema. That's what it was designed for."
Sen's most recent feature films Toomelah, Mystery Road and Goldstone, have received several nominations and accolades at Cannes Film Festival, London Film Festival, Sydney Film Festival, Toronto Film Festival, the Asia Pacific Screen Awards, Australian Film Critics Association Awards and the Film Critics Circle of Australia Awards. 
Loveland is co-produced by David Jowsey, Greer Simpkin and Angela Littlejohn.
Loveland is screening only in cinemas from 17 March. For information on cinemas and sessions visit www.LovelandMovie.com.au
---
Media Enquiries:
media@screenqld.com.au