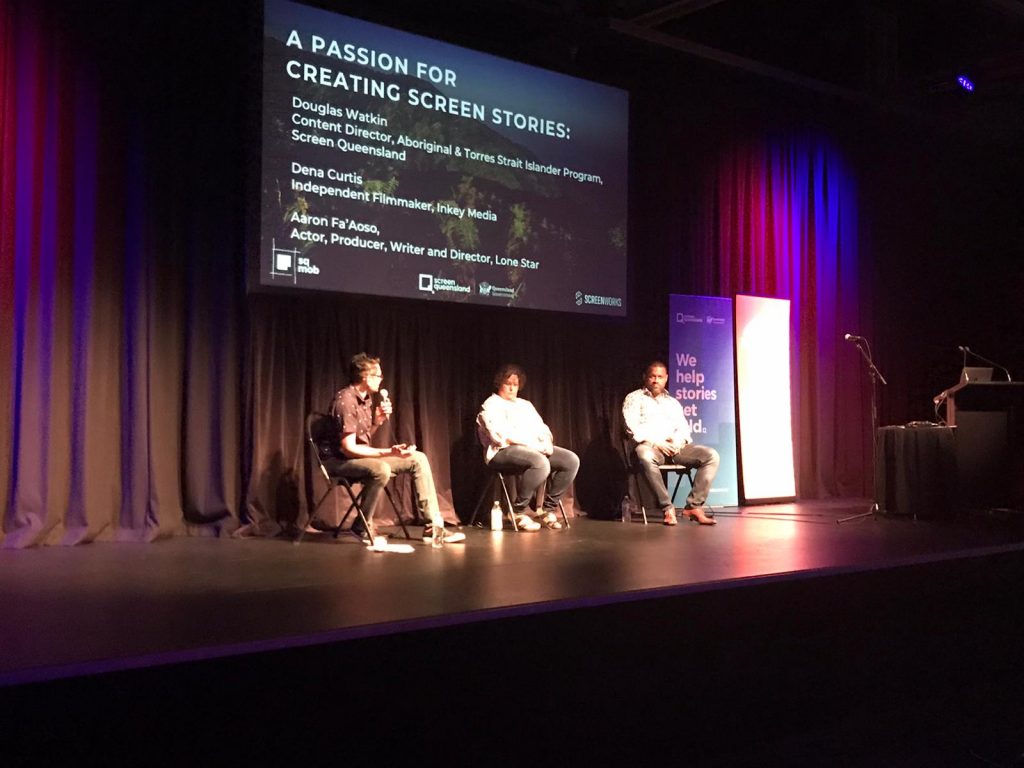 Register now to receive an alert when applications open
The Make It in FNQ: Creating Screen Stories initiative will be an exclusive program for Aboriginal and Torres Strait Islander creatives, facilitated by Inkey Media producer, Dena Curtis.
At an information and networking evening held last Friday 6 November at Tanks Arts Centre in Cairns, Ms Curtis met with the local screen community, together with Producer Aaron Fa'aoso, SQ Content Director Aboriginal and Torres Strait Island Program Douglas Watkin and Chief Creative Officer Jo Dillon.
With strong attendance by local Aboriginal and Torres Strait Islander screen practitioners, Screen Queensland's overview of the free, online program, run in partnership with Screenworks and NITV, was enthusiastically received by the audience.
The program will be rolled out in three stages, beginning with free online workshops with unlimited participation for all Aboriginal and Torres Strait Islander creatives, with the projects in the final stage 3 of the program to have the ability to be selected to pitch their project to NITV.
"This is a terrific opportunity to learn about the craft from industry professionals and be stepped through the process," said Ms Curtis.
"Participants will gain practical experience in pitching to a broadcaster and the process of developing a story from idea to screen, building their own filmmaking toolkit and skills."
Ms Curtis highlighted that the program is open to creatives of all experience levels.
"I would encourage anyone who has an interest in storytelling and film/documentary, anyone who has a story they are passionate to share. They don't have to have experience or be working or studying in the medium; Creating Screen Stories is for everyone."
The Inkey Media producer describes Far North Queensland as a region with a strong screen talent base, as well as a store of untapped talent.
"I believe that providing the support and opportunity to nurture this talent will help strengthen our film and TV industry in Queensland and Australia. Aboriginal and Torres Strait Islander people are born storytellers, and our experiences, customs, languages and cultures a fundamental part of Australian identity. By sharing our stories we maintain our heritage, while entertaining diverse audiences here and overseas, ," she said.
"It is important that we are the storytellers of our own past, present and future, sharing our stories to the world because they are our stories to tell."
The Make It in FNQ: Creating Screen Stories initiative will commence in February 2021. By completing the form on this website, you will receive alerts about the program, plus news and updates about more Aboriginal and Torres Strait Islander initiatives from Screen Queensland.
---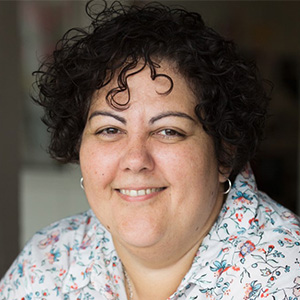 ABOUT DENA CURTIS
Based in Brisbane, Dena is experienced in development and production with writing, directing, editing and producing credits. Throughout her career, Dena also worked at National Indigenous Television, and the Australian Broadcasting Corporation. In 2015 Dena established her production company Inkey Media, a recipient of the 2019 Screen Queensland Enterprise initiative. 
Passionate about telling Indigenous, LGBT+ and strong female stories, Dena's directing credits include award- winning short films Hush, Jacob and Nan and a Whole Lot of Trouble. Comedy TV series, 8MMM Aboriginal Radio, documentary series, Shadow Trackers, Colour Theory Underground and Children's Television Series, Thalu.
Her producing credits include the Logie nominated Children's Television Series, Grace Beside Me, Short Films Walters Ghost and Shed and documentary, Belonging. Dena is also facilitating Screen Australia's Indigenous Producer Program, a National program aimed at developing ten emerging Indigenous Producers.