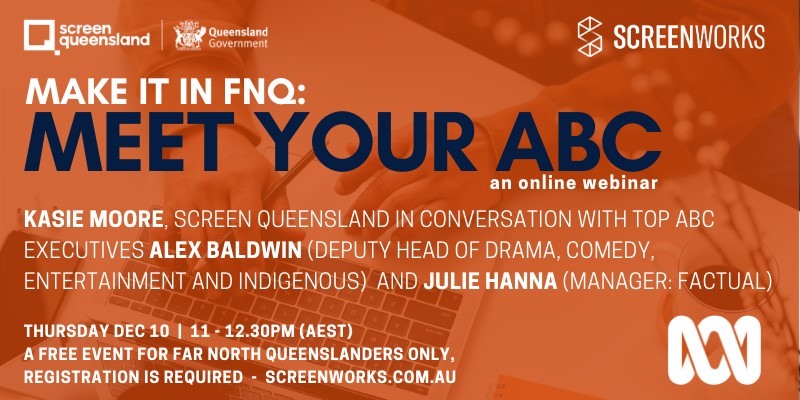 This program is delivered in partnership with Screenworks
---
THIS WEBINAR IS A FREE EVENT FOR FAR NORTH QUEENSLAND RESIDENTS ONLY
Check your eligibility HERE
Kasie Moore, Content Director at Screen Queensland will be talking with Alex Baldwin, Deputy Head of Drama, Comedy, Entertainment and Indigenous and Julie Hanna , Manager Factual at ABC.
We will be asking them to share details on who their audiences are, what they are looking for and how to pitch projects to them. The session will be followed by a Q & A with the attendees.
If you have any burning questions you would like to ask Alex or Julie, we encourage you to submit them before the session to help get them included in the conversation.
Upon registration, attendees will be able to book in for a 15min one-on-one Zoom consultation with either of the guest speakers to discuss their ideas and gain advice from the guest speakers. These spaces are limited and there is one booking per person allowed. All bookings will be made on a first come, first served basis.
ABOUT THE GUEST SPEAKERS
Alex Baldwin
Deputy Head of Drama, Comedy, Entertainment and Indigenous at ABC
Alex Baldwin is the Deputy Head of Drama, Comedy, Entertainment and Indigenous at the ABC.
As well as maintaining responsibility for all productions, he provides strategic leadership and screen business acumen to deliver high quality and distinctive Australian programming.
Alex has been integral to the development, commissioning and
production of well over 500 hours of original Australian content,
including ground-breaking TV series such as Redfern Now, Total
Control, Mystery Road, Stateless, Glitch, The Letdown, Rosehaven, Black Comedy and Please Like Me.
Prior to his current role, he was the Production Executive for the Drama, Comedy and Indigenous department, and he has also overseen the production of major live broadcasts for the ABC such as the Beijing and London Paralympics.
He started his career in the UK working in film, television and TV
commercials, producing work for companies including the BBC, ITV, Channel 4, RSA Films and Radical Media.
He is a graduate of Griffith University where he attained a Bachelor of Film and Media Production.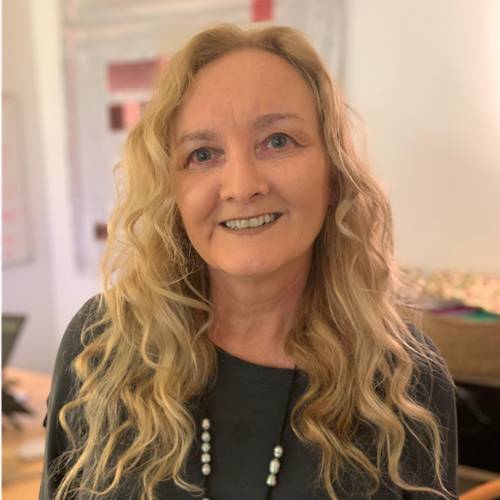 Julie Hanna
Manager at ABC Factual
Julie is the Manager for ABC Factual. Commissions include Old People's Home for 4 Year Olds, Further Back In Time for Dinner, Anh's Brush with Fame, Shaun Micallef's On the Sauce, Aftermath: Beyond Black Saturday, Australia Talks, Restoration Australia, Brazen Hussies and Tick F**king Tock (the story of the Doug Anthony Allstars) Australia Talks and Reef Live.
Julie has worked extensively as an Executive Producer, Series Producer and Director across a wide range of genres. Before starting at the ABC, Julie worked at KEO Films Australia as Head of Development Julie worked as an Executive Producer for ITV Studios – Australia across a broad range of programmes including factual, lifestyle, entertainment, comedy and long form documentaries. 
Julie is passionate about exploring stories that examine social issues and push the boundaries with innovative storytelling techniques..