MEDIA RELEASE
For Immediate Release
Thursday 1 July, 2021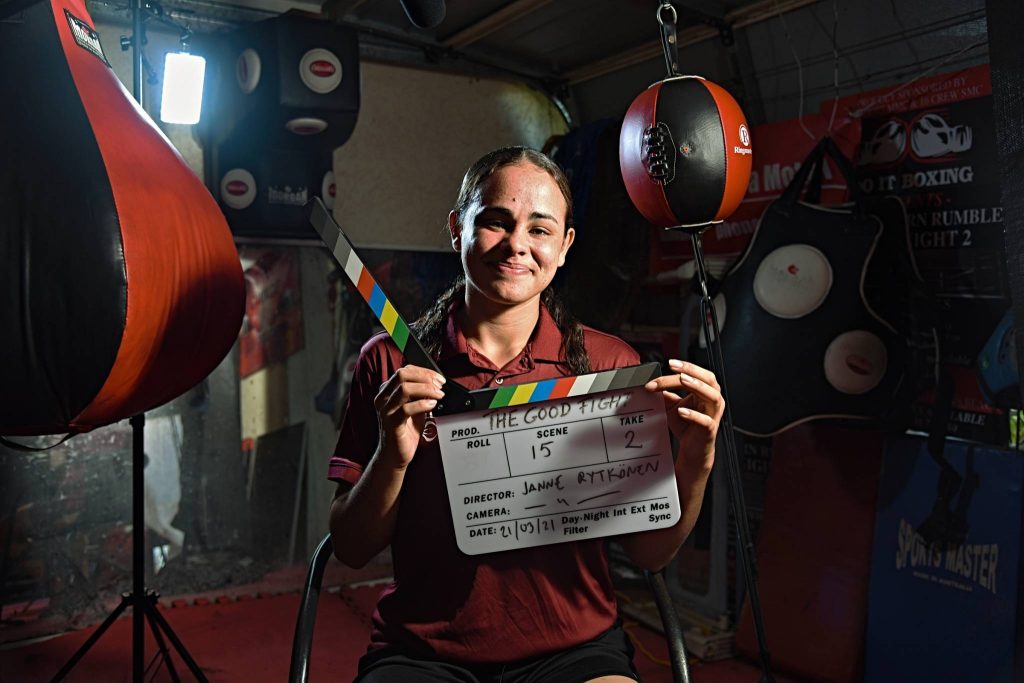 Three short documentaries, produced in Cairns and Townsville, will screen on ABC News Breakfast and ABC social media channels during NAIDOC Week, 4-11 July.
The five-minute documentaries were supported by Screen Queensland's 2020 initiative, Authentic, which was delivered by Australia's premier regional screen industry organisation, Screenworks, in partnership with the ABC.
The initiative was an opportunity specifically for filmmakers in Far North Queensland and extending to North Queensland, to tell the story of a local personality.
All three documentaries explore the lives and perspectives of First Nations people.
Naytive produced by Shontell Ketchell and directed by Ewan Cutler follows Naomi 'Nay' Wenitong, a singer, songwriter and rapper from Cairns.
The Good Fight, directed by Janne Rytkonen together with Producer Ida Vauhkonen and Indigenous Consultant Samantha Martin, is about Cairns local Leah Reuben, who turned from a life of crime to become a youth worker and boxing champion.
Yunbenun Charm by Robert Crispe, introduces us to local kayak tour operator Craig Crichton and traditional owner Brian Johnson, who explain the unique allure of Magnetic Island.
ABC Executive Producer Isaac Egan and Supervising Producers Brendan Mounter and Dwayne Wyles worked closely with the filmmakers to get their documentaries broadcast-ready.
The initiative is part of a series of screen industry opportunities, within the Advanced Queensland Far North Queensland Screen Production Strategic Plan, launched in August 2019.
Screen Queensland CEO Kylie Munnich said, "Seeing these three factual shorts greenlit for ABC platforms, especially during such an important and visible time as NAIDOC week, is the best possible outcome. As part of our commitment to investing in state-wide, inclusive storytelling, Screen Queensland is delighted to partner with Screenworks and the ABC to deliver career development opportunities for regional Queenslanders. The fact that all three documentaries feature First Nations storytellers, is testament to the effectiveness of our ongoing work through our Aboriginal and Torres Strait Islander Program, to build the skills needed to create quality, impactful and entertaining content that resonates with a wide audience."
Screenworks CEO Ken Crouch said, "Authentic provided a unique mentoring opportunity for these early-to-mid career film practitioners. The opportunity to work directly with experienced ABC producers to refine their scripts, plan the production, produce rough cuts and final edits, has not only resulted in three deeply interesting documentaries, but imparted skills that these filmmakers will take into their future careers".
ABC Director for Regional & Local, Judith Whelan said, "ABC producers have been working with the Authentic filmmakers over the past few months to develop their producing and storytelling skills. All three filmmakers have produced outstanding short films that feature Indigenous talent and stories from Far North Queensland. We welcome their contribution to our NAIDOC week program."
Speaker of the Queensland Parliament, Member for Mulgrave and Far North Queensland Screen Champion Curtis Pitt said, "The production and nation-wide broadcast of these three documentaries is yet another successful example of Queensland Government investment into the local screen sector. Highlighting our region on screen and building the careers of our skilled, local film and TV creatives, serves to grow our local economy and create jobs in the region. With a further investment of $6.8 million to construct a new film studio in Cairns, plus an additional $4 million investment for the new North Queensland Regional program, we expect to see even more FNQ-made productions hitting our screens. I'm also particularly proud that the stories and talents of First Nations locals will be showcased across the country on ABC, and I urge everyone to tune in this NAIDOC week.
For more information on Screen Queensland initiatives and supported productions, visit www.screenqueensland.com.au . For Screenworks initiatives, go to screenworks.com.au


-ENDS-

MEDIA CONTACT:
media@screenqld.com.au

---
Naytive
---
The Good Fight
---
Yunbenun Charm