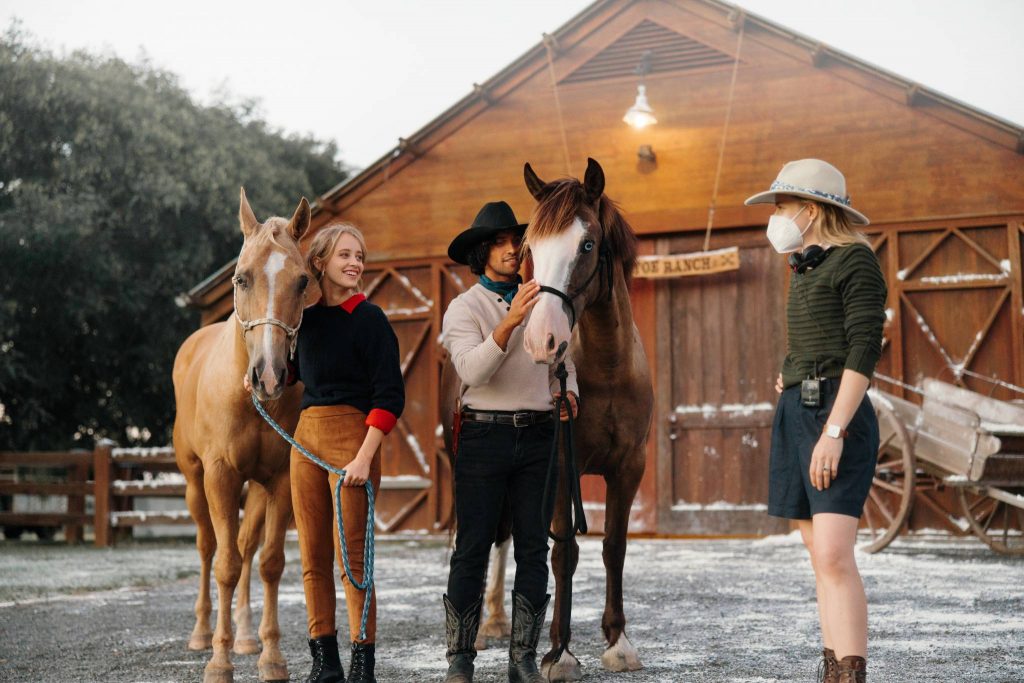 ---
Queensland production studio The Steve Jaggi Company has hit the ground running in 2022 with the new feature romance Mistletoe Ranch, filming now across Brisbane, the Gold Coast and surrounds.
The feature film, directed by Rhiannon Bannenberg (Dive Club, Rip Tide) and starring Mercy Cornwall (Dive Club) and Jordi Webber (Nomad, Power Rangers Ninja Steel) is an uplifting festive tale of love rediscovered.
The film was supported by the Queensland Government through Screen Queensland's Screen Finance Program and will inject approximately $2.6 million into the local economy and employ an estimated 70 Queensland cast and crew.
Screen Queensland CEO Kylie Munnich said Mistletoe Ranch is yet another addition to The Steve Jaggi Company's recent slate of work, all produced in Queensland.
"The latest Steve Jaggi Company productions supported by Screen Queensland include teen mystery series Dive Club and feature film This Little Love of Mine, both of which filmed in Far North Queensland and hit Netflix worldwide last year with chart-topping views.
"Mistletoe Ranch follows on from The Mystery of Dolphin Bay, which filmed last year and employed 75 Queenslanders and injected an estimated $2.5 million into Queensland's economy."
Centring on a group of aspiring teen marine biologists, The Mystery of Dolphin Bay was filmed at South East Queensland locations including Pullenvale, Coolangatta, Froggy Beach, Snapper Rocks and Mount Tamborine's Glow Worm Caves.
Director Rhiannon Bannenberg said, "I'm excited to be shooting Mistletoe Ranch here in Queensland, using movie magic to create a landscape blanketed in snow.
"Mistletoe Ranch is a heart-warming ode to enduring love and being true to yourself. This charming love story between two childhood sweethearts sets the stage for an authentic reconnection that many in the audience dream of," she said.
Producer Steve Jaggi added, "After a busy 2021, it feels fantastic to be back in production on our next feature film, Mistletoe Ranch."
"We've assembled a talented cast and crew, and some beautiful equine friends to help bring this hopeful story to life."
In Mistletoe Ranch, Mercy Cornwall plays Aimée Tremblay, a budding professional photographer who follows her boss – renowned photographer Gustav around the world. When Aimée receives a mailbag full of letters informing her that her late mother's adored annual Christmas celebration has been cancelled, she returns to Mistletoe Ranch, left to her by her cherished mother, to find out why the party is no longer going ahead. After her mother's passing, Aimée left her family home and her heartbroken ex-fiancé, James Hunt (Jordi Webber), on Christmas Eve and hasn't returned for seven years. The now quiet ranch, which she discovers is encountering financial difficulties, has been left in the hands of James, who lives there with his young daughter, Juniper (Molly Wright), and retired caretaker Charlie (Charles Allen). At first, James doesn't welcome Aimée's arrival, but it's not long before sparks begin to fly again between the high-school sweethearts.
Rounding out the cast of Mistletoe Ranch is Charles Allen (Bloody Hell), Molly Wright (Kidnapped), Andrea Moor (Heartbreak High) and Kimberley Joseph (Lost). The film is being shot across Brisbane and the Gold Coast hinterland, with cast and crew adhering to strict COVID-safe filming practices.
Mistletoe Ranch is written by Claire Harris, directed by Rhiannon Bannenberg, and produced by Steve Jaggi. Kylie Pascoe and Kelly Son Hing are co-producing. Athabasca Film will manage the domestic theatrical release, while international sales and distribution will be handled by Blue Fox Entertainment. Mistletoe Ranch is financed with the support of the Queensland Government through Screen Queensland, Empire Media Global and Asia Pacific Film Investment Group.
Media Enquiries: 
media@screenqld.com.au  
---
BIOS
Mercy Cornwall (Aimée Tremblay): Mercy Cornwall is an actor, singer and musician who hails from Perth, Western Australia, but currently calls the Gold Coast her home. In 2020, Mercy was cast as a lead, Izzie, in the teen drama Dive Club (Netflix). This role captured her talent as actor and singer and has garnered her interest from the US. What We See US web series filmed in 2020, Mercy played a series regular role, Zoe; the popular girl. She made her screen debut playing a guest role in The Heights (ABC/Matchbox).  Additionally, Mercy has a Bachelor of Arts degree (Law & History) from the University of WA. Mercy is also a gifted songwriter who plays guitar and piano, and she has a beautiful voice. Mercy appeared on the 2017 series of The Voice Australia (Channel 9/ ITV).
Jordi Webber (James Hunt): Jordi Webber is an actor/musician from New Zealand and is of Maori heritage. His credits include Nomad (US Indie), The Deadlands (AMC), Power Rangers Ninja Steel (Nickelodeon), Head High (SPP), Shortland Street (SPP) and Nevernight (AU). Jordi also performs under kiwi music act 'Waazzoo and the Vibes', an alternative pop/roots based in Auckland, New Zealand.
Rhiannon Bannenberg, Director: Rhiannon Bannenberg is an energetic and passionate filmmaker. Her first film, Ambrosia, was on limited release to sold out theatres across Australia. Filmed on location in the picturesque Illawarra, this Young Adult drama tells the story of unravelling friendships during an outwardly appearing innocent summer and received rave reviews from critics. Rhiannon directed Rip Tide staring US Disney star Debby Ryan (Jessie, The Suite Life on Deck) which screened at the 2017 Sydney Film Festival and also worked as the director of photography on Stephen Sewell's (The Boys) directorial debut Embedded, which screened at the 2016 Sydney Film Festival. Rhiannon worked as the director of photography on Steve Jaggi's Chocolate Oyster, which screened at the 2018 Sydney Film Festival. Alongside her skills as a filmmaker, Rhiannon is an accomplished musician and composer and has released numerous albums of music and completed a bachelor's degree in music (B.Mus) and Masters Degree in music focused on Film Composition (M.Mus).