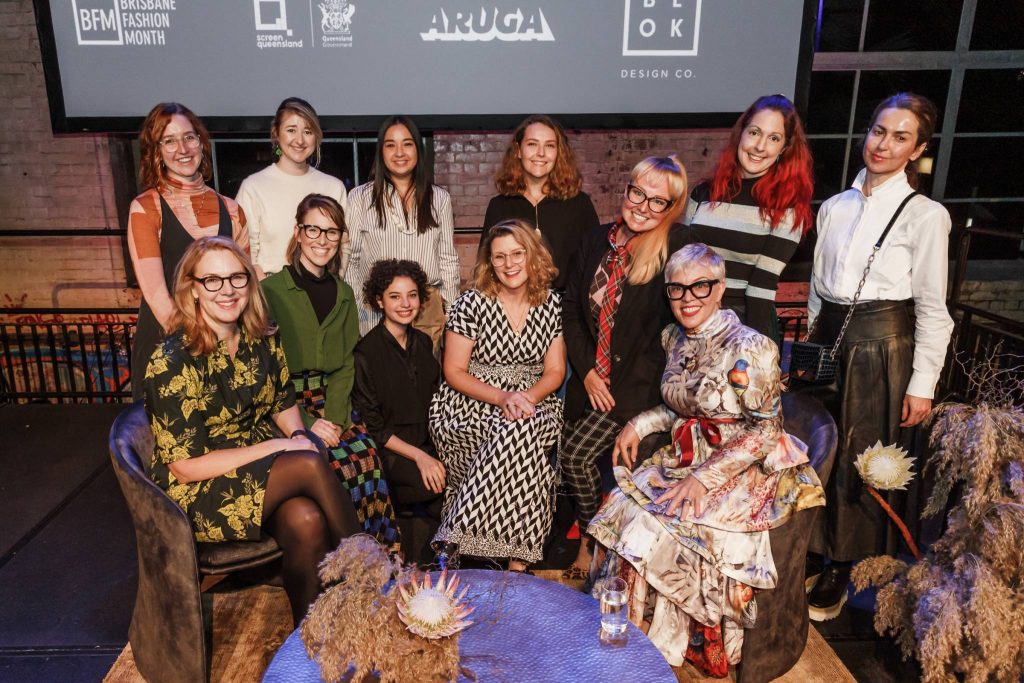 ---
Screen Queensland was delighted to partner with Brisbane Fashion Month to present A Conversation with 4-time Oscar Winner Catherine Martin, a live Q&A event on 23 June at Brisbane Powerhouse.
Catherine Martin (also known as CM) is the wife and chief collaborator of Baz Luhrmann, with her costume and production designs appearing in Moulin Rouge!, The Great Gatsby, Australia, Romeo + Juliet and Strictly Ballroom.
CM also designed for Baz Luhrmann's upcoming Elvis biopic, which was supported by the Screen Queensland to film on the Gold Coast from late 2020 through to March this year.
In conversation with editor VAULT magazine Alison Kubler, CM offered valuable and humorous insights into her career journey, as well as her views on skill development, problem solving and the creative process in design.
As part of Screen Queensland's support for the event, 10 local designers were selected via application to attend the event and meet CM.
---
Local designer Vanessa Loh who has worked in the costume department for such Queensland productions as Loveland and Streamline, said that the opportunity to attend the event and meet the Oscar-winning designer was a career highlight.
"CM was incredibly generous in sharing her work history and approaches to costume design, as she expanded on the importance of true collaboration and appreciation and value of the craftsmanship that goes into a costume design practice."
"It was an enriching experience and equally a wonderful opportunity to meet other Queensland-based designers," said Ms Loh.
Gympie-based designer Cindy Vogels who has designed for music artists Jaguar Jonze and Lady Gaga, said the event provided her with the inspiration to explore design for film and series.
"I have been inspired by Catherine's growing body of work since Strictly Ballroom back in 1992," said Ms Vogels.

"Joining the other recipients earlier and then post event, added to the experience, as we came together from various fields with an appreciation for everything Catherine shared in all her colour, humour and honesty."

"Much gratitude to everyone involved at Screen Queensland."
The recipients of the opportunity to attend A Conversation with 4-time Oscar Winner Catherine Martin were:
Jessica Bolton Bound
Jessica Bolton-Bound is an emerging production designer based in Brisbane. She graduated with a bachelor in Film and Screen Media Production from Griffith University in 2016 and has been working in various Art Department roles in film and TV for the last five years, most recently on the untitled Baz Luhrmann Elvis project and currently on the story about Jessica Watson's solo voyage around the world, True Spirit. During this time, she has also designed a number of short films and webseries, winning Best Production Design at Seoul Webfest and Toronto Webfest for her work on the webseries Nevernight.

Sharka Bosakova
Sharka trained as a set and costume designer at the Janacek Academy of Music and Performing Arts in Brno, Czech Republic followed by a Masters degree in Creative Industries at QUT. She entered the local film industry in 2016 through working on Pirates of Caribbean:Dead Man's Chest in the Costume Department and she is currently on the crew of The Wilds season 2 as an art finisher, in the prop and set decoration department. Other recent international productions Sharka has worked on in Queensland include Escape from Spiderhead and Dora and The Lost City of Gold.

In the performing arts, Sharka has worked for such companies as Opera Queensland, Queensland Conservatorium, The Australian Voices and the Aboriginal Centre for Performing Arts.
She has presented designs in Melbourne Fashion DEBUT, Mercedez Benz Fashion Week in both Prague and Brisbane.

With her education and the two decades of experience as a theatre and production designer plus her know-how from running her self-titled fashion label on an international scale, Sharka has a deep understanding of the industry from different positions. Her depth of industry experience and commitment to participating in effective inter-departmental communication, alongside an appreciation of the skill of the crew, is preparing Sharka for a role in film production design, to which she aspires.


Amy Douglas
Amy is a graduate of the Academy of Creative Design and the New York Film Academy on the Gold Coast and has worked on Ron Howard's Thirteen Lives as a Standby Assistant, Young Rock as a Costume Additional Standby/Standby Assistant and Harrow seasons 2 and 3 as a Wardrobe Assistant.

Chloe Greaves
Chloe graduated from the Victoria College of the Arts in 2008, completing a Bachelor of Theatre Production. She was worked in the costume department on such productions as Black Site (2021), Lambs of God (2018), 2040 (2017) and That Sugar Film (2014). She has also styled several television commercials for well-known brands Officeworks, Jeep, T2, Bonds, Bank of Melbourne and the Australian Airforce. Her designs appear in music videos by such artists as Montaigne and Guy Sebastian. As a designer for performing arts, Chloe is an eight-time Greenroom Award-nominee. She has created designs for Belvoir Theatre, The Good Room and Metro Arts, Queensland Conservatorium Griffith University, Red Stitch Theatre, Malthouse Theatre, The Victorian Opera and Melbourne Theatre Company. She is currently resident designer at La Boite Theatre.
Veronica Kenworthy
Veronica Kenworthy studied a Bachelor of Fine Arts in Film, TV and New Media Studies with a minor in Interior Design at QUT where she realised her love for production design. She began her career in Art Department before narrowing into the Set Decoration Department in both film and television. Most recently Veronica worked in Set Decorating on the untitled Baz Lahrumann production and is currently on the Netflix film True Spirit. After spending a period working in the TV industry in London, Veronica has developed a global perspective with aspirations to work wherever industry opportunities arise. She looks forward to growing her skills and experience with the exciting opportunities to come in the booming Queensland industry

Ella Lincoln
Ella Lincoln is a graduate of the Toi Whakaari School of Drama to study Design for Stage and Screen in New Zealand. In addition to designing for short films and music videos, she has designed for theatre performances at Metro Arts, Brisbane Powerhouse and La Boite Theatre, and has upcoming opportunities Australasian Dance Collective and Debase Theatre. She has completed internships assisting designers for performances at Sydney Theatre Company and Queensland Theatre Company.

Vanessa Loh
Vanessa Loh is an Australian Costume Designer for Film and Television. She has worked within a diverse range of productions from network dramas, independent features, tight-deadline commercials and music videos. Vanessa has recently designed costumes for Aquarius Film's The Unusual Suspects (2021), SBS Australia, Ivan Sen's neo noir Loveland (2019), Every Cloud's Seachange (2019), Streamline (2019) and Chris Lilley's Netflix series Lunatics (2018). Other credits include but are not limited to, costume design for the critically acclaimed TV Series Safe Harbour (2018) on SBS Australia, The Second (2018) on Stan, Jungle (2017) and Goldstone (2016).

Jenni Morton
Jenni's early experience included costume on short film, dance teaching, styling on runway's such as Virgin Australia Melbourne Fashion Festival and fashion exhibition curation assistance at Melbourne Fashion Week. She has worked as a Studios Assistant/House Model and Wholesale Associate for Karen Willis Holmes Couture and completed a design internship at KITX by Kit Willow and a stylist internship at Style Magazine.

Helen O'Loan
Helen is a set designer, production designer and art director, and has worked on such productions as Harrow season three, The Great Gatsby, Peter Rabbit, Unbroken, The Chronicles of Narnia: The Voyage of The Dawn Treader, Pirates of the Caribbean: Dead Men Tell No Tales and Hell's Kitchen, as well as TVCs for Stella McCartney/Adidas, Westfield, Suncorp and SBS Eurovison. Helen has a diverse range of skills that come under the umbrella of Production Design – Concept Illustration, CAD drafting, 3D modelling, designing and overseeing construction of sets and permanent installations/interiors, set decoration and styling.

Cindy Vogels
From Lady Gaga to the country's fastest rising music stars, Australian fashion innovator and designer, Cindy Vogels, dresses the music with a difference. Creatively collaborating with artists on one-off, beautiful garments, her costumery and fashion features on screens, stages and red carpets across the world, including London Fashion Week, the ARIAs, Eurovision Australia, Christian Louboutin with guitar-slinging artist, Jaguar Jonze and iconic rock band, Regurgitator. An event producer and creative director, Cindy founded CollabAnation, a live arts performance movement to promote creative collaborations across Australia, and Space Girls Festival, a vibrant event committed to delivering 100% female programmed events. In response to 2020 Vogels won several grants that have her currently on track now as a budding photographer. She is currently building a private production and photography studio at her home and setting the scene as a creative haven to service the music industry with all of her unique talents.