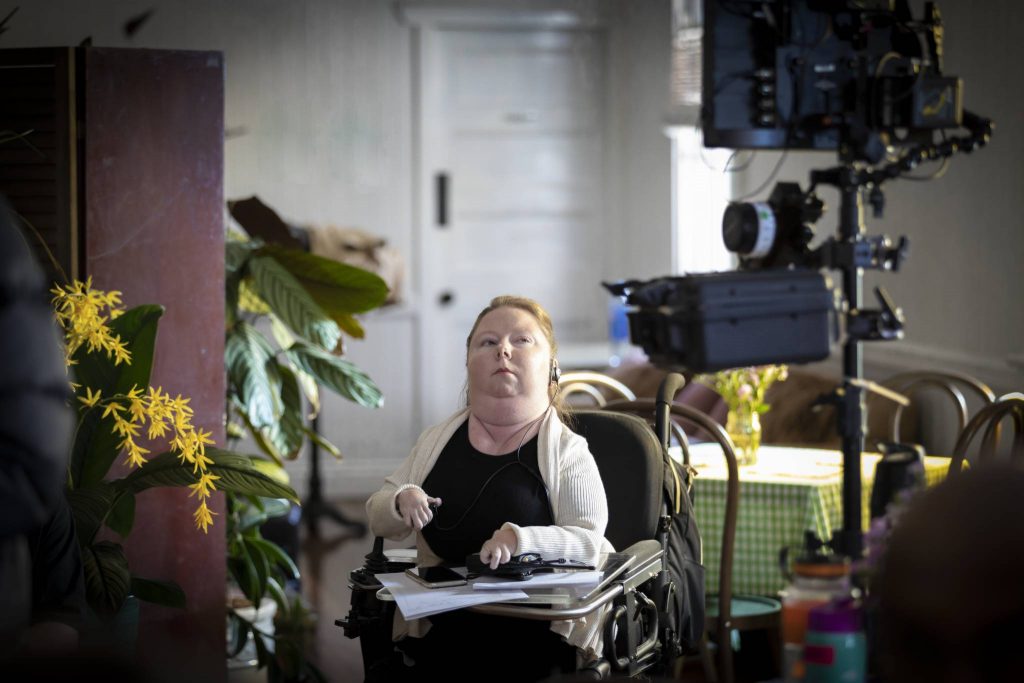 Stephanie Dower on the set of short film, Sunshine
Julie Collins Photography
Friday 3 December marks International Day of People with Disability – an important day to celebrate and raise awareness of people living with disability.
Screen Queensland and the screen industry play a critical role in reflecting and representing diverse voices on screen. Through paid opportunities, professional development and funding, Screen Queensland is committed to removing barriers for people with disability, both in front of and behind the camera.
This week, Screen Queensland spoke with screen practitioner Stephanie Dower about opportunities for under-represented creatives, her recent work with Screen Queensland through the RIDE Shorts Initiative and the importance of accessible, diverse and inclusive storytelling.
---
Q&A with Stephanie Dower
Can you tell us a little bit about yourself and what you do in the screen sector?
For almost a decade now, I've been working within the screen sector predominantly as a freelance editor. But after many years of working on projects for other people, I really wanted to work towards building up my own slate. This meant embracing the producer life and while yes, it can be quite stressful and overwhelming, it's also really exciting and I can utilise my passion for organisation.
You recently produced and edited the short film Sunshine, which premiered at BIFF as part of Screen Queensland's RIDE Shorts Initiative. Can you tell us a bit about this project and your experience?
Sunshine is a beautiful short film directed by Martha Goddard, which tells the story of a waitress, Maddie who, when meeting a young woman who's visibly upset and having a bad day, takes the time to cheer her up and reminds her that things have a way of working out.
I was immediately drawn to the project after learning that the lead character, Maddie lived with Trisomy 21 (as did Olivia Hargroder, the actress who portrayed the role) and that the film intended to showcase the capabilities and talents of people with disability, both on screen and behind the scenes.
The film was developed and produced by Taste Creative and Bus Stop Films, who were great collaborators and were so wonderful at providing mentorship throughout my involvement in the project. Originally, I was meant to be coming on as editor, but after meeting with the writer and producer, Genevieve Clay-Smith, I expressed my interest in working on the production side of things and I was soon working my way up from Associate Producer to a full credit as Producer alongside Genevieve. Oh, and I also wound up acting as 1st Assistant Director on set – talk about a juggling act!
What are your thoughts on the RIDE Shorts Initiative (including the opportunity to premiere at BIFF), and what it achieved for you and your team, from a storytelling and career perspective?
The RIDE Shorts initiative was really a great opportunity for under-represented creatives to showcase their unique and fresh perspectives through stories that have so often been overlooked in the past.
Going through this process with the support of Screen Queensland gave the projects a solid foundation to build from. Being able to screen the finished films at an event like BIFF not only gave us all an exciting night to celebrate the talents of everyone involved, but also gave each of us a great launching pad for the next step in our careers as filmmakers and creatives.
Why is representation and inclusive / diverse storytelling important for the screen industry?
All screen projects are made to be seen by an audience and we know that current audiences want to see characters and worlds on screen that they can identify with, who can make them feel both heard and understood. Your identity or how you see and value yourself influences all aspects of your life and if you don't feel like you have a place in the world, it can be devastating to a person's psyche – that for me is why inclusive and diverse storytelling is so important.
As someone who didn't see themselves reflected on screen growing up, I struggled with feelings of disconnection and for a long time, I didn't want to accept "disabled" as part of my identity because I didn't relate to the negative and sad stereotypes of disability I was exposed to on screen. While we're still a long way from a fully inclusive industry, there has certainly been a rise in new voices and stories in recent year, thanks to the call for more authenticity and fresh perspectives in the industry, which is already empowering filmmakers like me.
What do you think is the next step for accessible and diverse storytelling in the screen industry?
Accessibility and diversity need to be embedded in a project right from the beginning of development as that is what will set up not just what audiences see on screen, but also the culture for crews behind the scenes. I would love to see more production companies, broadcasters and streamers create entry-level opportunities for new, undiscovered talent to join their writers' rooms and/or development teams. I believe this is what the industry needs in order to become more accessible and diverse – more opportunities for meaningful inclusion and giving new talent a fair go.
What projects do you currently have in the pipeline?
I've got a few exciting projects in the works. Alongside my co-writer and director Tanya Modini, I'm in development on a feature-length romantic drama titled Seeing Scout, which had some big moments in 2021. It was recently awarded the production prize through the inaugural Attagirl Program, which concluded in September after an intensive 12-months of development workshops. 2022 is shaping up to be an exciting and jam-packed year for the project as we move towards production hopefully by mid-year.
I also recently featured as co-host on the ReFramed Podcast by Attitude Foundation, which aims to highlight and analyse the representation of disability across films, television series and other media through insightful, and hopefully at times humorous, conversations.
---
ABOUT STEPHANIE DOWER

Stephanie Dower is a screen producer, writer and editor, having worked across short films, TVCs and online content, and has a strong passion for reframing how people with disabilities are portrayed in popular media.

Stephanie is currently developing a slate of engaging and progressive projects through her production company, Dower Productions. Notable projects include factual series Carry On, which was selected for the Pitch FACTory at AIDC 2019and feature romantic drama Seeing Scout, a recent recipient of the Attagirl Production Prize. Stephanie also speaks regularly at film festivals and other events, and works as a consultant on accessibility and inclusion matters.