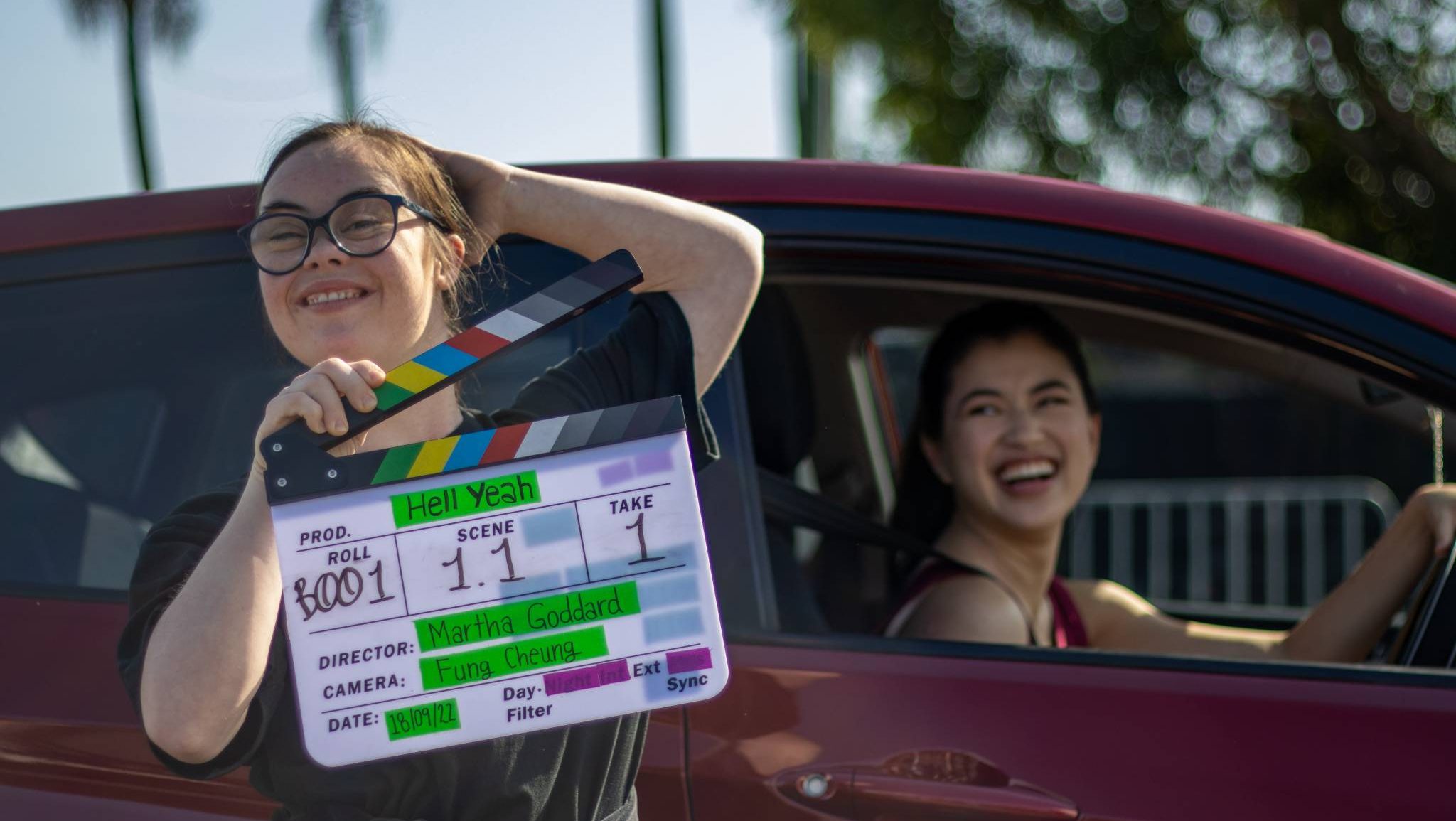 Pictured: Olivia Hargroder and Kimie Tsukakoshi
Credit: Thomas Waddington, Griffith University
Bus Stop Films has proudly been facilitating filmmaking programs and opportunities for adults with disabilities and people from marginalised communities since its inception in 2009. Through the film industry, Bus Stop's mission is to change community attitudes around the rights and contributions of people living with disability – playing an important role across the filmmaking sector.
To celebrate the International Day of People with Disability on 3 December, Screen Queensland spoke with Bus Stop Films' Chief Executive Officer Tracey Corbin-Matchett about the importance of diverse representation and their latest programs and film projects, including Screen Queensland-supported project Sunshine.
BUS STOP FILMS HAS A LONG HISTORY OF FILMMAKING, CREATING FILMS WITH, FOR AND ABOUT PEOPLE FROM DIVERSE BACKGROUNDS AND ABILITIES — WHAT ARE SOME OF YOUR PROUDEST ACHIEVEMENTS?
Wow… there are so many amazing moments to think about. Seeing our students employed on major films like Thor and presenting our work at the United Nations in New York comes to mind, but closer to home is seeing the new students coming out of their shell to gain confidence, skills and friendships. I feel proud knowing they're in a supportive/inclusive space, and learning about something they love cements why we do what we do.
WHAT INDUSTRY EXPERIENCE DOES YOUR ACCESSIBLE FILM STUDIES PROGRAM PROVIDE FOR PARTICIPANTS?
The Accessible Film Studies Program is in its second year in Brisbane. This year, participants from the program worked on commercial productions in Brisbane and Townsville, actively engaged in crew roles and put their filmmaking skills into practice.
SUNSHINE WAS PRODUCED AS PART OF SCREEN QUEENSLAND'S RIDE SHORTS PROGRAM IN 2021 AND WILL MAKE ITS DEBUT ON ABC'S RE-FRAME PROGRAM ON SATURDAY 3 DECEMBER — WHAT CAN YOU TELL US ABOUT THE MAKING OF THE FILM?
Sunshine is a film that touches your heart. It was a co-production with Bus Stop Films' sister company Taste Creative and written by our Co-Founder Genevieve Clay-Smith with students in our Brisbane class. The film elevated local talent, with our student Olivia Hargroder shining on screen, and Steph Dower working behind the camera as editor and later stepping up to co-produce with Genevieve. The film is a true example of inclusive filmmaking with people with disability, in front and behind the camera, and how our program and process benefit more than just our students, but also the broader ecosystem of the industry.
BUS STOP FILMS' BRISBANE COHORT RECENTLY SHOT YOUR LATEST FILM HELL YEAH AT SCREEN QUEENSLAND STUDIOS: BRISBANE — HOW DID THE SHOOT GO?
Wow, what a day we had at the studios! The shoot was awesome, working with our amazing tutor and director Martha Goddard and DOP Shing Fung Cheung (Fung) – having previously worked together on Sunshine, we knew this film would be amazing. The students worked really hard, and the final film is just beautiful. In the lead up to the shoot, the students worked with choreographer Deb Brown (known for her work with Bangarra) to set up the dance moves. Local talent Kimie Tsukakoshi and Waangenga Bianco brought the moves to life on set. and It was just brilliant for the students to work in the same studios that brought to life some of Queensland's finest productions such as Paramount Pictures' Love & Monsters. On set, we were able to extend the impact of our partnership with Griffith Film School, with students working on the production in various crew roles and capturing great images from the shoot. It was great to see the Griffith Film School students learning about inclusive filmmaking and gaining skills from professional crew.
PRODUCTION COMPANIES HAVE MUCH TO GAIN FROM EMPLOYING PEOPLE WITH DISABILITY — BOTH ECONOMICALLY AND SOCIALLY — AND IT OFEN REQUIRES SIMPLE ADJUSTMENTS TO ENSURE AN ACCESSIBLE WORKING ENVIRONMENT. WHAT ADVICE OR RESOURCES WOULD YOU SUGGEST FOR QUEENSLAND COMPANIES LOOKING TO BUILD A MORE INCLUSIVE WORKFORCE FOR PRODUCTION OR POST-PRODUCTION?
Firstly, please reach out to Bus Stop Films – there is much to gain from our Inclusive Filmmaking Toolkit or attending our Inclusion in Action workshops. Essentiality, as we work in an industry based on relationships, if you're looking to create opportunities for people with disability in your team, start by building your relationships with the disability community and you'll be amazed where it can take you.
---
BEHIND THE SCENES AT SCREEN QUEENSLAND STUDIOS: BRISBANE
Discover more about Bus Stop Films and their projects or programs below.
To see Hell Yeah, book tickets to their Brisbane Showcase on Thursday 8 December.