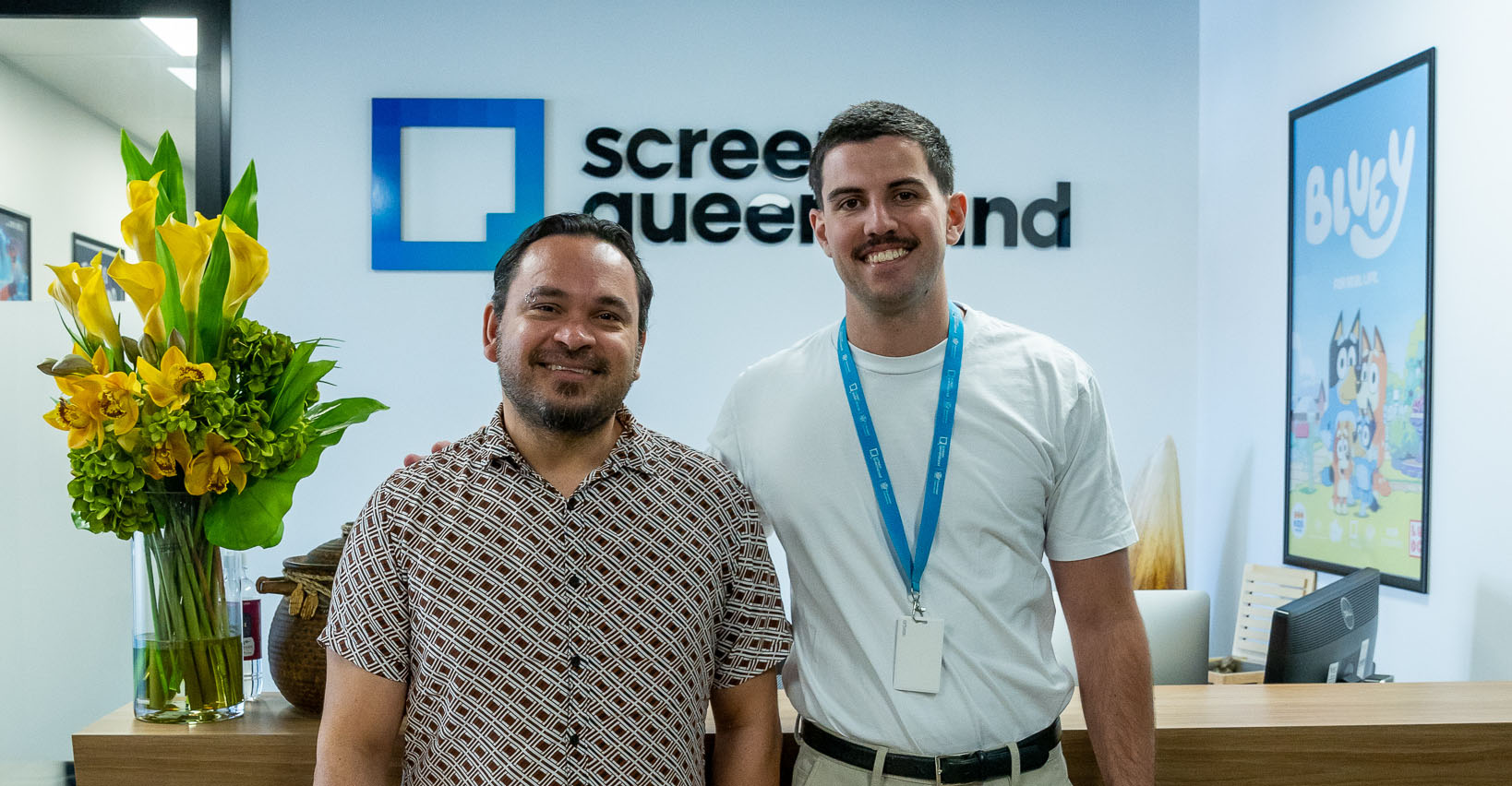 ---
To foster skills development in XR for regional practitioners, Screen Queensland and Screenworks supported two Far North Queenslanders to undertake a week-long XR Mentorship program in Brisbane with local industry leaders.
Kuku-Yalanji man Luke Briscoe, from Cairns, and Torres Strait Islander man Fletcher Glover, based on Thursday Island, had the opportunity to undertake Zoom sessions with their mentors before travelling to Brisbane to shadow them for a week and engage with the industry in-person.
Luke Briscoe was teamed up with mentor Georgie Pinn, who has 25 years of experience in generating interactive and immersive content for broadcast, advertising, online, theatre and public cultural events. Using interactive and immersive technology, her projects have featured at Ars Electronica, the ISEA International Symposium on Electronic Art (ISEA) and the World Science Festival Brisbane.
Fletcher was paired with Michelle Brown, a Brisbane-based new media artist whose work has been featured at Sundance Film Festival, SXSW, Cannes XR, Toronto New Wave Festival, Github Universe. She has worked with Snapchat, Google, Brisbane Festival, Curiocity and many more.
We caught up with recipient Luke Briscoe to talk about his experience with the XR Mentorship program.
---
WHEN DID YOUR INTEREST IN XR FIRST START?
My interest in XR started when I attended a transmedia workshop and gained insights into the opportunities of applying this approach to content creation and extending storylines into the gaming world and other platforms.

While working as a Television Producer for SBS I had the opportunity to develop my skills as a creative producer and worked on some ground-breaking projects such as #ChangeTheDate360, in which Australia's leading rappers collaborated to share their view about changing the date of Australia Day. As creative producer I could see how impactful these new emerging technologies can be to elevate the conversations of social injustice and racism in Australia.
I also studied game design at Sydney University where I gained an understanding of making a positive impact using game play, applying this from a social justice and environmental rights perspective. I then started my company INDIGI LAB to pursue this further.
HOW DO YOU PLAN TO USE XR IN YOUR PRACTICE, AND WHAT PROJECTS ARE YOU WORKING ON CURRENTLY?
I'm currently in the development stage of a 2D game called Yalanji Quest, which is all about embedding AI (Aboriginal Intelligence) into a Indigbot avatar to create an ethical robot that can navigate the Daintree and surrounding areas in a culturally respectful way. I will be exploring the use of XR to scale up the project and working with the Telstra Foundation and Code Club Australia to ensure its links into the Australia curriculum. The intention is to roll out a scratch version of Yalanji Quest whereby schools all across Australia will have the chance to engage with the game. I want to explore using other various storylines for Yalanji Quest for VR, AR, 3D game design in Unity and Unreal Engine.

HOW DOES XR INTEGRATE WITH THE KIND OF STORIES THAT YOU WANT TO TELL AND THE AUDIENCES YOU WANT TO REACH?
We live in a hyper-mediated world and I can see how gamification of languages and culture can help my community to sustain and maintain our traditions of passing knowledge through use of senses and voice. XR and motion touch devices are currently being used in the health sector for a range of issues including Alzheimer's disease and trauma. With a strong storyline I believe it can help unlock transgenerational trauma and also enable us to continue language into the XR worlds.  

HOW DID YOU APPROACH YOUR TWO ZOOM SESSIONS WITH YOUR MENTOR GEORGIE PINN?
The main objective for those initial Zoom meetings was to get to know each other's passions, likes and dislikes about XR. We found a common ground in which we could consider collaborating on a project that might have real world impacts on issues like youth justice and mental health amongst Australian youth.

WHAT WAS YOUR EXPERIENCE LIKE SHADOWING YOUR MENTOR THROUGHOUT YOUR WEEK-LONG MENTORSHIP IN BRISBANE?
I learnt that your biggest asset isn't necessarily what you know, but who you know, so maintaining a solid network is vitally important.  I gained good insights into my mentor's workflow as a creative and learned that while some of the creative aspects of workflow are more personal, it's those deeply personal creative drivers that are core to making great work and enabling empathy for people to better engage with content. I also gained great understanding of some production tools that Georgie uses in her practice such as Touch Designer, which I'm looking to use in my creative practice as well.   
---
To find out about more career development opportunities from Screen Queensland, sign up for our fortnightly enews or follow us on social media.