---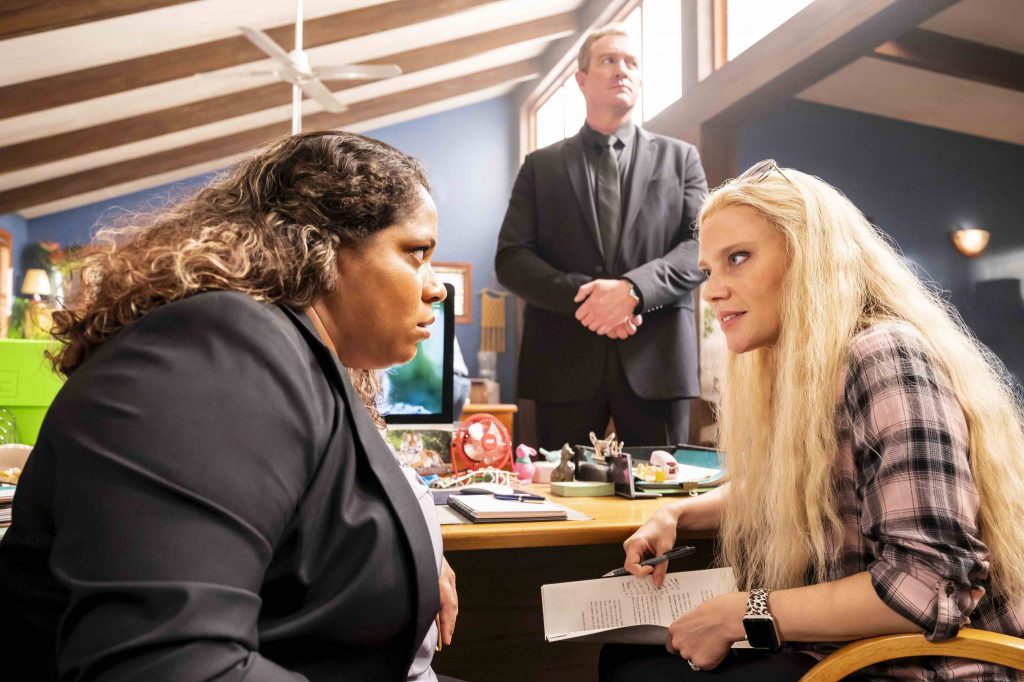 ---
Fans of the hit 2020 documentary series Tiger King will roar with excitement when they spot the Queensland locations standing in for Oklahoma and Florida in the much-anticipated drama series JOE Vs CAROLE – streaming exclusively on Australian screens on Stan from Friday 4 March.
Starring Kate McKinnon (Saturday Night Live) as big cat enthusiast Carole Baskin and John Cameron Mitchell (The Good Fight) as her notorious rival Joe Exotic, the Universal Studios Group series filmed at Screen Queensland Studios: Brisbane and surrounding South-East Queensland locations.
Several spots within the Brisbane City Council, Moreton Bay Regional Council, Scenic Rim Regional Council, Redland City Council, Logan City Council and City of Gold Coast will feature, with notable landmarks including Old Government House, Queensland Parliament House, QUT Gardens Point, the RNA and Redcliffe Showgrounds, The Croatian Club Brisbane and Lutwyche's St Andrew's Anglican Church.
The series employed approximately 300 Queensland cast and crew and injected an estimated $31.7 million into Queensland's economy.
Screen Queensland CEO Kylie Munnich said there were several reasons why the production chose Queensland, including a range of diverse locations and a top facility in Screen Queensland Studios: Brisbane.
"While Oklahoma and Florida are some 2,000 kilometres apart, here in Queensland the Gold Coast's Main Beach was a stand-in for Florida's Tampa and Alexandra Hills for Oklahoma's infamous GW Zoo, and both are a comparatively short 70 kilometres apart," said Ms Munnich.
"With 16,000 square metres of total lettable space, including two sound stages, two warehouses, eight greenrooms, ample production offices and more, Screen Queensland Studios: Brisbane has everything a major production of this size needs."
JOE vs CAROLE Co-Executive Producer Dan Kaplow said, "We were afforded the best possible locations that we could have imagined as Queensland had both set of criteria – dry Oklahoma and humid Tampa – right here.
"Filming in Queensland has been an absolute pleasure. You get a first-rate crew, you get great actors, you get top-notch facilities. Everyone loves making movies and TV shows – there's an enthusiasm here," Mr Kaplow said.
Series Director, Sunshine Coast-raised Natalie Bailey, said she is proud to be back in the state where she started her career.
"The crews are so lovely, hardworking and experienced – there's a big industry that's grown in the last 20 to 30 years," Ms Bailey said.
"Creatively they're going to give you everything and more."
Streaming concurrently on Stan in Australia and Peacock in the US, the scripted series is based on the hit Wondery podcast depicting the true events of Carole Baskin, who learns that eccentric zoo owner Joe Exotic is breeding and using big cats for profit, and sets out to shut down his venture.
JOE vs CAROLE stars Kyle MacLachlan (Sex and The City, Desperate Housewives, Atlantic Crossing) as Howard Baskin, Brian Van Holt (Cougar Town) as John Reinke, Sam Keeley (The English Game) as John Finlay, Nat Wolff (Paper Towns) as Travis Maldonado, Marlo Kelly (Dare Me) as Jamie Murdock, William Fichtner (Mom) playing Rick Kirkham and Dean Winters (Brooklyn Nine-Nine) as Jeff Lowe, alongside Queensland up-and-comer Aliandra Calabrese (Darby and Joan, Perfect Messy Love) as Lauren Lowe.
Australia's David Wenham (Baz Luhrmann's Elvis) as Don Lewis leads JOE vs CAROLE's Australian contingent with Will McNeill (Rams), Jack Scott (Hardball), Nic English (The Tailings), Benedict Hardie (The Invisible Man), Shereena Clanton (Wentworth), Alexandra Jensen (My Life is Murder), Anthony J. Sharpe (Miss Fisher & the Crypt of Tears) and Marlo Kelly (Dare Me).
Kate McKinnon is both star and Executive Producer of JOE vs CAROLE with Helen Panckhurst as head of production and writer Etan Frankel.
Media Enquiries:
media@screenqld.com.au
---