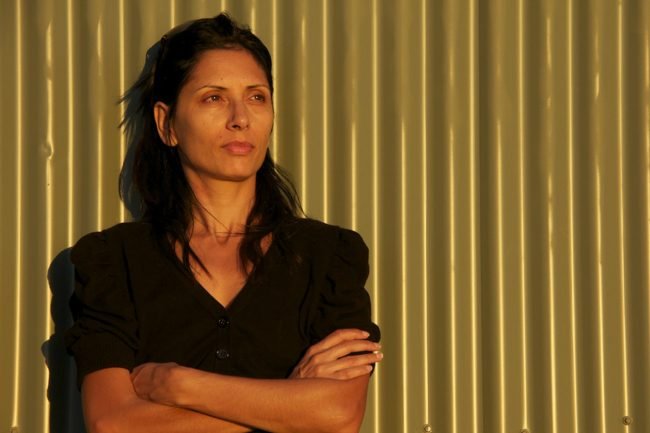 Queensland artist Devi Telfer has been selected as one 14 'creators' from across the country for the inaugural Australian edition of Imagine Impact – an eight-week development program created by Brian Grazer, Ron Howard and Tyler Mitchell.
Ms Telfer, a Kaurna Narrungga woman from the Adelaide Plains/Yorke Peninsula region of South Australia and now a long-time resident of Moreton Bay, was chosen alongside collaborator Brendan Fletcher to further develop their feature film adaptation of the novel Taronga by Victor Kelleher.
Ms Telfer says the themes of the 1986 young adult adventure aptly resonate with contemporary times, with potential to appeal to a broad global demographic.
"It's just as relevant to audiences now as it was then, perhaps even more," says Ms Telfer.
"It explores universal themes like, who are we as humans when the world crumbles around us? Do we become better people, or do we shrink into fear and mistrust?"
A versatile, multi-disciplinary practitioner who has worked across dance, theatre, film and television, Ms Telfer says she was delighted to collaborate with Mr Fletcher on the project, which features a strong First Nation's perspective and female lead.
"I have always been interested in how we, the First Nations Australians, are portrayed in the media, film and TV," said Ms Telfer.
"It's very exciting for me to have the opportunity to write a lead character who is First Nations for a feature film."
Consulting with Ms Telfer and Mr Fletcher on the project will be renowned Australian director, screenwriter and producer, Stuart Beatie who has written such feature films as Danger Close: The Battle of Long Tan, Tomorrow When the War Began, Pirates of The Carribean: The Curse of the Black Pearl, Collateral and Derailed.
"Working with the top professionals in the film industry will certainly give me a boost – not just my skills but the contacts and industry knowledge I'll gain," said Ms Telfer.
"I'm so incredibly thankful to Imagine Impact, Screen Australia and Screen Queensland for making this possible – It's a game changer for me and the possibilities are so exciting.
"Now it's 'heads down', and get to the business of writing a really great script. Knowing the industry values my voice, well, that means I'm already a winner," she said.
The program commenced 24 June 2020, and was originally set to run in Melbourne, Victoria however, has been transitioned to a virtual program.
Impact Australia is run in association with Gentle Giant Media Group and Screen Australia with support from Screen Queensland and other Australian screen agencies.
For more information about Impact Australia, visit the Impact Australia website. For more information about Devi Telfer, visit devitelfer.com.au