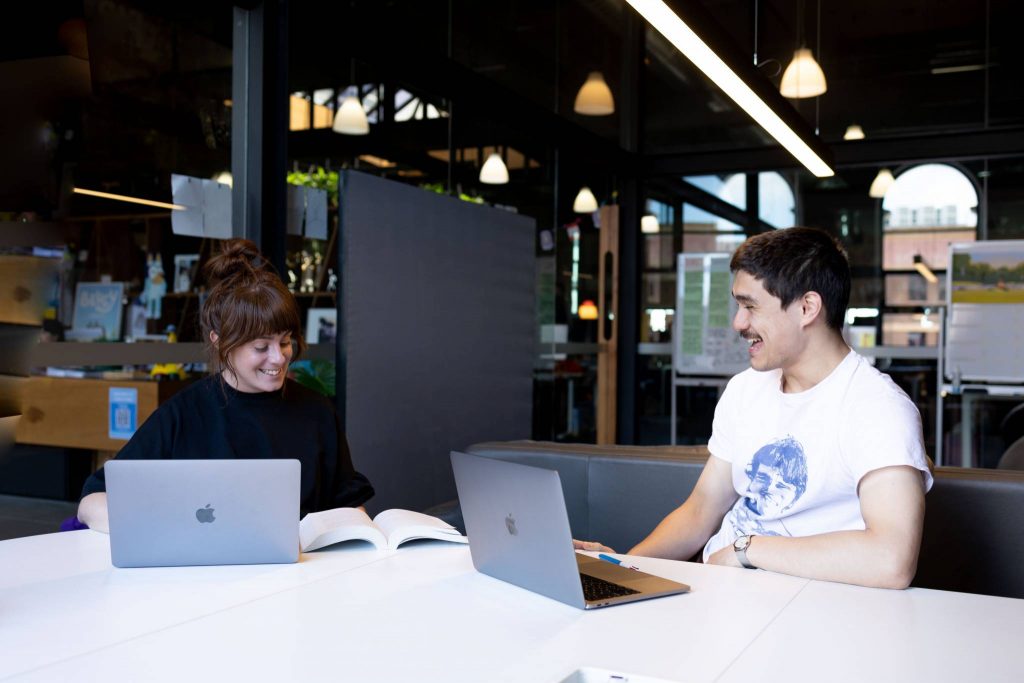 This week, Screen Queensland spoke with Queensland-based writer Nicholas Lin about his experience as the recipient of SBS' Emerging Writers Incubator. As part of this program, Lin is supported by Screen Queensland to undertake a year-long, paid placement at Ludo Studio (Bluey, The Strange Chores, Content, Robbie Hood) in 2021/2022.
Lin tells us about his time at Ludo Studio, favourite memories and valuable learnings from the program.
Can you tell us about your experience as the recipient of Screen Queensland & SBS' Emerging Writers' Incubator thus far?
My experience as the Queensland recipient of the Emerging Writers' Incubator has been incredible. A lot of the skills and insight I have gained through this initiative has been invaluable and indispensable to my developing career as a Queensland based writer. I'm grateful for the time that I'm able to spend with the brilliant producers, writers and directors at Ludo Studio and I realise that many of the experiences I've had were only made possible because of the Emerging Writers' Incubator, by SBS and Screen Queensland.
Describe a "day in the life" at Ludo Studio – what does your placement entail?
Given our current position in the production cycle, a lot of my time is spent in writers rooms for a couple of the projects I'm working on. My duties inside of the room are both note taking and actively participating in the development of ideas and concepts. Outside of this, I work alongside team members to create springboard ideas for upcoming rooms and develop concepts for future episodes. I also spend my time creating visual documents for character arcs, providing captions and synopsis for episodes, reviewing submitted scripts/pitches and updating bibles.
What's been the highlight of your time working at Ludo Studio?
So far, the highlight of my time at Ludo has been participating in writers' rooms, which are full of brilliant creatives. It's an incredibly eye-opening experience to track an idea from its inception in a room, follow it through the production process and finally see it on screen as a finished product. Although rooms can be a little intimidating and constantly challenging, the benefits of developing ideas and learning from others far outweigh anything else!
What exciting projects are you currently working on?
I'm currently writing across several exciting projects both existing and new. Although I can't specifically name all the projects I'm working on, I'm delighted to be working across a number of different projects which span across multiple genres intended for various platforms. It's amazing that I'm able to work across such a broad range of projects because it expands my knowledge as a filmmaker and makes me a more diverse and multiskilled writer.
What software, processes, key lessons have you learnt and from who?
It's hard to pinpoint any specific key lessons from just one person in the Ludo team, because I've learnt so many key lessons from just about everyone! I've spent most of my time learning about the nuances and intricacies of writers rooms and production schedules from Lauren Brown. It was eye opening to learn from Chloe Hume how pitches and scripts are reviewed and developed from a production standpoint rather than simply understanding it from a writers perspective. Charlie Aspinwall has consistently taken time out of his insanely busy day to help me refine and sharpen all the ideas and concepts I have for episodes. Daley Pearson has taught me unique ways to problem solve in a creative and concise manner so that deadlines are able to be met while also maintaining the highest possible standard of quality.
What advice would you give to other emerging practitioners and/or early-career writers?
Honestly, I'm not confident that I'm able to give advice to an emerging practitioner because I don't feel as though I've reached any sort of position where what I say has any validity behind it. However, as long as the advice I give is taken with a grain of salt, I'm happy to share my personal belief on how to improve as a developing writer.
It's my belief that improving your ability to write revolves around simple mathematics – which is ironic because I hate maths no matter how simple. The simple formula behind improvement – for anything – revolves around how much time you're able to consistently dedicate to any one thing so that when an opportunity arises, you're able to capitalise on it. This is exactly how I was able to become the recipient of the Emerging Writers' Incubator; I had a backlog of work which I had been consistently working on so that when an amazing opportunity comes up, I was able to hit the ground running.
You should dedicate as much time as you can to writing and – something which is arguably more important – reading. I firmly believe that if you want to write you need to read. Exposing yourself to various screenplays across multiple genres will not only give you more points of inspiration but will also provide you a basis for how to format and feel the difference between strong and weak scripts. You can read as many writing improvement books, listen to as many podcasts and make as many Pinterest mood boards as you want, but the only thing that I believe truly works is writing and reading constantly and consistently.
---