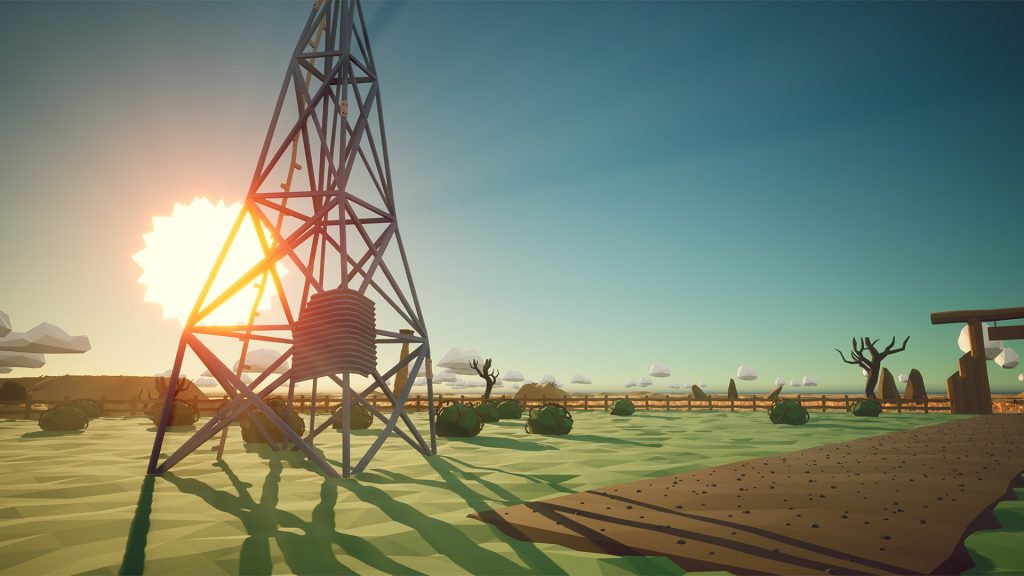 On the farmstead you sow crops by day, plough hordes of alien pests by night, and spelunk the Very Dark depths whenever you dang well please. This bloodthirsty alien planet doesn't want you here, but you're a robot in a tractormech so what do you care?
Screen Queensland today announced survival game Planetation, by Cairns-based 2Bit Studios, as the latest recipient of funding through its Games Finance Investment program.
Created by brothers Andrew and Matthew Joy, Planetation is a first-person co-operative 'farmvival' game for PC and console, combining the unrestrained creativity of a basebuilder (Factorio, Stardew Valley) with the unlimited possibility and peril of a survival game (Seven Days To Die, The Forest).
With up to eight friends, the player will explore a barren planet, plant, harvest, shoot, build, refine and die at the whim of Ol' Gal, the uncaring owner of their very robosouls.
Artistic Lead Matthew Joy said, "Planetation has all the staples of the genre: meaningful base-building, intricate farming mechanics, endless exploration and continuous discovery.
"There are so many unique twists that keep the game feeling fresh. For example, you grow your metals instead of mining them, and you have to discover and 'tame' most of your crops before you can plant them."
Technical Lead Andrew Joy said that a wild west, Australian outback-inspired setting provides an ideal backdrop for the gameplay.
"You've set down roots and you're eking what little you can out of the land – it's perfect survival game material.
"But then we take that old timey wild west setting and flip it on its head with the addition of slapdash utilitarian sci-fi technology; the tractors are retrofitted mechs, you wear a mechanised exoskeleton 'bone suit' and you have a pet robot that scouts for you and keeps you safe."
The duo commented that the investment from Screen Queensland will enable 2Bit Studios to hire talented Queensland game practitioners to enhance and complete a market-ready game, with the ultimate goal to grow the business.

"We intend for Planetation to be the focus of our studio for many years into the future, as these games tend to have a long shelf-life, especially if you actively work with your community and share their passion," Andrew said.
"And that's good for Cairns; if we can sustain a long-term development in Far North Queensland then we can keep local devs up here and perhaps even lure some city devs up."
The Screen Queensland Games Finance Investment program is a rolling fund, available for application anytime for a maximum of $50,000.
Screen Queensland is also committed to boosting the screen industry in Far North Queensland, as part of the Advance Queensland FNQ Screen Production Strategic Plan. For more information, visit www.screenqueensland.com.au
2Bit Studios Newsletter
https://2bitstudios.com.au/newsletter/
Planetation on Steam
http://store.steampowered.com/app/1270130?utm_source=partner&utm_campaign=sq_announce

Planetation on Discord
https://discord.gg/Qz7pSt4

2Bit Studios on Twitter
https://twitter.com/2bit_studios
2Bit Studios website
https://2bitstudios.com.au/games/