MEDIA RELEASE
For immediate release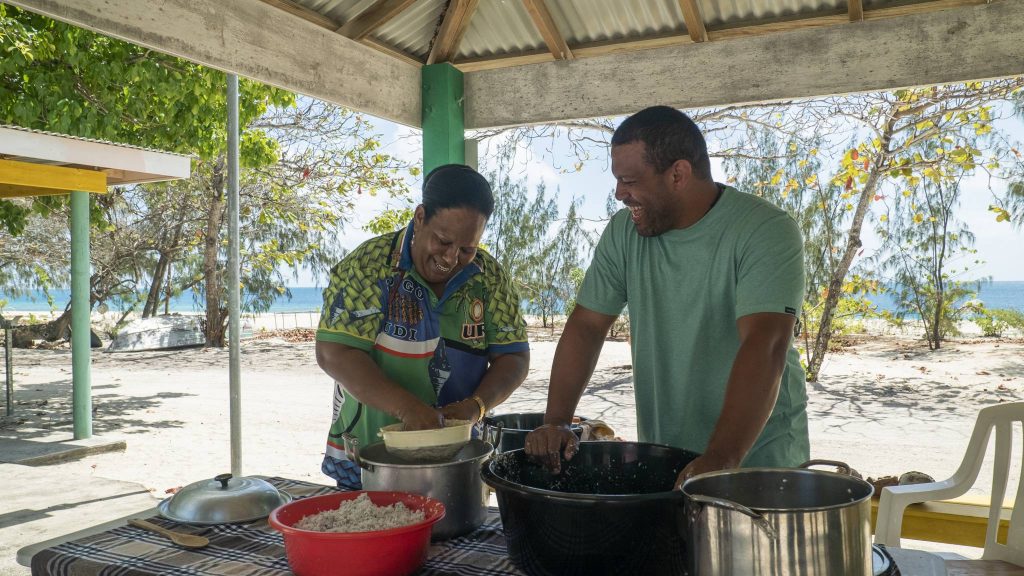 ---
Following a highly successful first season, the Queensland-made SBS Food and NITV cuisine and culture show Strait to the Plate, set in the beautiful Torres Strait Islands, is currently in production on season two.
Premier Annastacia Palaszczuk said Strait to the Plate, produced by Aaron Fa'aoso's Cairns-based Lonestar Productions is proudly supported by the Queensland Government via Screen Queensland's Screen Finance Program.
"Strait to the Plate takes audiences on a journey through the Torres Strait Islands, serving up six episodes full of stories, laughter and, of course, fantastic food," the Premier said.
"This is a great local production created by First Nations-led, Cairns-based company Lonestar Productions with post-production by Brisbane's The Post Lounge, creating local jobs which is an important part of our economic recovery.
"Strait to the Plate season 2 will inject over $1 million into the state economy, providing another example of the strength and skill of our local screen industry."
The Queensland Government through Screen Queensland is committed to building the local screen industry with the successful delivery of the Far North Queensland Screen Production Strategy, and continues this commitment with the new North Queensland Regional Program starting in 2022.
Screen Queensland CEO Kylie Munnich, who described the season one premiere as a "television highlight of 2021", said the series delivers so much more than culinary inspiration.
"Strait to the Plate is a show full of heart and authenticity, showcasing the First Nations' culture, language and traditions of this unique and unspoiled paradise, filmed in all its tropical splendour.
"Season one tours the spectacular Islands of Badu, Poruma, Moa, Seisia, Injinoo and New Mapoon, and we look forward to seeing even more picturesque destinations and food traditions explored in season two, for Australian and international viewers to enjoy," said Ms Munnich.
NITV Head of Commissioning and Programming, Kyas Hepworth said the network is delighted to commission another season, following last year's highly rated debut.
"Strait to the Plate is a series which we're so passionate about at NITV.
"It is so much more than a travel and food show; it's a platform to showcase the vibrant and living connections that exist to the sea, earth and seasons, as well as family and traditions. We can't wait to take audiences on more Torres Strait Island culinary adventures in 2022."
Strait to the Plate is hosted and produced by Aaron Fa'aoso, who is also highly acclaimed for his performances in RAN, Black Comedy and East West 101.
"The positive response we received from the community from season one was absolutely unprecedented," said Mr Fa'aoso.
"The fantastic part about filming a second season is that the communities here have the first season as a reference point, so they are enthusiastic to showcase what makes their community special, and provide us with fantastic moments, and of course food, to film.
"The Torres Strait Islands are incredibly diverse from one community to another and we want to elevate things in season two and celebrate the beauty and uniqueness of each language, culture and way of life."
Speaker of the Queensland Parliament, Member for Mulgrave and Far North Queensland Screen Champion, Curtis Pitt congratulated Cairns local Mr Fa'aoso on the forthcoming second season.
"Aaron and Lonestar Productions is one of the state's greatest screen production success stories, and Strait to the Plate is nothing short of a triumph for our local sector and for the increased representation of Torres Strait Islander peoples and their rich cultural traditions," said Mr Pitt.
"For several months, I have had the great pleasure of working alongside Aaron as part of the Far North Queensland Studio Implementation Committee, and his deep insights and experience have been instrumental in planning the brand new Screen Queensland Studios: Cairns, which is set to open its doors for business in mid-2022."
Other productions that have filmed recently in Far North Queensland include: Universal Studios Group series Irreverent at Mission Beach; Dive Club and This Little Love of Mine by Brisbane's The Steve Jaggi Company; and upcoming Netflix documentary Puff: Wonders of the Reef which is co-produced by Port Douglas-based company BioQuest Studios and narrated by Rose Byrne.
Strait to the Plate season 2 is set to screen on SBS Food, NITV and SBS on Demand in 2022.
– ENDS –
Media Enquiries: media@screenqld.com.au
---
IMAGES: Strait to The Plate season one, images courtesy of Lonestar Productions and NITV