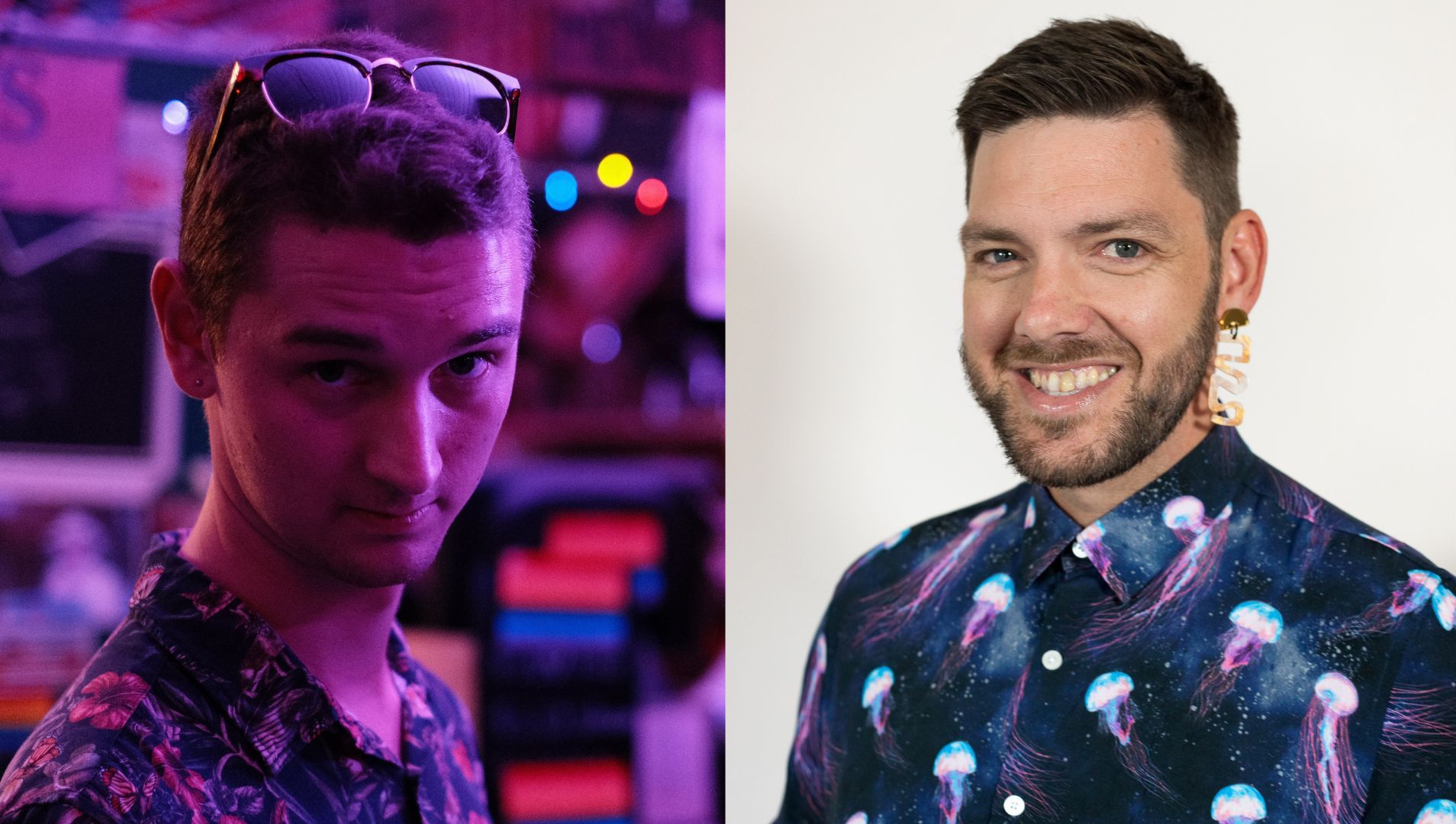 Queensland-based creatives Harry Sabulis and Zachary Lurje are the talented duo behind animated short film Road To Pride – the Queensland project selected for Epic Games' Unreal Engine Short Film Challenge. As a partner of the initiative, Screen Queensland will provide up to $50,000 in production funding to support the project's creation.
Currently in development using Epic Games' state-of-the-art Unreal Engine 5 software, Road To Pride follows two Mt Isa neighbours who hit the road to iconic Sydney festival Mardi Gras, while desperately searching for the missing pieces of their lives before they fade away and lose all their colour.
Screen Queensland spoke with Harry and Zachary about the short film's concept, their experience using Unreal software during development, and their advice for fellow early career practitioners.
---
What inspired you to create Road To Pride? How did the concept come to life?
Harry: It was a big revelation to Zac and I that neither of us had been to Mardi Gras before – it's the biggest event in the gay calendar and neither of us had experienced it firsthand! There's a disconnect for many queer people between being involved in the 'queer scene' and existing outside of it, and as a gay man who has experienced this disconnection myself, I was very interested in telling a story that involved two queer characters finding their place within this crazy, colourful world. Especially with our story's rural Queensland setting, it's easy to see how these two characters could feel so isolated from the queer community – and it's easy for an audience to see how important this journey would be to them.
Zachary: Mardi Gras is a queer pilgrimage, a rite of passage. When I saw the celebration of diversity in the media, I wondered why after all these years, I had never attended. So, I was interested in the different reasons why people went to Mardi Gras. I discovered Harry hadn't been to Mardi Gras either and we created the story of two neighbours road tripping from Mt Isa to Sydney. Ultimately, I wanted to write a simple story about staying true to yourself, even if it requires searching for something new or something old.
Epic Games' Unreal Engine 5 Software  is state-of-the-art tech that features photorealistic rendering, virtual production and more. How has your experience been using the software to develop Road To Pride?
Zachary: Unreal Engine 5 (UE5) exploded and imploded my brain, all at the same time, and all in a good way. Coming from a theatre background and moving into photorealistic animation was a steep learning curve, but I am always amazed by the endless possibilities and new ways of working in UE5. I dove head-first into real-time rendering, creating metahumans and working in a non-linear production pipeline. Using the software is rewarding as it offers small teams like ours the ability to tell stories that would not have otherwise been possible.
Harry:  It has certainly been a challenge learning the technology and understanding the language behind UE5 compared to the traditional, live-action production process. Coming from a live-action film background, I'm much more used to doing everything in a linear fashion – pre-production, principal photography, post-production and delivery. In Unreal, it's incredible how the technology allows you to combine these processes and have a much more fluid production pipeline. Like I said, challenging, but it's been very eye-opening and rewarding.
What is your future vision for the project? 
Harry: Telling a story that is so uniquely Australian, yet universal in many of its themes — friendship, self-discovery and finding where you belong in the world — and in such a ground-breaking medium within the virtual production space, we knew from the start that Road to Pride would have the potential to travel far. We have high hopes for where we can send the project, along with Epic Games' plans for its distribution, to show this unique and emotional story to as many different audiences as possible.
Zachary:  Road to Pride has no dialogue, deliberately because we wanted to share our film with a broader international audience to connect with the story and recognise the beauty of Australia. Road to Pride is also part of a larger story — a queer Australian road trip that incorporates stories of queer trailblazers, past and present, along the route from Mt Isa to Sydney.  More to come!
What advice would you give to emerging practitioners looking to apply for development funding?
Harry: Applying for development funding is a daunting process at times, but it's worthwhile. I think finding your team and making sure your pitch is as good as possible are both hugely important, as well as finding people to support you with your application. Friends and mentors within the industry who can answer all your burning questions and help guide you through the process are invaluable. In addition, making sure you've read the application requirements carefully and given all the details asked of your project is crucial. But at the end of the day, your story always comes first, so make sure you have a great one.
Zachary:  Harry and I were committed to creating the best possible script early on — we decided to be bold and pitch the unexpected. Rather than tell an animated sci-fi or action with Unreal, we decided to write a drama for a game engine. I couldn't find many examples of photorealistic animated dramas using Unreal, so we decided to make the film we wanted to see. So, my advice would be to pitch a story you haven't seen or in a way you haven't seen before. Plus, get a great team together as early as possible.  
Can you give us a sneak peek into the project, and is there anything further you'd like to add?
Harry: It's queer, it's heart-warming, it's exciting, and at its core, Road to Pride is a celebration of the rich diversity of stories and talented storytellers Queensland has to offer. Thank you to Screen Queensland for supporting this project and we're looking forward to showcasing the final product.
Zachary:  Look out for some landmarks and moments of magic realism…
ABOUT THE CREATORS

HARRY SABULIS

Harry Sabulis (he/him/his) is a Meanjin/Brisbane based writer and producer, with a passion for telling queer stories.

Harry has several LGBTQIA+ projects in development, including the TV series Writers' Block, which was developed with Stephen M. Irwin (Harrow, Tidelands) as a part of Screen Queensland's Creative Consultations program, the feature film Coming Out of the Grave, the autobiographical documentary series Motherland and the Unreal Engine animated short film Road to Pride. He is currently in development on the queer web series Too Fabulous To Die Alone with Mitch Stanley and Toni Stowers of No Coincidence Media (The Beach, We Are Still Here).

Harry currently works with No Coincidence Media as Development and Production Coordinator. Prior to his role with NCM, Harry freelanced within film production and has credits on several major long-form productions, including Production Coordinator on Sons of Summer for Phil Avalon, Production Secretary on Mistletoe Ranch and The Curious Case of Dolphin Bay for The Steve Jaggi Company, Art Department Coordinator on All My Friends Are Racist for Hoodlum, Production Runner on The Portable Door for The Jim Henson Company, Art Department Runner on Christmas on the Farm for Hoodlum, as well as additional roles on Nautilus, Thirteen Lives, Elvis, Young Rock S1 and Harrow S2.

An openly gay man and a second-generation Australian with Lithuanian and Belarusian heritage, Harry is dedicated to telling emotional and inspiring stories from underrepresented communities; to shine a light on difficult and challenging topics that are often left untold on our screens.

ZACHARY LURJE

Zachary is a queer writer, director and producer based in Brisbane with a background in theatre and education. He has a passion for telling diverse and ecelectic stories with heart and humour. His early career saw him write, produce and direct theatre works in Brisbane, Oslo, Edinburgh, and recently, in Darwin with his play The Lyric Life. For over a decade, he taught English, Literature and Film in the Northern Territory and Queensland before turning to filmmaking in 2021. As a former Head of Department in education, Zachary brings his experience leading teams to filmmaking and his role as a producer.

Currently, Zachary is in the Australians in Film 2022 Untapped Program as an emerging screenwriter with a focus on comedy and drama series. His series about a single dad drag queen trying to make ends meet, Steve the Queen, is under consideration with OutTV.

This year has been a steep learning curve for Zachary, entering the industry as an emerging practitioner. In 2022, he co-wrote the TV drama pilot Dear Philanthropist with Iris Huizinga at Vivid Festival, developed high concept feature Good Rain Bad Rain for Impact Australia, and wrote and directed the short film The Park-cident during a Videomaking Intensive at AFTRS, alongside creating and writing Road To Pride for the Screen Queensland Unreal Engine Short Film Challenge. His completion, too, of Unreal Engine Training this year adds to his experience in animation, working with stop motion and claymation.

Zachary is committed to telling engaging and authentic stories and embracing how new technologies are changing how films are made.