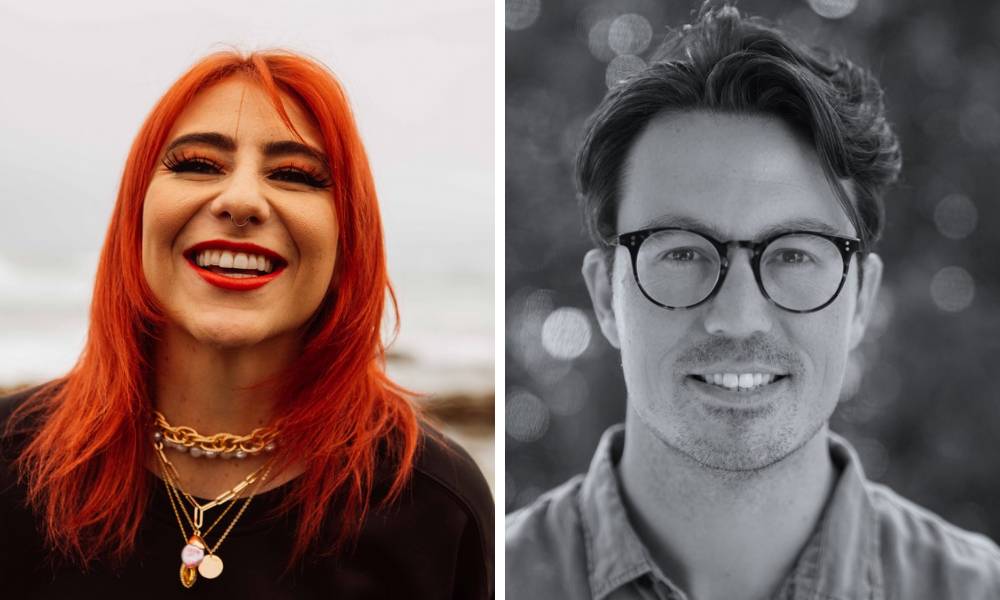 Queensland writers Jessie Hughes and Drew Macdonald have been chosen to attend the second iteration of Impact and Gentle Giant Media Group's IMPACT Australia program, with the support of Screen Queensland.
Following the success of IMPACT Australia in 2020, applications for a second edition of the exclusive screenwriting accelerator program opened in June 2021.
The program called for Australian writers to submit their screen projects for the chance to be mentored by experienced industry "shapers".
Drew Macdonald will be working on his series Only One Survives with shaper Eric Pearson – an acclaimed writer, known for his career at Marvel Studios working on Agent Carter, Ant Man, Spiderman: Homecoming, Avengers: Infinity War, Avengers: Endgame, Thor: Ragnarok and more.
Jessie Hughes has been paired with shaper Shaun Grant (Nitram, Penguin Bloom, True History of the Kelly Gang, Snowtown, Jasper Jones and Berlin Syndrome) to develop her series Head Above Water.
IMPACT Australia 2 was intended to be in-person on the Victorian College of the Arts' Southbank campus at the University of Melbourne, however it has pivoted to a virtual program.
The eight-week program commenced last week with a welcome event with Impact founders Brian Grazer and Tyler Mitchell, along with Gentle Giant Media Group's Greg Basser.
IMPACT Australia is run by Impact and Gentle Giant Media Group with principal funding from Screen Australia and Film Victoria, with support from Learning Partner the University of Melbourne and Australian state screen agencies.
Read more about the recipients below.
---
DREW MACDONALD
Drew Macdonald is an award-winning Australian filmmaker. His short films, Here There Be Monsters and Creeper, have played over a hundred festivals worldwide and have both been optioned for development in the United States. At home in Australia his original television drama, Perception, is in development with Essential Media (Saving Mr Banks) and a survival thriller, The Stag, with Prodigy Films (Blackwater, The Reef). He also Associate Produced the Emmy-nominated and AACTA-winning feature documentary Only The Dead, and he co-wrote and produced The Wanderers for ABC Australia. He has been nominated for an AWGIE for his short film work and is repped by 3 Arts Entertainment in the U.S..
"Being selected for Impact Australia is an incredible opportunity for both myself as a creator and for my project, Only One Survives. To be able to work with calibre of people on the Impact team as well as my phenomenal shaper, Eric Pearson, over eight weeks to develop my concept through Impact's renowned program is a huge leg up and I'm incredibly thankful to Screen Queensland for supporting both the program and me."
---
JESSIE HUGHES
Jessie Hughes is an internationally-recognised Australian artist, technologist and screenwriter, her works having exhibited most notably at Sundance Film Festival, SXSW, Cannes and the Tate Modern. Hughes has previously been named one of Australia's Future Changers for her commitment to digital innovation for social impact, and was awarded Australia's prestigious 2020 General Sir John Monash Scholarship (equivalent to the Fulbright or Rhodes Scholarships) to complete her Masters in Screenwriting & Filmmaking at the London Film Academy. She has designed emerging media solutions for tech-giants such as Oculus, Facebook and Adobe, and has been featured in over 80+ media articles across radio, print and TV discussing emerging creative technologies. Jessie is the show creator of Head Above Water, an adult-animated comedy TV series about feminist mermaids and pissed off sirens as they lure men to their watery ends to topple the patriarchy. To date, she has received support from Screen Queensland, Arts Queensland and Screen Australia to bring these fierce, salty sirens to screen. In her spare time, Jessie works as a creative technologist, toying at the cross-intersection of story, design, technology and strategy for creative innovation.
www.jessiehughes.com.au
"I'm so grateful for the ongoing support I've received from Screen Queensland over many years. Screen Queensland has previously funded my Travel and Marketing Grant to take my VR slate to international film festivals. They funded my place on an Aardman animation initiative earlier this year during the conception stage of my TV show, and they're now supporting my writing development to nail this pilot. Programs like IMPACT enable Australian talent to be regarded and considered equally to international talent, and the long-term career benefits of that are ten-fold. My mentor Shaun Grant and I share an awesome synergy and so I'm super excited to see where this pilot leads!"