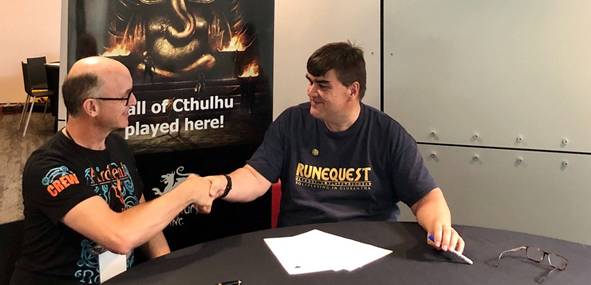 ---
Brisbane game development studio Ardacious has announced a new licensing deal with US-based roleplaying game publisher Chaosium Inc., for the integration of their Screen Queensland (SQ)-supported augmented reality app, Ardent Roleplay.
The agreement will see Ardent Roleplay's innovative system applied to Chaosium's popular, award-winning roleplaying games (RPGs) Call of Cthulhu and RuneQuest.
As a mobile companion app for tabletop RPGs, Ardent Roleplay enhances gameplay by displaying animated settings, characters, creatures and interactable objects, on players' mobile phones.
Uniquely and importantly in this current landscape, Ardent Roleplay is the only app on the market to facilitate remote play with miniates on the table, enabling players and Game Masters to continue the adventure while physically distancing.
Ardacious CEO Dr Ralf Muhlberger says that overall, the app offers RPG fans more convenience, options and enjoyment than ever before.
"Ardent Roleplay is the only solution that brings the 3D miniatures on the table
experience to everyone, with vibrant and dynamic models that can be personalised for every player," he says.
Michael O'Brien, Vice President of Chaosium Inc. said the company is excited to partner with Ardent Roleplay and open up the remote access capability to their customers.
"Miniatures add a different dimension to RPGs, and this app makes them now
accessible for online play", he says.
Ardent Roleplay was supported by SQ through the Games Development Finance program in 2019. SQ also supported the team to travel and exhibit in the tabletop section of PAX Australia 2019, the country's premier game industry convention.
"Screen Queensland's support of Ardent Roleplay has been invaluable to getting us from development to a released product." said Dr Muhlberger.
The app is free to download on iOS and Android. Fantasy genre models are available now, and RuneQuest and Call of Cthulhu specific content will be released later in the year.
A sample scenario, The Haunting from Chaosium's free Call of Cthulhu quick start guide, is available now in the Ardent Roleplay mobile app.
Subscribe as a game master to unlock access to a continuously growing catalogue.