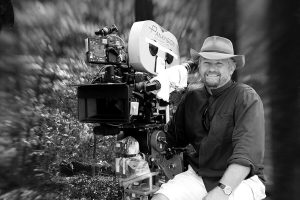 Catch multi-award-winning Cinematographer Ben Nott ACS, off the back of At Last for an SQ Facebook Live Q and A on Thursday, 12 September – 12.30pm.
This is a fantastic opportunity for emerging and established screen industry practitioners to pick the brains of one of Australia's finest cinematographers LIVE on Facebook – so make sure you log on and check it out.
SQ Facebook
About Ben
Ben's career in film began at the age of 23 when he picked up a camera for the first time – a complete departure from his formal schooling which took place inside the Faculty of Science.
Now with a career spanning 30 years, which includes credits and awards that span genres and mediums, Ben is one of Australia's leading Cinematographers.
Having worked around the world in both features and television with directors including, Oscar nominated Roland Joffe and Mikael Salomon, he has built a well-earned reputation for excellence.
Ben has received an Emmy Award nomination for his work on the Ridley Scott produced miniseries The Company. He has also been the recipient of the highest honour awarded to Australian cinematographers, the Milli Award in both 2006, 2008 and most recently in 2012.
Ben has twice been nominated for Excellence at the prestigious American Society of Cinematographers Awards (voted winner in 2008) and in 2016 he took home the AACTA Award for Cinematography as a result of his work on Predestination.
His most recent productions include the SQ supported Danger Close: The Battle of Long Tan and of course At Last.
About At Last
At Last is the story of a Chinese couple who to travel to Australia to conceive a baby but instead find themselves caught in the middle of a complex art heist scam.
The feature film was produced by Todd Fellman of Story Bridge Films (Bait 3D, Guardians of the Tomb, Jungle) in partnership with Charles Fan and Vanessa Wu of Roadman Films and Jackie Jiao of China's Monumental Films. The screenplay is written and will be directed by Yiwei Lui.
The project was filmed in Queensland and received investment from the Queensland Government's Production Attraction Strategy through SQ!