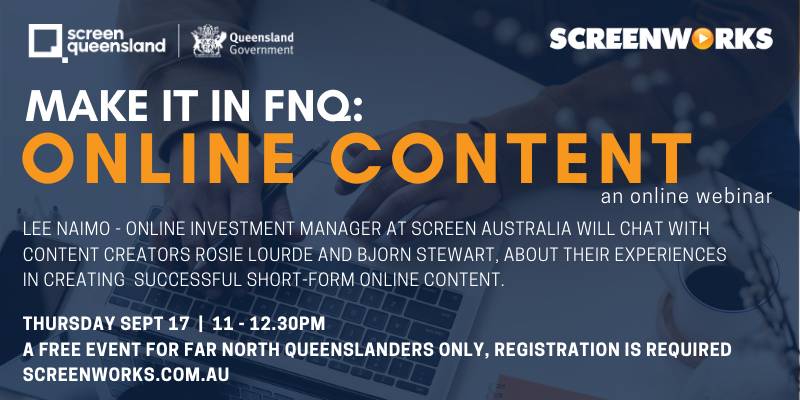 A Screen Queensland initiative delivered by Screenworks
---
Have you got a great screen story that you want to get online?
Are you looking for tips and tricks to find and build your online audience?
This webinar is open to all Far North Queenslanders who are keen to know more about creating innovative short-form content online.
Lee Naimo, Online Investment Manager at Screen Australia (and online content creator himself) will chat with screen professionals Rosie Lourde and Bjorn Stewart about their experiences in creating short form content. All three will share their strategies for developing content for online exhibition, as well as sharing their tips for producing on small budgets and finding, then building their audiences.
Topics that will be discussed include:
Development strategies for short form content
Types of projects most suited to short form online exhibition
Funding opportunities, initiatives and pitching
Release strategies and finding then building your online audience.
It will conclude with a Q&A between the guest speakers and audience.
THIS WEBINAR IS A FREE EVENT FOR FAR NORTH QUEENSLAND RESIDENTS ONLY
Check your eligibility here: FNQ-and-North-Queensland-definition.pdf