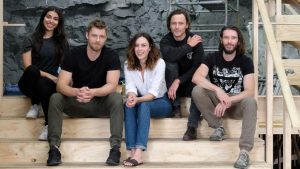 Photo: Actors (L-R)  Amali Golden, Luke Mitchell, Jessica McNamee, Ben Hoetjes and Anthony Sharpe
Director and Producer team Andrew Traucki and Michael Robertson reunite and join Producers Neal Kingston and Queenslander Pam Collis to deliver an adrenalin charged sequel to the 2007 feature 'Black Water' which achieved both critical and box office success, as well as picking up several cinematic awards and leaving fans of the rogue predator genre hungry for more.
Written by Sarah Smith (Bite Club, Winter, Wild Boys) and Ian John Ridley (Bite Club, Wentworth, Wanted), Black Water: Abyss is set in an unchartered cave system in the forests of Northern Australia. The eerie beauty and ethereal atmosphere inside the caves hiding a dark and deadly secret lurking just below the surface of the water.
When adventure-loving couple Eric (Luke Mitchell) and Jennifer (Jessica McNamee) abseil into newly discovered caves with close friends Yolanda (Amali Golden) and Viktor (Benjamin Hoetjes) they believe they will be safe from the approaching tropical storm above ground. But as the cave begins to flood and oxygen levels fall, the group find themselves lost, disoriented and trapped. Little do they know the storm has also brought in a pack of primeval predators – hungry crocodiles for whom humans are easy pickings on the food- chain. Staring into the jaws of death, long-kept secrets emerge and force the friends to turn upon one another in a frantic fight for survival.
Director Andrew Traucki said, "It's fantastic to be directing the next Black Water film. Dark, tight caves are scary enough but when there is a huge crocodile down in them as well it takes it to a whole new level."
Black Water: Abyss boasts an exciting Australian cast including Jessica McNamee (The Meg, Battle of the Sexes, Packed to the Rafters) and Luke Mitchell (The Code, Blindspot, Home and Away), both now forging successful acting careers in the United States.
"I'm obviously ecstatic to be able to come back home to shoot this movie. This is my first time working back home in Australia since I left Home and Away in 2012 and to get to work in Queensland, not too far from where I grew up, it's extra special" enthused Mitchell.
Rounding out the cast, musician and rising star Amali Golden (Bloom, Thor: Ragnarok, The Other Guy), Benjamin Hoetjes (The Code, I Am Evangeline, Knightfall), and Anthony Sharpe (Wentworth, Miss Fisher's Murder Mysteries).
Unlike most films of the genre, Black Water: Abyss will not rely on CGI to bring its predators to life but instead use real crocodiles, melded with special effects.
"Andrew's work integrating real crocodiles and sharks into Black Water and The Reef really set those films apart from their contemporaries. It's an absolute privilege to have him helming this next instalment of Black Water," said Producer Neal Kingston.
"Black Water: Abyss will film in Brisbane and surrounding areas, and we're delighted that local Producer Pam Collis secured this project to Queensland that is expected to inject more than $3.6 million into the local economy and create approximately 100 jobs for locals," said Tracey Vieira, CEO Screen Queensland.
"It's been a real coup to bring this production to Queensland and be able to attract interstate producers Neal Kingston and Michael Robertson to bolster an already flourishing film industry. Screen Queensland has been extremely supportive and welcoming," said Collis.
Black Water: Abyss is slated for release in 2020 through R & R Films and with international distribution through Altitude Film Sales, has already been sold to over 30 territories.
ENDS
Black Water: Abyss Publicist Contact: Nicola Warman-Flood  0423 842 258
Screen Queensland Media Contact: Bronwyn Fardon 0414 327 576