MEDIA RELEASE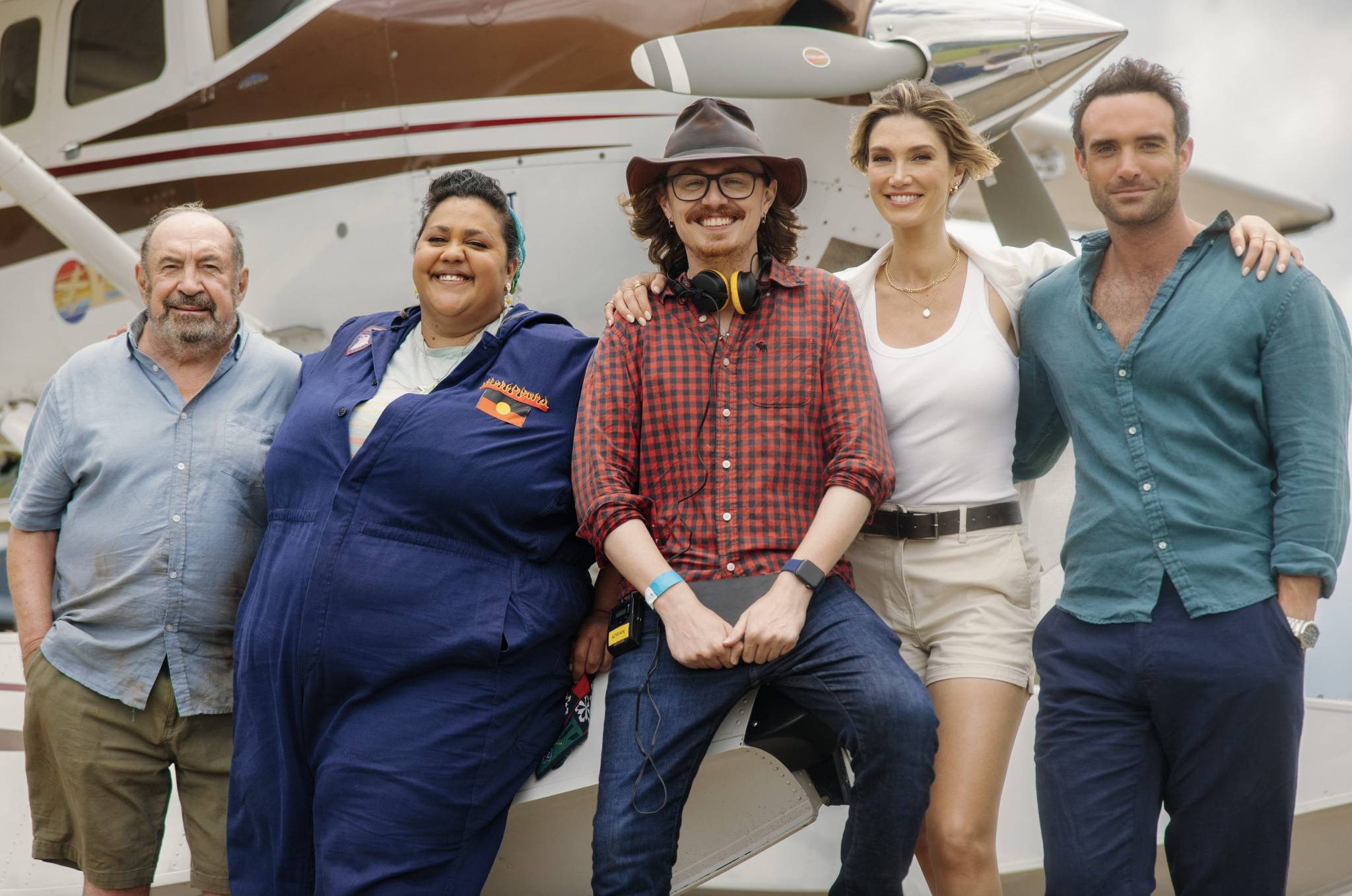 L-R: Roy Billing, Steph Tisdell, director Adrian Powers, Delta Goodrem and Joshua Sasse on the set of Love is in the Air, at Whitsunday Airport Shute Harbour. Photo by David Fell, courtesy of Jaggi Entertainment.
---
Delta Goodrem is currently filming in the Whitsundays for the romantic feature film Love is in the Air, supported by the Queensland Government through Screen Queensland.
Produced by Brisbane-based company Jaggi Entertainment (formerly The Steve Jaggi Company), Delta Goodrem stars as Dana Randall, a seaplane pilot flying in the tropics who finds herself falling for the man sent to sink her business (played by Joshua Sasse). 
Screen Queensland CEO Courtney Gibson said the production will be 100 per cent made in Queensland, with the support of the Screen Finance program, Regional Incentive and Post, Digital and Visual Effects (PDV) Incentive.
"We are proud to provide end-to-end support for this latest production by Jaggi Entertainment — a Logie and AACTA-nominated company, whose Queensland creations have been hits for industry leaders such as Disney and Hallmark, and topped global Netflix charts," said Gibson.
"From the first day on set to the last day in the editing suite, Love is in the Air will generate approximately $2.25 million for the state economy and 70 jobs for Queensland cast and crew," she said.
Gibson highlighted a recent string of productions filmed in the state's northern regions, including Stan Original series Black Snow and Universal Pictures' Ticket to Paradise, both filmed in and around the Whitsundays.
"Screen Queensland's Regional Incentive was created to ensure the benefits of screen production reach communities right across the state, particularly for businesses operating in accommodation, catering, transport, tourism and more."
Delta Goodrem commented on filming in the sunshine state.
"I feel incredibly fortunate to be shooting here in the Whitsundays, we've been made to feel so welcome by the local community.
"I'm enjoying being back on set, portraying a go-getter like Dana and I'm looking forward to sharing the film with audiences," said Goodrem.
Joining the cast of Love is in the Air is Roy Billing (Underbelly, Jack Irish) and comedian Steph Tisdell (Total Control, Class of '07), with the film directed by Adrian Powers (Forbidden Ground, A Royal in Paradise).
While filming the crystal-clear waters and lush landscapes of the Whitsunday Islands, production for Love is in the Air is based in Airlie Beach.
Far North Queensland Screen Champion and Member for Mulgrave Curtis Pitt MP said the push for regional filming in the state's northern regions is being backed by significant investment from the Queensland Government in programs and facilities.
"While the rollout of the $4 million North Queensland Regional Program is delivering initiatives to upskill creative talent from Townsville to the Torres Strait, we are about to start construction on the $12.6 million Screen Queensland Studios, Cairns.
"This is the fourth production that Jaggi Entertainment has brought to the north after Netflix smash This Little Love of Mine and teen series Dive Club, which demonstrates how this new facility is set to reinforce and grow existing demand for filming in our northern regions," Pitt said.
Love is in the Air is written by Adrian Powers, Caera Bradshaw and Katharine E. McPhee, and directed by Adrian Powers. Producers are Steve Jaggi, Kelly Son Hing and Kylie Pascoe with Executive Producers Lee Matthews, Janine Pearce, Michael Gray and Jip Panosot.
---
Media enquiries: media@screenqld.com.au