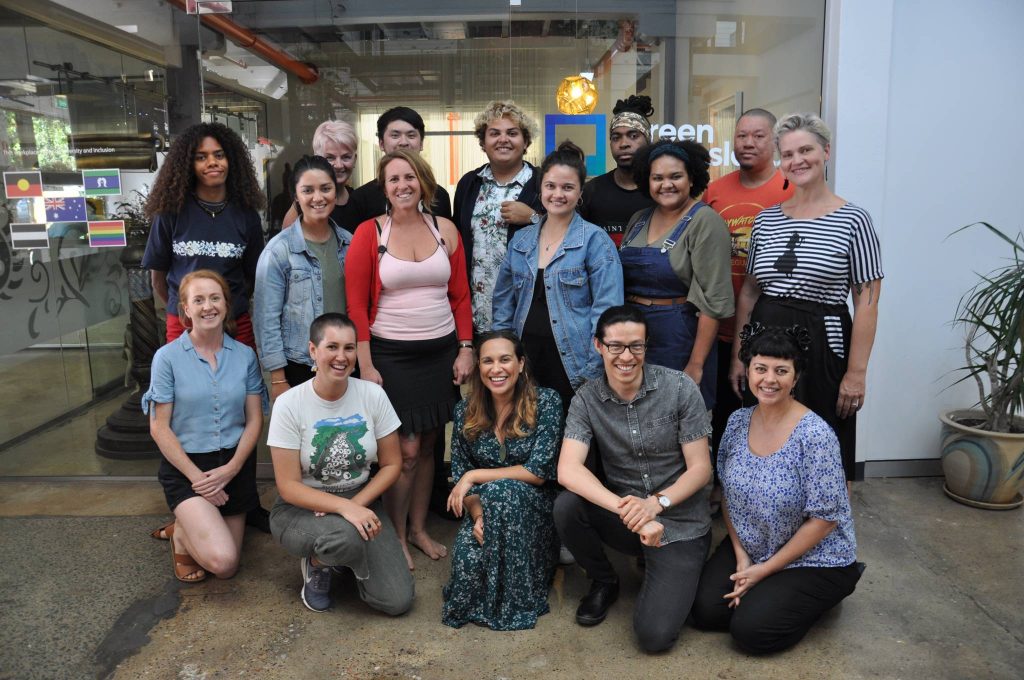 This week, 16 talented Queensland screen storytellers will immerse themselves into the world of episodic development and production at Talent Camp – a week-long intensive workshop for creatives from diverse backgrounds.
Talent Camp is a national program run by the Australian Film, TV and Radio School (AFTRS) in partnership with Screen Queensland, the Australian Writers' Guild (AWG), Screen Australia and all state and territory screen agencies. The workshop focuses on skills development for emerging storytellers, helping them to refine their story ideas to an industry ready standard.
Screen Queensland CEO Kylie Munnich said it was exciting to see diversity centre stage in this screen industry development program.
"Encouraging and training diverse storytellers is central to ensuring our screen stories reflect the cultural fabric of our society," said Kylie.
"It's exciting to see initiatives like Talent Camp in Queensland, that nurture new voices and stories from our unique perspective."
Writer, director and Hervey Bay local, Rachel Anderson, hopes the workshop will assist her in finding her voice as a filmmaker and help to refine her project Winter Wonderland.
"I started writing this tv series, Winter Wonderland a few years ago," explained Ms Anderson.
"I told myself I would make it later in my career and now I finally feel ready to dive right into this beast of a project – so that's why I applied to be a part of Talent Camp."
"I want to tell this story with authenticity and real lived experiences, so I am really excited for the potential to connect with other writers and like-minded filmmakers to workshop the ideas."
Ms Anderson's Winter Wonderland project is currently in treatment form but she hopes to now develop it for funding and distribution.
"It's a drama television series set in 1999 regional Australia," said Ms Anderson.
"I am hoping to workshop the scripts with other writers and start pitching the series to producers following Talent Camp."
AFTRS Outreach Manager Gary Paramanathan said Talent Camp is an opportunity for screen creatives to gather essential skills for their future.
"Talent Camp develops tomorrow's storytellers by offering them the tools and bespoke support necessary to develop their ideas and careers," said Mr Paramanathan.
"Our focus on episodic narrative allows for them as screen creatives to access work in television and web and develops pathways for their own work to find wider and global audience."
The Queensland Talent Camp intensive workshop runs from Monday, 4 November through Friday, 8 November. AFTRS is also hosting Talent Camp workshops in WA, SA, VIC, TAS (includes NT participants) and NSW (includes ACT participants). A few exceptional storytellers from each state/territory will then be selected to participate in the upcoming National Talent Camp, which takes place in April 2020.
-ENDS-
Interview opportunities with Talent Camp participants by prior arrangement
When: Friday, 8 November 2019
Where: Screen Queensland, Newstead Qld
Please phone to arrange a time
Media Contact:
Katlin McCullough
+61 7 3248 0525
Screen Queensland
ABOUT SCREEN QUEENSLAND Screen Queensland is a Queensland Government-owned company that invests in talent and production to grow a creative, innovative and successful screen industry with a focus on stories and audience, secures production and post, digital and vfx to Queensland, and delivers an active screen culture through festivals and events funding across the state. Screen Queensland invests in stories and talent through a range of mechanisms including development, production investment, initiatives, sqhub and mentorships. Screen Queensland is deeply committed to increasing diversity in the screen industry to reflect the Australian community. For more information visit screenqld.com.au
OFFICIAL PHOTOS: http://www.dropbox.com/sh/mn5kqgt7nin540o/AAA7nizyS0-jdXj35iWREv5Ya?dl=0
Talent Camp Queensland participants: http://www.dropbox.com/s/lei37ggdpufn1h0/Participant%20Booklet_QLD_FINAL.pdf?dl=0