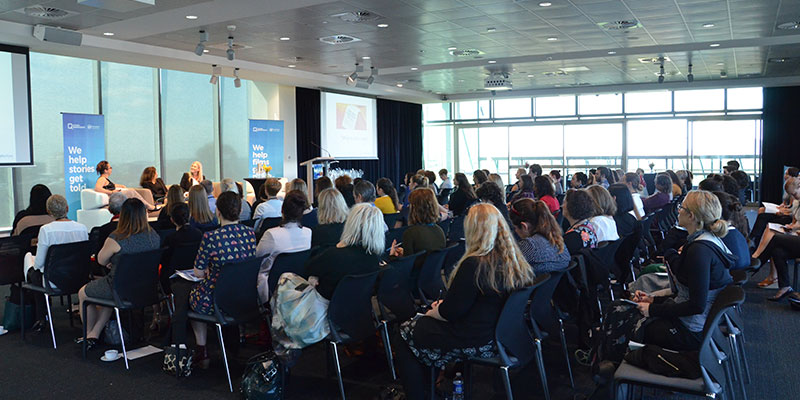 Screen Queensland's (SQ) upcoming 2019 signature event R.I.D.E. will be a full day of expert panels, special guests and lively discussion, focusing on diversity in the film and TV sector.
SQ will be presenting this major annual event as part of the official program for the Brisbane International Film Festival (BIFF) as the festival's founding and principal sponsor.
SQ's Acting CEO Jo Dillon said that presenting the event in association with BIFF is the perfect opportunity to engage industry and the broader community in robust conversations about the lack of diversity in the screen sector.
"BIFF is one of Queensland's most highly anticipated screen festivals, bringing us together to celebrate cinema from our own backyard and the other side of the world.
"It is the perfect setting for our event and its discussions on the big issues that lie ahead for our sector and our community – and how we can rise to meet them together," said Ms Dillon.
"This is a chance for screen storytellers to work together to ensure that the industry properly represents and includes culturally and linguistically diverse, Aboriginal and Torres Strait Islander, disabled, LGBTQI+ and women on screen and behind the camera."
The jam-packed program will engage 18 top industry experts across five industry panels, with a keynote from TV presenter, acclaimed speaker and Paralympic swimmer Karni Liddell.
One of the R.I.D.E. panellists includes Queensland-based writer-director Loani Arman, who created the award-winning six-part web series The Mother Load.
"Australia has one of the most culturally diverse populations in the world, and that's not being reflected enough on our screens," said Ms Arman.
"R.I.D.E. is more than just an opportunity for the film community to discuss diversity – It's a call to action, that we need to do more to support and create content that is inclusive."
In addition to local industry experts, the forum will also include interstate practitioners such as screenwriters Stuart Page (The Secret Daughter, Cleverman, Wentworth, Total Control) and Mithila Gupta (Five Bedrooms, Doctor Doctor, Home and Away and Winners and Losers).
Ms Gupta was responsible for introducing an Indian family to the regular cast of Neighbours in 2010, causing major headlines in Australia and internationally, and adding diversity to a regular cast that has been predominantly white since the show first aired in 1985.
"I believe authentic diversity starts on the page," said Ms Gupta.
"This doesn't mean sticking 'diverse' people in the background; it means giving all people the privilege of a point of view and of being the main players."
BIFF Artistic Director Amanda Slack-Smith said she was delighted to have the event as part of the official festival program, which spans 11 days of films, talks and industry events.
"Diversity in the creative sector is pivotal to moving forward and to have such knowledgeable speakers and discussions happening in the one place is powerful.
"This is a must attend event." Said Ms Slack-Smith.
R.I.D.E, standing for Respect, Inclusion, Diversity and Equality, will be held 10 October 9am through to 5pm at the State Library of Queensland. Admission is $25 and includes morning tea, lunch, networking, drinks and canapés. Full program details and tickets are available online at http://biff.com.au/event/making-film-screen-queensland-ride/
-ENDS-
MEDIA CONTACT:
Bronwyn Fardon, Screen Queensland
media@screenqld.com.au | 07 3248 0535 | 0414 327 576