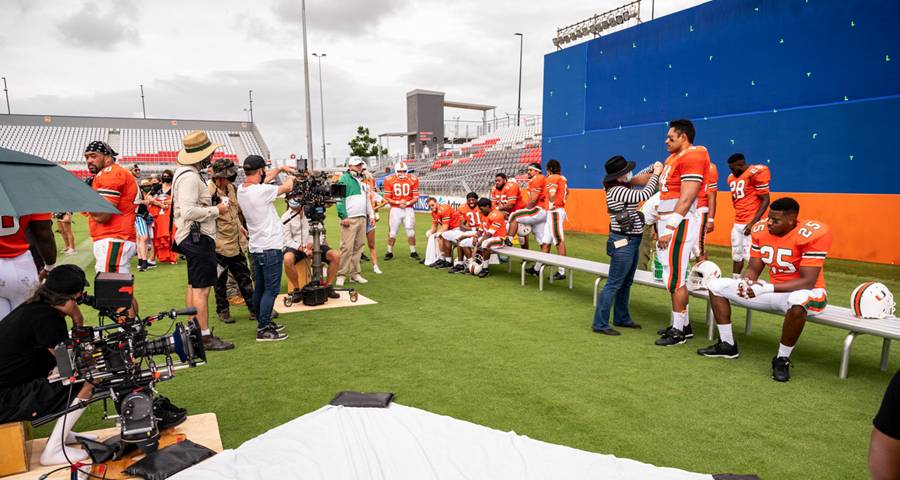 Top-rating U.S. comedy series Young Rock, about the life of wrestler-turned-acting-megastar Dwayne "The Rock" Johnson, will return to Queensland to film Season 2 this October.
Following a successful shoot on the first season out of Brisbane's Screen Queensland Studios, the second season will film on location around South-East Queensland and at Village Roadshow Studios, while Joe Exotic, also for Universal Studios Group, continues production at Screen Queensland Studios.
Screen Queensland CEO Kylie Munnich said the return of the popular comedy series, via the Queensland Government's Production Attraction Strategy, was good news for the state, injecting an estimated $27 million into the economy and creating approximately 250 jobs for local cast and crew.
"We are thrilled to welcome back Universal Studios Group for Season 2 of one of the year's highest rating shows in the U.S..
"I would like to sincerely thank Universal Studios Group for once again choosing Queensland and our expert local crew and talented actors, to play a lead part in bringing Dwayne Johnson's fascinating life story to screen."
Screen Queensland CEO Kylie Munnich added that repeat business is always great news – especially for those Queensland crew who worked on the first season. She welcomed continuing work for Queensland crew in their home state.
"Young Rock's return to Queensland to film another 11 episodes is a wonderful endorsement of all we have on offer as a production location – competitive incentives, world-class facilities, fantastic crews and diverse locations.
"This family-friendly, coming-of-age comedy has South-East Queensland doubling for Hawaii, Pennsylvania and Miami in the 80s and 90s, so the range of locations on offer, alongside our ideal climate, is definitely on display in Young Rock," Ms Munnich said.
Young Rock Season 1 filmed at Screen Queensland Studios in Hemmant from August 2020 to February 2021, and on location at Brisbane Entertainment Centre, Brisbane Airport, The Old Museum at Bowen Hills, Mount Gravatt Lookout, Queensland Art Gallery, The Tivoli in Fortitude Valley, QUT Garden's Point, Iona College, Redcliffe Dolphins Football Club, Carlo's Naples Pizza Restaurant in Strathpine, Tempest Restaurant in Scarborough and Palazzo Versace on the Gold Coast.
Young Rock Season 1 premiered on NBC in the U.S. in February 2021 and was released in May on Australian screens on Foxtel and streaming on Binge.
-ENDS-
Media Contact:
media@screenqld.com.au
(please note, this email is for media enquiries only)
Other enquiries
screenqld@screenqld.com.au