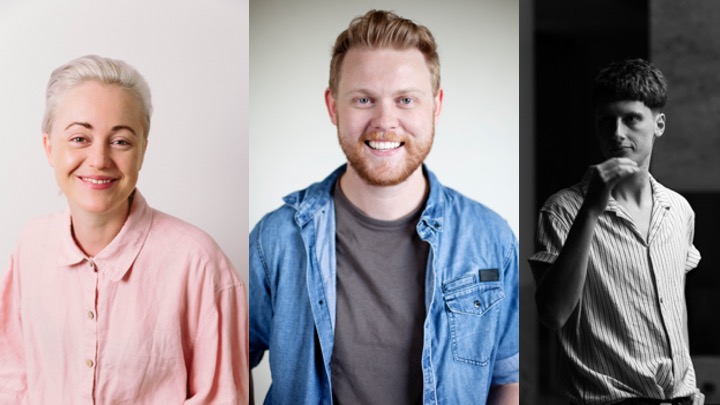 ---
Retrograde will be on ABC from 8 July 2020
---
MEDIA RELEASE
Screen Queensland along with ABC, Screen Australia and Film Victoria have announced their investment in a topical 6×22-minute comedy series called Retrograde, by Queensland production companies Orange Entertainment Co and Unless Pictures, that will start filming this month, with both the storyline and filming process reflecting the realities of COVID-19.
Retrograde features a group of thirty-something friends who reunite to drown their sorrows as they question their life choices at a virtual bar in the time of COVID-19. The six-part, narrative comedy series will premiere on ABC and iview, Wednesday 8 July at 9.30pm.
Kylie Munnich, Screen Queensland CEO, congratulated co-producers Orange Entertainment Co and Unless Pictures on their ability to quickly identify this audience opportunity, pitch a fresh and entertaining series to the market, and secure investment in an inventive production that will create approximately 25 local jobs and expend more than $700,000 in the Queensland economy.
"This is an edgy series that captures the quirks of socializing in isolation told through an experimental and decentralised filming model that is clever in form and function," Ms Munnich said.
The cast members in the series include Pallavi Sharda, Ilai Swindells, Maria Angelico, Esther Hannaford and Nick Boshier, with guest star Ronny Chieng. The cast will film from their respective locations, activated by remote technical operators, who all work in sync with the overarching technical director, as they record a group video chat that forms the central storyline.
The Queensland production team includes co-creator/producer/writer Meg O'Connell (Content, Robbie Hood), executive producer Kurt Royan, and producer Jackson Lapsley Scott. Rounding out the creative team are director Natalie Bailey (Avenue5, Run, The Thick of It), co-creator Mark O'Toole (Black Comedy), producer Dan Lake, lead writer/co-producer Anna Barnes (Content, The Strange Chores), script producer Sophie Miller (The Family Law) and writers Declan Fay (Ronny Chieng: International Student) and Michele Lee (Hungry Ghosts).
Meg O'Connell said the team was finding it challenging to create content under COVID restrictions.
"We're having to think laterally and be resourceful and collaborative in entirely new ways, ways we couldn't have predicted a few months ago, but we're discovering it's a satisfying and fulfilling process to be responding and responsive to the times.
"For most of us, lockdown has been a destabilising time. For the thirty-something characters in Retrograde, they're finally having the existential crises they put off having in their twenties. They're being forced to look at their reflections in the mirror (or video call) and are asking: Do I like what I see?"
The series will also have complementary, extended digital content to strengthen and deepen audience engagement.
Production credit: Retrograde is an Unless Pictures & Orange Entertainment Co production for the ABC. Principal production investment from Screen Australia, in association with Screen Queensland. Developed with the assistance of Film Victoria. Created by Mark O'Toole & Meg O'Connell. Producers Meg O'Connell, Dan Lake, Jackson Lapsley Scott. Executive Producer Kurt Royan. Directed by Natalie Bailey. ABC Executive Producer Que Minh Luu.
-ENDS-