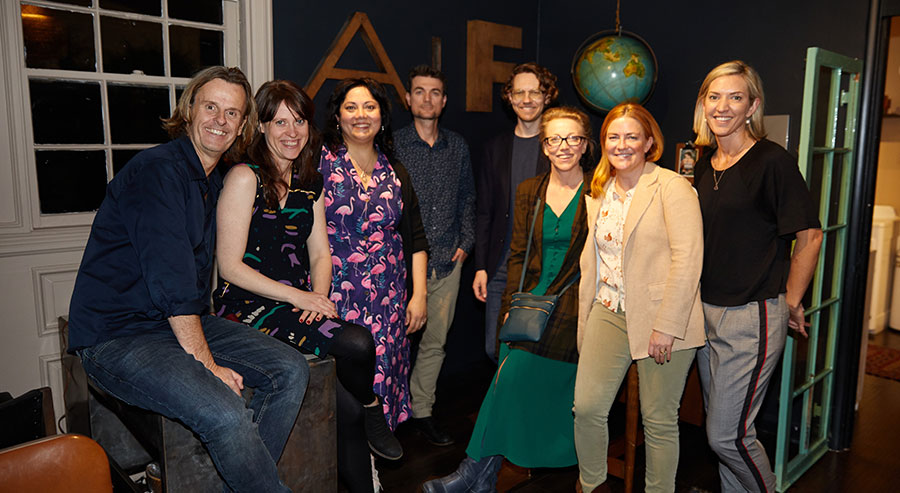 Five Queensland screenwriters are currently in Los Angeles undertaking a career development program launched by Screen Queensland (SQ) in partnership with US-based Australians in Film (AiF).
The Charlie's SQ Writer's Lab is a five-day intensive development program running from 28 October to 1 November at Charlie's – AiF's screen industry base for Australian creatives, housed within Hollywood's historic Raleigh Studios and named after its former occupant, Charlie Chaplin.
In recent years, Charlie's has been a work-home for Academy Award-nominated Queensland filmmaker Josh Lawson, as well as producer Michael Schwarz, who used his time at Charlie's to develop the Queensland-filmed war epic Danger Close: The Battle of Long Tan.
The program is designed to accelerate the careers of Queensland screenwriting talent by facilitating masterclasses, mentor sessions, roundtable discussions and networking opportunities, ensuring they are getting first-hand knowledge of the latest industry trends from leading Hollywood professionals and decision makers.
As part of the program, each of the Queensland participants has been paired with a US-based industry mentor to develop their script further. Mentors for the program have worked on film and television productions for such companies as Warner Bros. Sony Pictures Entertainment, Fox, CBS Films and more.
SQ CEO Kylie Munnich said this was an incredible opportunity to strengthen relationships between Queensland screen writers and the US screen industry.
"Every television show and film starts its journey on the page and Screen Queensland is committed to investing in local screenwriters to tell our stories and grow our screen industry," Ms Munnich said.
"Los Angeles is a key location for financing and distribution partners, and although
relationships can be made and established on the phone and online, there is a time in a project's lifespan that a handshake and face-to-face meeting can advance business and seal a deal."
President of AiF Kate Marks said the organisation was delighted to work with SQ, to develop writers with global ambitions.
"We are thrilled to be able to bring some of Hollywood's best and hardest working screen professionals to work with Queensland writers to develop their skills," Ms Marks said.
"Charlie's is often referred to as the Australian Creative Embassy where Australian screen industry players land to find their feet, and often embed themselves into the community due to the collaborations, relationships and business deals that happen onsite.
"It's the perfect home for Queensland writers to launch their global ambitions."
The selected participants for The Charlie's SQ Writer's Lab, and their projects in development are:

Lucas Taylor
Nathaniel's Ghost
A half-hour comedy-drama that examines mental health issues and the power of friendship to help navigate traumatic grief.
Ryan Van Dijk
Mother Maiden Caster Crone
A hard-hitting drama series set in a world where witches make up a small portion of the female population. It is a cautionary tale about the power of fear and a timely examination of modern gender politics.
Loani Arman
The Mother Load
A painfully funny half-hour comedy series about a reckless young woman whose life is gate-crashed by the daughter she gave up for adoption ten years ago.
Martha Goddard
Gödel Incomplete
When a particle physicist stumbles on time travel, her cynical view of science as absolute is shattered when she inadvertently falls in love—what if time travel is as personal and intimate as falling in love?
Josephine Mackerras
Skin
A coming of age feature film about a teenager with a secret, coming to terms with himself will be the ultimate subversion against the small mindedness of his hometown.
-ENDS-
For Media enquiries and interview requests
Screen Queensland
Liana Cantarutti
+61 7 3248 0524
lcantarutti@screenqld.com.au