MEDIA RELEASE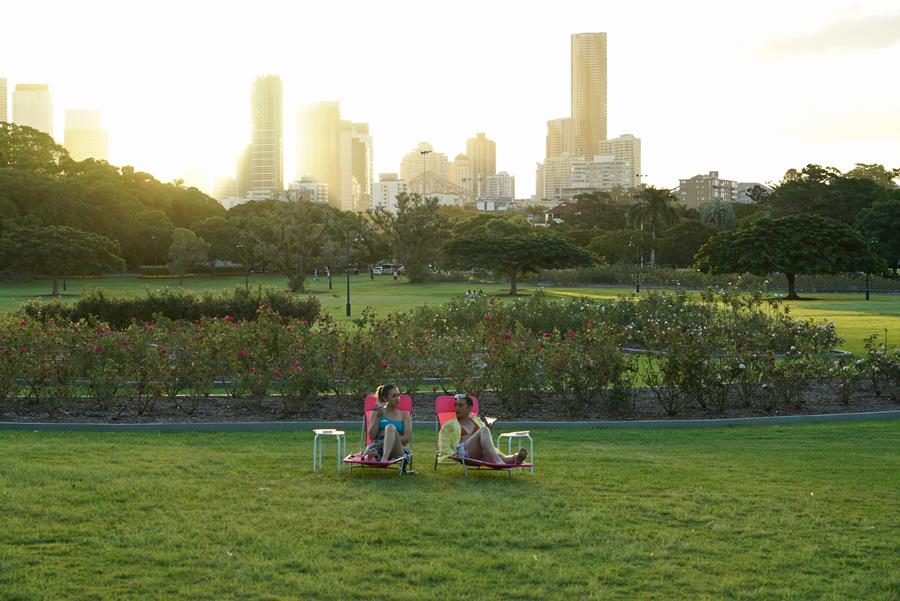 Drama production in Queensland generated a record $553 million in expenditure during 2020-21 amid Australia's biggest year ever for domestic and foreign screen drama production at $1.9 billion.
Just released, Screen Australia's Drama Report, which calculates total scripted feature films and series across broadcast, streaming and online platforms, reveals 29 per cent of all drama filmed in Australia in 2020-21 was made in Queensland—the state second only to New South Wales in the number and value of productions for the past financial year.
The state's share of Post, Digital and Visual Effects (PDV) work also jumped with $32 million in expenditure generated off the back of a promising year-on-year upward trend, which is set to accelerate thanks to the Queensland Government's recent decision to increase the PDV incentive to 15 per cent, the most competitive on the east coast.
Screen Queensland CEO Kylie Munnich said the report confirms Queensland's position not only as a production magnet for international and interstate feature films and series, but also as a creative powerhouse driven by talented local content creators and producers from around the state.
"The success of Queensland's screen industry, thriving despite the challenges of a global pandemic, is evident in this report," Ms Munnich said.
"The Queensland Government via Screen Queensland has invested significantly and wisely, via the Production Attraction Strategy, the recent boost to the PDV incentive, the Screen Finance Program, the new North Queensland Regional Program and additional studio facilities planned for Cairns and the Gold Coast, in a sector that continues to go from strength to strength, generating huge economic returns for the state.
"While locally made productions like This Little Love of Mine and the 2021 AACTA Award-winning series Bluey and All My Friends Are Racist have made a huge splash on screens nationally and internationally, Queensland is clearly a location of choice for both international and interstate productions, attracted not only by our competitive incentives but also our diverse locations, highly skilled crews and great facilities.
"In 2020-21, approximately 5,500 jobs were created for Queenslanders from Screen Queensland-supported productions, in addition to the important work we are doing to grow local talent through workshops and career-building initiatives.
"With a deeply experienced and expert local film workforce, studios and post-production facilities, built over 30 years of back-to-back productions, Queensland is perfectly situated to capitalise an increased demand to film here, the state's unique and original creative talent, alongside an insatiable global appetite for screen content.
"We have had a fantastically busy year of production, which means film fans and series-bingers the world over are in for a treat next year, with local Queensland talent and locations on show in a number of upcoming movies and series, made by talented, skilled local cast and crew who make the magic happen.
"And we are eagerly awaiting the release next year of Academy Award®-winner Ron Howard's film Thirteen Lives and of course, the great Baz Luhrmann's Elvis biopic, both filmed on our gorgeous Gold Coast."
Productions recently wrapped in Queensland include Universal Studios Group's Joe Exotic, CJZ's Darby and Joan, ABC crime series Troppo and Fremantle Media's teen series Taylor's Island.
Production continues on the popular US comedy Young Rock season 2, quirky crime series Irreverent, SBS Food and NITV's Strait to the Plate season 2 by Cairns-based Lonestar Productions and Universal Pictures' Ticket to Paradise starring George Clooney and Julia Roberts.
In early 2022, filming starts on the highly anticipated Disney+ series Nautilus and the second season of the Tim Minchin Foxtel series Upright, both at Village Roadshow Studios.
A full copy of the report is available on the Screen Australia website. For more information about Screen Queensland-supported production and the upcoming Cairns studios, visit www.screenqueensland.com.au
-ENDS-
Media Enquiries: media@screenqld.com.au